This is the fifth consecutive year I've attended the NAEM Software, Innovation & Technology conference, this time joined by my research colleague Chris Follis. It was held March 3-5, 2020, at the Hilton Riverside in New Orleans. The timing of the event was fortunate; it was held right before widescale COVID-19 pandemic travel restrictions kicked in.
As usual, it was a well-organized and -run event featuring networking, best practice sharing, product demonstrations, and success storytelling among members of the Environment, Health and Safety (EHS) and Sustainability (EHSS) software and technology ecosystem.
Over the course of the conference, several key themes emerged that demonstrate the maturation and ongoing evolution of the EHHS tech space over the past five years. In this and a subsequent post, I'll share five insights gleaned from the conference, along with supporting proof points indicating substantial progress in EHSS technology adoption and real-world success.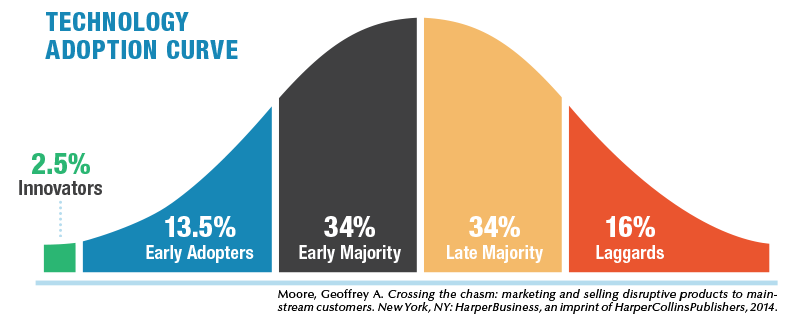 Data is Democratized
"The Democratization of Data" is a catchy phrase that's been around for a while, and one that's taken hold in the EHSS realm. The EHS business function has traditionally been a gate keeper of its data, whether by accident or design. The concept of democratization is to unlock the "data dungeon" and make relevant information available at the right time to stakeholders who can use it to make better business decisions.
Organizations are intentionally and proactively applying analytics and visualization tools to provide to key stakeholders with open access to data in a form that facilitates decision support across the organization—from the frontline workforce to the executive suite. Data is democratized.
Proof point: DGS (formerly Delta Global Services) – presented how it's using the Gensuite EHSS software platform with embedded analytics tools (Tableau) to provide airport operations leaders with interactive map-based visualizations of real-time risk information, enabling them to take ownership of EHS data and use it to make faster, better-informed decisions.
Mobile is Mainstream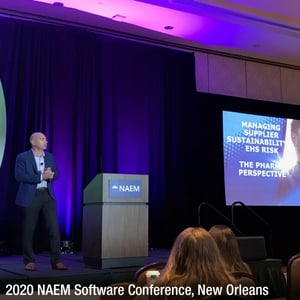 Mobile applications are a proven technology with a long track record of mainstream adoption in industrial and commercial enterprises spanning over a decade or more. Examples of widely adopted mobile app categories include Sales/CRM, field service, maintenance, and work execution/collaboration. Such business apps are typically deployed on handheld mobile devices such as smart phones and tablets.
Likewise, almost all EHHS software vendors provide mobile apps in their offering; some have had mobile solutions in the market for over a decade. Over the past several years, adoption and wide-spread deployment of EHSS mobile apps has steadily gained traction, following the prototypical Moore's technology adoption lifecycle model. Critical mass has been achieved. NAEM reported that 62% of its surveyed membership has significant implementations of mobile apps, which is consistent with LNS Research findings, certainly in the large enterprise space. For EHSS software vendors a modern, user-friendly mobile solution is table stakes to meet customer expectations for enabling a mobile, connected workforce. Mobile is mainstream.
Proof points: The opening session featured Walmart's implementation of a mobile inspection/checklist solution based on the Cority Enviance software, which resulted in multimillion-dollar savings and a 100% completion rate. Also featured was Tesla's implementation of Gensuite software for incident management and EHS compliance.

EHS 4.0 has Emerged
Over the past few years, I've heard a narrative among EHS business leaders and pros, and even tech vendors, that digitally transformed EHS management – EHS 4.0 – is a "pie in the sky" aspiration that most organizations aren't ready for. In one sense that's true in that many companies are still lagging in adoption of Industrial Transformation (IX) digital technologies, specifically in leveraging innovative tech for EHHS purposes. And success stories seem hard to come by. So, the skepticism is merited and healthy. It serves to help cut through digital hype to what's possible in the real world.
This conference had plenty of content to demonstrate successful application of digital technologies to solving EHS and Sustainability problems. EHS 4.0 is already here as part of IX programs to enable the smart, connected enterprise of Industry 4.0. Data from NAEM membership surveys presented at the conference shows that implementation of digital innovations such as wearables, location tracking, IoT devices, AR/VR, and drones for EHSS purposes is in the range of 10-40%.
Proof points: As part of its presentation on the implementation of the ProcessMAP suite for health and safety compliance and risk management, BMW discussed its implementation of advanced Factory of the Future technologies such as glove scanners, robotics, exoskeletons, and Virtual Reality (VR) for forklift training. These innovations integrate safety improvements with productivity and quality performance to drive operational excellence. Along the same lines, LNS Research data shows that IX Leaders are 70% to 154% more likely to deploy digital technologies that enable EHS performance improvement such as Augmented Reality/Virtual Reality (AR/VR) intelligent wearables, and artificial intelligence (AI). (See item below regarding AI for EHS).
Key Takeaways
While the basic goals of EHS and Sustainability management have held relatively constant over several decades, their roles in the public arena and in enterprise business strategy have changed dramatically, as has the enabling technology. It's taken us a long time to get to where we are today regarding EHSS software and technology. Consider that some of today's leading EHSS software vendors have had products in the market for 20 years or more. The annual NAEM tech conference provides a good way to get a view on that evolution, a window into the current state of play, and what's coming next.
Given that long history, it's easy to forget that we are still in the early innings of a big shift: the digital transformation of EHS. As described above, this year's conference highlighted great progress in the application of digital innovations to solving EHS problems and improving operational performance:
Advanced analytics tools are democratizing EHSS data and providing fresh insights for action and improvement.
Mobile EHSS apps have become mainstream with wide availability and large-scale deployment.
Digital technologies of such as intelligent wearables, augmented and virtual reality, and the Industrial Internet of Things (IIoT) are in real-world use today to enable EHS 4.0.
But this is just part of the story. Stay tuned for Part 2 for additional conference takeaways. That post will discuss three additional themes: real-world application of Artificial Intelligence (AI) for EHSS use cases, and how corporate Operational Sustainability strategies impact the EHSS tech landscape, and what these macro trends mean for EHS business leaders and professionals.
Categories: Industrial Transformation / Digital Transformation, Environment, Health and Safety (EHS), Connected Worker