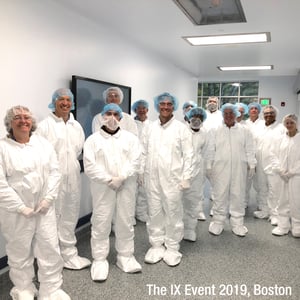 Our inaugural Industrial Transformation (IX) Event was a refreshing connection for industry executives leading transformation ― from startups to mature journeys, from tissue and drywall to aircraft carriers and submarines. The breadth of IX coverage and insight resonated well among industrial executives and software vendor thought leaders in attendance. Focused roundtable sessions on quality and environment, health, and safety (EHS) packed the room as Quality 4.0 and connected worker topics fostered lively discussions.
Quality 4.0: The New Case for Quality
Technology decisions drive adoption
Data lake warrants layered analytics
Governance accelerates transformation
Quality 4.0 adoption is on the rise while evolving technologies usher in a new case for quality. Quality data is the main ingredient for successful transformation. How it's collected, managed, and used is in every recipe. Complexity plagues today's executives that are trying to decide if and what to do: where to start, what to invest in, and how to sustain transformation.
The IX Event roundtable session on Quality 4.0 tapped into this complexity during a discussion with Dorman Products on risk management. How does one analyze risk in a world of unclean and untapped data? Starting a data lake early is many executives' sentiment for transformation success. That's what allowed Whirlpool to assess risk more quickly and accurately. Its secret sauce was layered analytics, using a designated IT data scientist with citizen data analysts by function. This approach fosters corporate governance and broadens master data management. One Georgia Pacific executive observed, "A lack of governance and standards is like sailing with an anchor. It slows you down."
---
Companies with a strong team of data scientists show 4% better OEE and 19% more successful new product introductions.
---
Coca Cola North America fostered Quality 4.0 using the behemoth metric cost of quality (CoQ). Due to the ambiguity of the metric, some executives use a project priority model for indirect impact. Any project related to quality gets a 3x or 4x multiplier with a probability index. This prioritization approach is broadening the case for quality, and with enabling technology a stronger need for Quality 4.0.
Rivian shared its startup journey to make premium electric adventure vehicles. The company's well-funded transformation is all-new, with plenty of enabling technology; it's the envy of many across the industrial sector. Rivian is building its quality system from the ground up. Collaborating across functions with new processes and people is a challenge. Connecting those people will prove pivotal in the days ahead, and with a Quality 4.0 mindset, Rivian is sure to leapfrog into Industry 4.0.
Quality 4.0 is a holistic transformation framework that is sharpening the focus on value and connection across organizations. Executives understand that "quality" doesn't just mean products and service; it's in everything everyone does within the processes that deliver them. It's in how people plan, execute, and monitor the recipe for success. Cross-functional processes are often initiated by or intersect with the quality function. As companies tap into enabling technologies, a stronger connection across functions is required. Functions that successfully collaborate discover that even as their efforts open up new opportunities and challenges, it broadens the case for quality. Executives may not name-drop the "quality" word during various projects, but rest assured it's in every recipe of transformation. Sprinkle in digital technology, and Quality 4.0 rises to become the new face of quality.
EHS: The Connected Worker Emerges
It's all about people, less about technology
Initiatives don't equal adoption
Augmented reality success stories
The topic of connected worker sparks many different perspectives when it comes to technology, but the main point, according to analyst Peter Bussey, "It's all about people." Connected worker isn't just about new technology to wear or use; it's about genuine care for the worker. Understanding process problems requires a deep connection with workers to drive a transformational culture. Simply launching an initiative isn't enough to get people to adopt. When a company focuses the effort on health and safety, the care resonates on a personal level, and that's what drives adoption.
---
Sixty-seven percent of industrial companies have connected worker initiatives underway.
---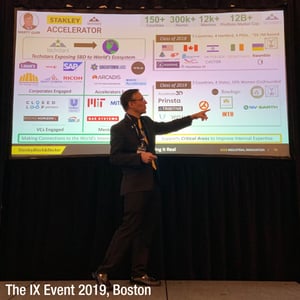 The adoption rate of connected worker initiatives is increasing but lags in live production processes. Companies can steer away from this adoption traffic jam by focusing on quick wins across training and maintenance processes. The roundtable discussion on connected worker unpacked various use cases, many around improving workers' experience and environment.
Summing up Quality and EHS Sessions
Industrial organizations that want to connect with front-line transformation leaders across a variety of industry sectors should attend the next IX Event. This year, industrial executives are taking away these insights:
Engage in Quality 4.0 to understand how enabling technologies are broadening the case for quality.
Create data lakes early, with layered analytics and data governance to accelerate transformation.
Implement connected worker initiatives with an emphasis on employee health and safety for better and faster adoption.
Start an AR project on training or maintenance for a quick transformation win.
Adopt the IX framework to make transformation real.
---
All entries in this Industrial Transformation blog represent the opinions of the authors based on their industry experience and their view of the information collected using the methods described in our Research Integrity. All product and company names are trademarks™ or registered® trademarks of their respective holders. Use of them does not imply any affiliation with or endorsement by them.