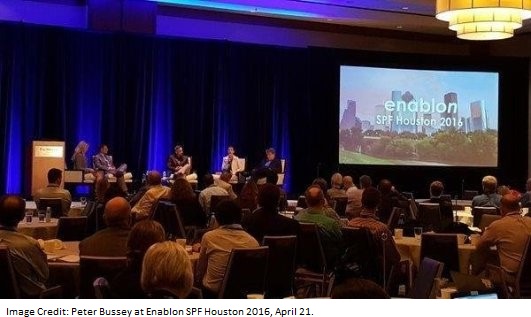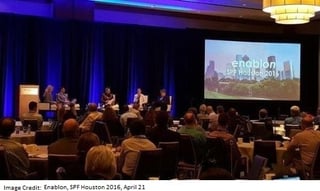 Similar to the U.S. Postal Service, neither rain nor floods could keep people away from their appointed rounds to attend the Sustainable Performance Forum (SPF) hosted by Enablon on April 21 in Houston. Despite heavy rains and flooding around that time, and tough business conditions in the local Energy sector, the conference had a strong turnout, with over 200 attendees.
The Houston SPF is one of a series of annual customer conferences Enablon holds around the world. This was the sixth time this regional event was held in Houston in as many years. It gathers customers, prospective customers, partners, and experts for information exchange and networking around Enablon's Environmental, Health, & Safety (EHS), sustainability and risk management solutions. One highlight for me was participating in a panel discussion on Operational Excellence. In this post, I'll highlight key takeaways from the panel and the conference overall, and their implications.
Achieving Operational Excellence in Asset Intensive Industries
It was a pleasure to participate in the panel discussion on "Achieving Operational Excellence in Asset-Intensive Industries." Anna Clark, of EarthPeople Media, adroitly moderated the session, which featured panelists from consulting firm ERM, and Enablon customers ONEOK and Accenture. Some key themes emphasized by the panelists were:
Opportunities for EHS to add business value

The role of software and technology in operationalizing management systems

The importance of aligning people, processes, and technology
At a conference focused on software as an enabler of performance improvement, there could be a tendency to overly focus on technology as the cure for all ills. Although there was plenty of discussion on Mobility, Big Data, Predictive Analytics, Cloud-computing, the panelists did a good job of taking a broader perspective. They emphasized that effective solutions place a balanced emphasis on getting business processes right, and paying close attention to people and organizational aspects. For example, the critical role of organizational change management, and the need for effective cross-functional collaboration across operations, maintenance, engineering, and other business functions, not to mention IT, were discussed.
EHS is Positioned to Help Navigate in Tough Times
Many of the companies present were from the energy sector, especially oil and gas and petrochemicals. Several themes related to Operational Excellence emerged from the presentations and discussions. This sector, and indeed many of the asset-intensive industries, are running into the headwinds of the current business environment characterized by intense pressure to reduce costs, while dealing with aging asset bases and workforces. In turn, agility is key in responding to market conditions and deploying assets; creating a lot of operational change and associated risks. Many organizations are responding to the situation through their Operational Excellence initiatives.
This puts the EHS business function under an even greater than normal amount of pressure to add value to the business. In addition, it creates a clear opportunity for EHS to be part of the solution by contributing directly to Operational Excellence objectives related to assets and people. Productivity and profit depend on safe, reliable operations, which in turn depend on effective safety and environmental management systems. Times of great change make this more difficult. When navigating in troubled waters, there is less margin for error, and the basics become more important than ever. EHS leaders have a critical role to play in getting diverse business functions all working together toward ensuring Operational Excellence and business continuity.
Enablon's Operational Excellence Message
The keynote presentation by Enablon CEO, Dan Vogel made it clear that Enablon recognizes the key business challenges the asset-intensive industries face, including aging assets and workforce, and operational inefficiencies. He also made the case that Enablon is ready with a portfolio of solutions to meet these challenges, in a holistic way that will drive business value.
The Enablon Operational Excellence model presented was particularly interesting. This multi-dimensional model is based on taking an integrated approach that spans business processes, operational risk management, organization/culture, and technology. It even extends to asset and maintenance management. A presentation on the Enablon product roadmap showed impressive expansion of the solution footprint over several years; and planned enhancements in areas, like predictive analytics, that will further support operational improvement.
The LNS Research Take
Enablon's message about Operational Excellence resonated well with the conference attendees, as expected given the current business challenges in oil and gas and other asset-intensive industries. This approach aligns well with the LNS Research point of view, in which EHS is an essential pillar of Operational Excellence, which not only needs to be strong, but interconnected with core operations and business functions.
Enablon's broad and still growing set of capabilities and functionality beyond traditional "EHS management" makes sense in supporting Operational Excellence initiatives. We are particularly interested in plans related to enterprise asset management (EAM) and maintenance management, and how any such functionality would co-exist with enterprise EAM systems, such as IBM Maximo, SAP, Oracle and so forth.
As Enablon continues to position itself as an enterprise platform, we see the topic of interoperability becoming become more important. Some degree of integration of EHS with other enterprise systems such as R&D, asset management, HR, manufacturing, and supply chain is needed to optimize processes and performance. Although the technology is there today to accomplish such integrations, its application to achieve robust process and data integration has been rather limited. Enablon has met integration needs well so far as evidenced by its enterprise installed base. We think the company, and other EHS software vendors, will benefit from taking these capabilities to the next level.
By all outward appearances, including the conference itself, Enablon continues to be positioned as one of the top EHS and sustainability software vendors, with a 50%+ annual growth rate reported for 2015. Enablon customers have the opportunity to take advantage of the broader functional footprint with a phased implementation plan, and to incorporate recent and forthcoming enhancements, such as mobile apps, the configuration engine, and Predictive Analytics support. As Enablon continues to invest in R&D, customers willing to invest some time and effort of their own may also have a good opportunity to help influence future applications and get first mover advantage.