Over 4,000 people attended Epicor Insights 2019 in Las Vegas the week of April 15. As in previous years, the conference showcased new products and upgrades from a leading supplier of enterprise resource planning (ERP) solutions for the mid-market, with users across manufacturing, distribution, service, and retail companies.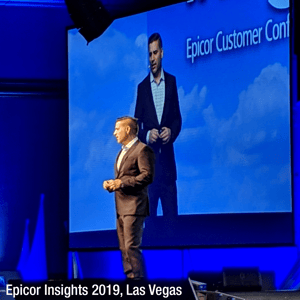 There have been several important changes at the company in the past few years, starting with the executive team. CEO Stephen Murphy opened the conference with a keynote speech, just the second time since joining the company in October 2017. He focused on Epicor's mission of making the user productive, and struck a pragmatic position regarding new technologies: "Big Data is great — if you can use it. Use technology only as far as it can help make life easier," he said at one point. This posture seemed to reassure the audience of small and mid-size companies that we talked with, many of which are struggling to understand the potential impacts of industrial internet of things (IIoT) technologies.
Chief Marketing Officer, Colleen Langevin, who joined Epicor in February 2018, noted the dramatically increased number of women at the conference, and touted Epicor's support for Girls Who Code, whose mission is to close the gender gap in technology and to change the image of what a programmer looks like and does. She also led a discussion among several major customers on stage, where they all talked about embracing the newest Epicor technology, including artificial intelligence (AI).
Himanshu Palsule, Chief Product and Technology Officer, and other executives from the product development and delivery organizations introduced several new features, including Edge computing and analytics, as well as the outcome of the company's focus on user experience (UX), which they call "Kinetics." The new UX provides a cross-platform and responsive design that is elegant and easy to use, and has been embraced rapidly across the vendor's client base.
Other conference highlights:
Record cloud deployments | Epicor has leveraged Azure to provide flexible cloud deployments (though many at the company still use the older "software as a service [SaaS]" term), and now has approximately 25% of deployments in the Cloud. The company believes that the cloud market is becoming the preferred deployment choice for new and existing customers. Existing on-premises customers are migrating to the Cloud in increasing numbers, although there are many organizations that choose to stay on-premises for the foreseeable future.


Epicor Virtual Agent (EVA) | The EVA demo was a crowd-pleaser, riding the trend of voice-activated virtual agents. Launching in May 2019 as an integral part of both Epicor ERP and Prophet 21, the virtual agent is built on machine learning technology from Microsoft, and will improve over time as more natural language queries get added to the software's database. In a smart move, Epicor emphasized that this was not a new module that needed to be purchased, but instead a continuation of the Kinetics UX journey that started a few years ago.


Embedded analytics use case | LNS Research survey results have shown again and again that predictive maintenance for mission-critical assets is the top use case for analytics technologies. In a very well-designed demo, Epicor took that use case a couple of steps further: the analytics system notifies operators about predicted downtime, and gives the operator the option of scheduling maintenance.

As the AI system schedules the maintenance window, it automatically adjusts the production schedule within the Epicor system. During the demo it even noted open capacity on another machine, and asked the operator if they wanted to move the scheduled production to the available asset. With one click, it was all accomplished — maintenance scheduled, production moved, and presumably delivery schedules all maintained. This was the first time we've seen a use case that highlights the benefits of embedded analytics in a system that also controls other portions of a manufacturer's business; this kind of seamless workflow would be impossible with standalone analytics applications.
A Dinosaur as "Transformative?"
Although many consider ERP a technological dinosaur in the age of Industrial Transformation (IX) and IIoT, Epicor is making the case that manufacturing ERP solutions can actually be an empowering platform for these transformations — and they're not alone. We've seen similar messages and demonstrations recently from Plex Systems and IFS and our research shows this is a trend in the making. In fact, our report on IX readiness revealed this as a best practice. It's a reassuring message for mid-market companies that are the focus of all three of these vendors; many of these manufacturers are still struggling with basic industrial operations and continuous improvement programs, and the idea of IIoT and/or Industry 4.0 is intriguing but intimidating. To be able to move beyond the constant battle to improve throughput, quality, and costs all the way to IX without the requirement of deploying an entirely new set of technologies is very attractive to these organizations — and it's a smart message for the manufacturing ERP companies to deliver.
The demos and case studies highlighted at the event position Epicor among the front-runners (along with Plex and IFS) in the manufacturing ERP industry in terms of adopting IX as their go-to-market strategy. More significantly, the Epicor product enhancements announced at the show regarding Azure, Epicor Virtual Agent, and embedded analytics are strong steps towards supporting this strategy. Any mid-size industrial company considering a new ERP implementation should include Epicor on its short list. However, manufacturers should view these announcements as just the first steps; we'd like to see the ERP company extend embedded analytics and AI in different functional areas within the software, and to continue building real-world use cases for these transformative technologies. As we've remarked time and again, mid-market industrial companies are in danger of falling behind in the IX race, making it easier for them to address their immediate challenges AND begin their journey towards IX. These themes should be the focus of every manufacturing ERP vendor.
Categories: Cloud, Enterprise Resource Planning (ERP), Solution Vendor / Software Vendor, Artificial Intelligence / Machine Learning (AI/ML)