Plex Systems held its annual PowerPlex user conference in Detroit the week of May 13, 2019, with just over 1,000 attendees and a few dozen sponsors across technology partners and systems integrators. A group of high schoolers were also in attendance, demonstrating their very cool entries for the FIRST Robotics competition; during the event Plex announced a $40,000 donation to this organization that works to inspire young people's interest and participation in science and technology.
Plex stated that this was its largest PowerPlex event to date, and the company used this opportunity to introduce two new executives and to bolster its case that industrial internet of things (IIoT) technology holds great promise for manufacturers — and reiterate that it should be embedded within the manufacturing enterprise resource planning (ERP) platform.
New CEO's First Keynote
CEO Bill Berutti delivered his first PowerPlex keynote since joining the company this past December, and focused on three key items:
HEALTH OF THE COMPANY: Plex is cash flow positive, profitable, and growing "by double digits." The manufacturing ERP vendor continues to invest heavily in product development; it released 43 new functionality upgrades last year (more on this topic below).


DOUBLING DOWN ON CUSTOMER SUCCESS, as exemplified by the number of customers Berutti and others brought on the main stage with them. According to Berutti, "All Plex employees wake up every morning thinking about how to make our customers successful." Two particular customer examples illustrated the greater breadth of companies that Plex has attracted the past few years: Seven Marine LLC, a young company that has disrupted the outboard marine motor industry, and Toyotetsu, a billion-dollar tier one automotive supplier. The ability to meet the requirements of a fast-moving young company in a greenfield application should be core for a cloud ERP company, and Seven Marine had great things to say about the speed of deployment and ability to make changes.

On the other hand, billion-dollar companies embracing a manufacturing ERP solution like Plex is a newer development in the industry; Toyotetsu's focus on operational excellence was likely the leading factor in its decision. "If we can find the problem, we know we can fix the problem," said Mark Redmond, Vice President of Manufacturing at Toyotetsu America, Inc. "Plex helps us find the problems." The automotive supplier is in the process of going live with 300 new work centers in a single plant; the company also has plans to connect all North American plants in the next year.

In a small group conversation later, Berutti commented on the trend Plex is seeing among larger, multi-billion dollar manufacturers:

"

Many of these large companies are actually collections of many smaller companies, with great autonomy at the plant level.

"

Moreover, according to Berutti, that's where Plex wins, on the strength of its manufacturing operations feature-set. (American Axle is another tier one automotive supplier where Plex started small many years ago and is making inroads on a plant-by-plant basis.)


NEW IIoT FUNCTIONALITY (with IoT and Industry 4.0 terms used interchangeably by Berutti and other speakers) and new features around the user experience and the Plex online community. These remarks were echoed and amplified by Chief Product Officer Richard Murray and Chief Technology Officer Jerry Foster in later statements.
CEO Not the Only "New Hire"
Berutti also introduced the crowd to Robin Saitz, whom Plex hired as CMO just this past February; her comments were brief. It's interesting to note the pedigree of both Berutti and Saitz includes significant stints at PTC during a time of significant growth and expansion for that company. In speaking with multiple Plex employees and partners, word is that both executives are an excellent fit for the unique Plex corporate culture, where manufacturing industry experience and expertise are valued above all else.
During an analyst briefing session at the event, Berutti and other members of the Plex executive team shared insights and experiences from customer interactions, as well as more detail regarding product plans. Of particular note is increasing interest in the Plex solution from larger companies, those well above the $1 billion annual revenue threshold that has historically defined the top end of the Plex customer base. While Berutti correctly observed that many of these multi-billion companies operate as if they're dozens of smaller companies, with tremendous autonomy and authority existing at each plant, the technical requirements are more complex. These big companies also expect a clear vision of how the vendor will support Industrial Transformation (IX) initiatives.
Our research shows that companies between $1 and $10 billion in revenue are progressing towards IX more rapidly than other size organizations. Off-the-shelf-integration with corporate backbone financial systems such as SAP or Oracle, as well as integration with financial consolidation applications such as Oracle's Hyperion or OneStream are required, for example, and these companies expect support for their Big Data and analytics initiatives, and other transformation technology projects. While Plex has made significant progress to support the technical requirements of these giants, the need for a more sophisticated vision for IX remains a challenge for the company.
Plex Product Launches: IIoT and UX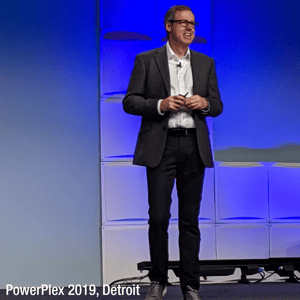 CPO Richard Murray rolled out the theme of the event from a product point of view: "Connect to transform." He and Anurag Garg, VP of Analytics and IoT at Plex, and a group of product managers and specialists announced several key product enhancements, with one major release: Plex Industrial IoT.
Plex announced the acquisition of industrial analytics company DATTUS in July 2018 and at the time promised to accelerate development and integration of the analytics engine for the Plex customer base. The "connect to transform" announcement at PowerPlex was the fulfillment of that promise, with a focus on a single use case: operating plants with no unplanned downtime.
Our research has shown predictive maintenance and reduced downtime as the top use case for analytics again and again. However, we are starting to see other use cases emerge that are powered by the combination of machine data analytics with quality data, financial data, production scheduling, and more. Plex has not yet articulated use cases around the unique value it can offer with this combined data set, which puts it behind companies like Epicor, which is already promoting elegant, compelling use cases based on the same functionality. Plex has the tools to build these new use cases and demos; we'll watch in the coming months to see how it articulates this new vision.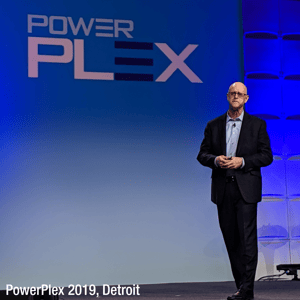 Jerry Foster, co-founder and long-time CTO at Plex, spent a good deal of time discussing the migration to the latest user experience, called "UX" – the old version is called "Classic." According to Foster, all new product functionality is being developed in UX only, with only a few new features offered in Classic; in June 2021 Classic will move to "maintenance mode" with only critical bug fixes and updates for regulatory compliance from that point forward. While technically not a separate "platform" — UX and Classic run on the same database, and Plex's SPROC-based design means a good chunk of the code runs in the database — UX is a substantially different experience for users, and changing interfaces within a manufacturing environment can be challenging. Additionally, we heard comments from manufacturers that not all third-party integrations are complete. For example, older bar code readers that are used by many Plex customers (and bar code labels are core to the use of Plex) are not fully compatible with UX.
For the past two years, all implementations of Plex have been on UX, including new deployments for existing customers. To accelerate the migration by all customers to UX, the ERP vendor has created a transition team with documentation and tools to help.
Are You a Manufacturer Considering Plex?
From a functional point of view, the Plex solution remains a strong choice for manufacturers in its target industries: automotive suppliers, metal formers, plastics/injection molders, aerospace, and some food and beverage suppliers. Plex has continued to focus on deep functionality required for these businesses to function smoothly and efficiently. The updates to the UX and other functional enhancements are positive steps for the company, and its relationships with customers remain strong. As in years past, the customers that attended PowerPlex were some of the most evangelical users of an ERP solution that I've ever seen.
The challenge for Plex, and for the manufacturers considering the solution, remains one of long-term vision and direction. As an early mover into IIoT technology among manufacturing ERP vendors, Plex has many of the components in place to lead customers down the path of IX; as noted previously, the company has made the first steps towards integrating IIoT technology solutions into its core manufacturing functionality.
To be a trusted IX partner for top manufacturers in its target industries, Plex must continue to extend this functionality and build unique features that combine core manufacturing functions with emerging IIoT functions, to deliver a unique value that only these combined functions can bring. For manufacturers just starting IX, seeing the company's strategic vision regarding these new features and capabilities is vitally important. We expect Plex to communicate this vision in the coming months, and we'll report on that when it happens.
Categories: Enterprise Resource Planning (ERP), Solution Vendor / Software Vendor, Industrial Internet of Things (IIoT), Industry 4.0 / Smart Manufacturing, #MondayMusings