LNS Research was recently briefed on the late-January release of ETQ Reliance 2019. A lot has changed at ETQ since the private equity firm TCV acquired it in August 2017. Much of the management team has changed, with seasoned industry veterans replacing long-time ETQ insiders, exceptions being the former head of ETQ Cloud, Joseph Randazzo, and ETQ co-founder, Morgan Palmer. The new leadership has brought a new philosophy, including a broader perspective on the value, role, and contributors to quality and quality technology.
ETQ Reliance 2019 is the first significant release guided by new management, and the new philosophy is reflected in the release. Here are some key takeaways:
New Packaging
In the past, the ETQ Reliance platform was priced and packaged modularly based on process. For instance, one could buy failure mode effects analysis (FMEA), or Corrective Action, depending on the requirement. There's nothing wrong with this approach, and many use it. However, to better align the technology with multiple stakeholders and create value in a lifecycle phase, ETQ repackaged the platform to Quality by Design, Nonconformance Handling, Supply Chain Quality, Complaints Management for Life Sciences, Health and Safety, Environmental Management, and Enterprise Risk Management. Environment, Health and Safety (EHS) leaders should note that Supply Chain Quality also provides functionality for EHS processes, such as MSDS (Material Safety Data Sheets) and chemicals.
Ease of Use
While quality professionals may manage enterprise quality management software (EQMS), LNS has long advocated that these systems should help improve collaboration and engagement with broadly distributed teams across the lifecycle. However, this can be a challenge because the user experience (UX) that an administrator needs is entirely different from that of an infrequent user.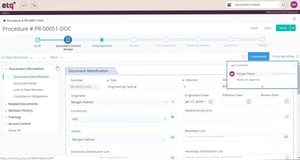 This was a significant focus for ETQ, as the interface has been substantially enhanced in look-and-feel and functionality. The workflow UX is improved and streamlined. The interface has also been updated to Angular JS and supports Toast messages. For non-techies, this means that the interface resizes itself depending on screen size – works well on laptops and smaller devices – and provides in-context notifications. ETQ Reliance also has had a native mobile environment for several years, which isn't going away.
Cloud-First
ETQ continues to increase its investment in software as a service (SaaS). One of the most noticeable areas of this strategy is the ongoing evolution of ETQ's Rapid Application Deployment (RAD). ETQ is using improved preconfigured best practices and an updated implementation philosophy to shorten implementation time to weeks from months. LNS has been encouraging this across the vendor community for years – there's no reason why organizations should be forced to develop their approach to standard quality processes. LNS has also been urging quality teams to review the vendor tech and the preconfigured best practices.
Analytics
One historical weakness of ETQ has been its analytics capabilities. There have been investments made over the past several years, but frankly, the EQMS market is weak in analytics. Conversely, the demand for high quality, highly performant, and role-based analytics has never been higher. LNS' data indicates that quality teams identify a lack of effective metrics as a top challenge to success (37% of the total population, n=1328). Our research also show that critical metrics like Cost of Poor Quality are typically infrequently measured, lack context, and thus are not suitable for making decisions.
ETQ has partnered with Acumen Analytics to provide a bolt-on analytics approach to provide better and more actionable insights into ETQ data. The version that LNS Research reviewed was a big step in the right direction, although the preconfiguration lent itself more readily to an ETQ Reliance 2019 system administrator than a quality, engineering, operations, or service leader. This is more a gap in preconfiguration – think back to the RAD conversation – versus technical capability.
Overall, LNS likes the direction ETQ is taking with ETQ Reliance 2019. It continues to build on ETQ's strengths, upgrades the interface to allow broader engagement, provides enhanced RAD to reduce deployment time, and a partnership for analytics to guide data-driven decisions.
Categories: Enterprise Quality Management System (EQMS), Quality 4.0