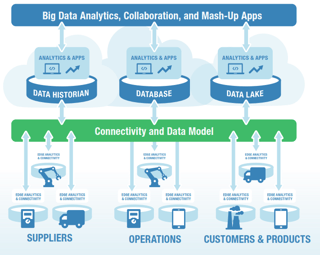 The #MondayMusings, Digital Transformation blog series provides insight and analysis for executives from the previous week's briefings, events, and publications @LNSResearch.
Click here to speak with Matthew Littlefield
Understanding Dassault Systèmes 3DEXPERIENCE Platform
Several months ago, I covered Dassault Systèmes' Manufacturing in the Age of Experience event in China. In that report, I gave the company high marks on its vision for manufacturing and the integrated user experience provided through the 3DEXPERIENCE Platform. I also challenged the company to go further in defining the future direction and scope of the 3DEXPERIENCE platform; especially given how many other companies announced new IoT Platforms in 2016.
Answering the Challenge
In a recent analyst only briefing, Andy Kalambi and Ramesh Haldorai answered that challenge. For companies interested in the IIoT Platform space in general, and Dassault Systèmes in particular, here are the highlights of the 3DEXPERIENCE Platform:
Does not replicate data, instead provides an ontology for referencing on-premise, off-premise, structured, unstructured, future, and legacy data

Layers across legacy enterprise applications: PLM, ERP, CRM, etc.

Designed for modeling smart connected products, factories, buildings, or cities

Includes important platform capabilities like Big Data Analytics, Search, and Collaboration.

Provides shared services and a common user interface across over 500 Dassault Systèmes apps running on the platform

Connectors for an impressive list of the leading modeling tools, enterprise applications, and data providers

Is positioned as starting at the model level, with the ability to digitally connect all stakeholders and be the platform for the customer experience.
Based on this briefing, LNS Research sees Dassault Systèmes as delivering a differentiated Platform for the industrial space; with a focus on the customer experience and a longstanding and impressive insistence on running all Dassault Systèmes applications (including acquisitions) on the Platform. By running all apps on the platform, Dassault Systèmes creates a common user experience and helps drive critical mass of platform users.
If these capabilities are relevant to your organization, the 3DEXPERIENCE Platform is definitely worth a look. However, Dassault Systèmes still has to continue the journey to deliver a full IoT Platform to customers. Namely, the Platform today is focused on data connectivity, but not device connectivity or management for streaming data. It also remains to be seen if Dassault Systèmes will open the platform to developers and third parties for releasing their own apps and value-added services offerings. If Dassault Systèmes puts these capabilities on the roadmap, it could really shake up the IoT Platform market.
SAP Launches Leonardo and Jump-Start Program
This past week SAP started 2017 with a bang, announcing SAP Leonardo. Prior to the announcement, LNS was fortunate enough to have a pre-briefing from Hans Thalbauer, SVP IoT, and Digital Supply Chain.
Based on this discussion, we see SAP Leonardo is a platform interoperability story. Today, there is no effective IoT platform that cuts horizontally across the entire value chain. Instead, different vendors offer different platforms, focused on different spaces, including products, assets, factories, fleets, infrastructure, financial markets, people, and more.
Platform of Platforms?
In the not-so-distant future, many industrial companies will find themselves running multiple IoT platforms, and likely creating entirely new islands of information and silos. SAP Leonardo is designed to address this challenge, providing a bridge across these multiple platforms as well as connections to edge devices, the SAP Cloud Platform, and SAP HANA Platform.
It remains to be seen if SAP HANA will become the IoT Platform for all Things across the value chain. However, Leonardo is a savvy move and could be a very compelling offer for customers by enabling an architectural approach that allows users the flexibility to have SAP HANA manage Things where it makes sense and use another platform where it doesn't, all while connecting these Things to the Line of Business processes already in SAP HANA.
I have previously written that IT-OT convergence is actually code for IT land grab of OT. SAP Leonardo does not fit in this characterization, it rather feels like a balanced approach to a complex and difficult problem.
Time to Value
The second part of SAP's announcement was the SAP Leonardo Jump-Start Program. This program is a structured approach that will move SAP customers from explore, to prototype, to pilot implementation in a three-month time frame. Overall, LNS applauds SAP in trying to move customers to more quickly adopt IoT technology using Lean Start Up and Design Thinking principles. In the industrial sector, these will be welcome changes. All too often, companies are locked into traditional continuous improvement, Six Sigma, and Lean methodologies that only allow for incremental gains; not transformational activities.
As long as SAP can deliver on the outlined commitments to customers, our only critique would be that SAP could go even further. We are still waiting for a vendor to deliver a broadly adopted DIY approach to the IoT that business and operations professionals use independently of internal IT or the supplying vendor.
Perhaps this is SAPs first step towards that vision, or perhaps an up and coming start-up will beat the market to the punch. For more coverage on this topic, please watch out for the forthcoming report on "MacGyvering APM" from Dan Miklovic.

Categories: Industrial Internet of Things (IIoT), Big Data, #MondayMusings, Cloud