GE Digital recently announced a series of products and service enhancements across their Digital Plant Software Applications portfolio. In addition, they released enhancements and new functionality in their Operations Performance Management (OPM) suite for power generation and announced their Remote Operations solution for Power Generation. All of these announcements culminated in a well-attended 2020 Virtual User Conference in October 2020.
What's New and Different
GE Digital released upgrades to its Digital Plant solution, including Proficy Operations Hub 2.0, Proficy HMI/SCADA iFIX 6.5, Proficy Historian 9.0, and Proficy Plant Applications 8.2. Highlights include:
Operations Hub 2.0 - Provides a common visualization and configuration across the GE Digital Proficy software portfolio of HMI/SCADA, MES, data management, and analytics, plus a remote operations enabler with tighter integration with the Proficy portfolio
iFIX 6.5 - New web-based build and configuration hub through an updated configuration UX.
Proficy Historian 9.0 - New Remote Collector Management (w/ UX), an Enterprise Management tool, a collector install simplification and configuration tool, the ability to be an OPC-UA Server and Azure IoT Hub, AWS IoT Core, and Google Cloud IoT Core endpoint, and horizontal scalability.
Proficy Plant Applications 8.2 - Supports the digital worker with more "mobile first" UIs for Waste and Process Orders as well as discrete and hybrid assembly UIs; increases the solution's enterprise scalability, allowing up to 300 active users; features modernized clients with Web Activities Embedded SPC, Web Variable e-Signature, Web Process Order v2, unbound process orders, common History and BOM integration, Web BOM Management User Interface, and a Receiving Inspection Module; and finally new Flash Upgrades, B2MML v3, Unicode Support and Step-wise Activities based on Titles.
More upgrades to the Digital Plant solution are coming in the late Q4 and early Q1-2021 with CIMPLICITY 11.1, Proficy CSense 8.0, and Predix Manufacturing Data Cloud (MDC) 1.4.
OPM for Power Generators includes a three-module solution (Performance Optimization, Production Planning, and Performance Intelligence) that couples process Digital Twin technology based on first principles physics-based modeling, AI, and advanced Machine Learning, with modeling and analytics and Edge control, to enable optimized power plant performance across a generation fleet, including renewables.
In addition, GE Digital also released Remote Operations for Power Generation, a software and appliance solution that provides remote/mobile operator access to essential on-site monitoring and control functions. Remote Operations is available in three upwardly compatible packages:
Remote Operations Response is a special packaged offer to rapidly enable remote monitoring and assistance.
Remote Operations Standard delivers enhanced remote/mobile functions guarded by permitting and policy controls.
Remote Operations Advanced provides full remote/mobile controls and additional optional operating capabilities in a high availability configuration with failover.
So, with these releases, we see continued enhancement of existing products and further integration of selected components of the overall GE Digital portfolio. But what's different is two-fold: first, that GE Digital is now converging their efforts to combine releases, validate interoperability, and get on a standard release cadence; and second, it shows how GE Digital's move from offering platforms - and instead toward offering applications with advanced analytics - is now starting to pay dividends.
LNS Research Perspective
LNS Research had been telling the market that GE Digital is back since last year when new CEO Pat Byrne took over. And the efforts of Pat and his refreshed management team are showing positive results. GE Digital is pushing their theme of "Transforming How Industry Solves Its Toughest Challenges by Putting Industrial Data to Work," and Byrne has not been reluctant to put his face on it, front and center. GE Digital has also increased their emphasis on filling out their industry vertical solutions in oil & gas, power, and manufacturing, a need that LNS highlighted in previous blogs. New CTO Colin Parris reinforced this strategy during a recent conversation with LNS.

Looking Ahead
With all this good news for GE Digital, there is still more to do. For example, while they have begun to integrate their apps to reduce costs for OT/IT staff to manage systems, a comprehensive integrated full-suite solution is not 100% in place yet and has room to improve. For example, while both Proficy Plant and Manufacturing Data Cloud Applications provide a degree of contextualization, as well as a calculation engine, ad hoc analytics capabilities, and out-of-the-box reports, LNS suggests that these architectures be unified into a single comprehensive data management platform applicable to any industry vertical that GE Digital serves.
Nevertheless, with a strong year of rebound behind them, GE Digital clients and prospects should feel confident in GE Digital's continuity and commitment. No doubt GE Digital is getting stronger and better again, and that's good news for the market.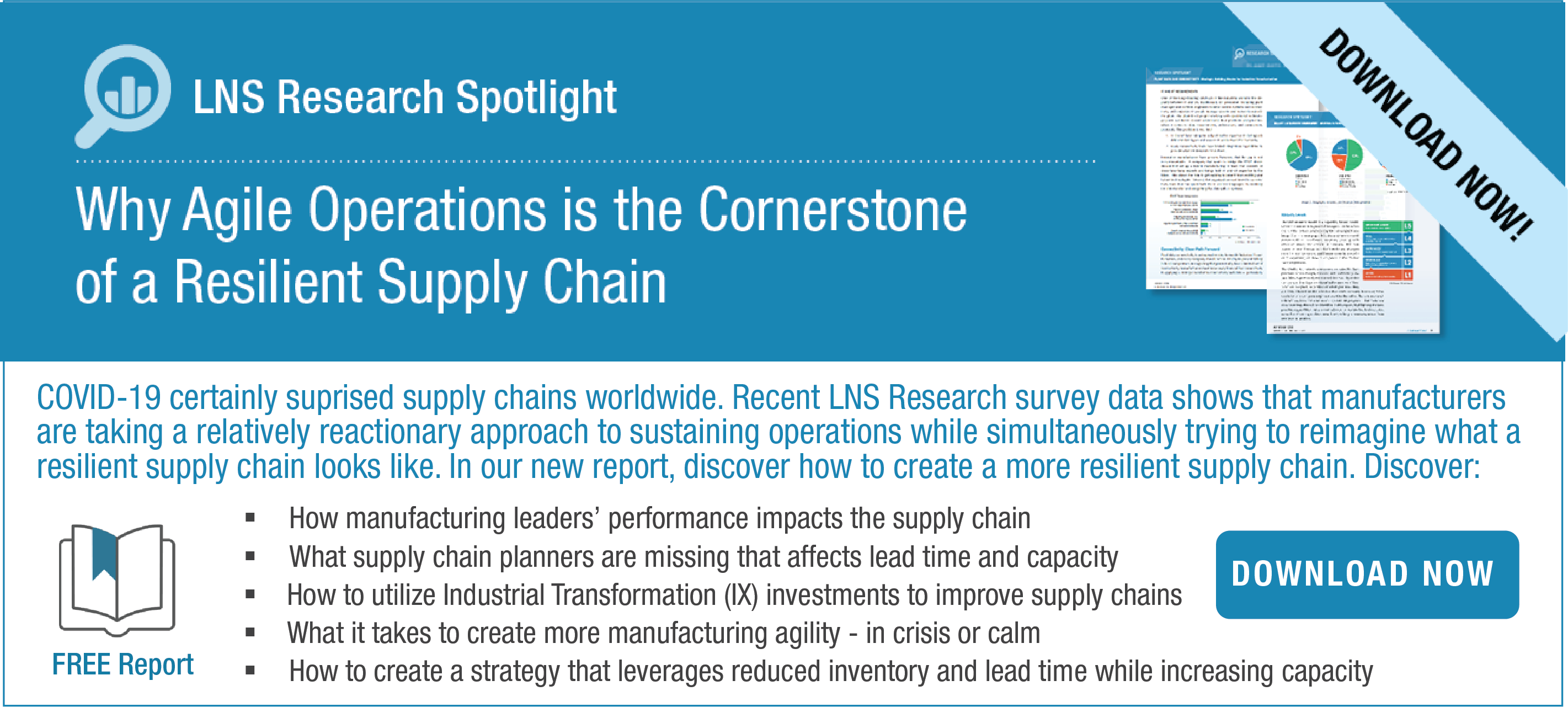 Categories: Industrial Transformation / Digital Transformation, IT/OT, GE Digital