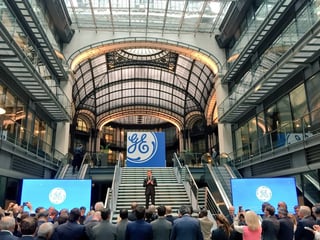 GE Digital was kind to invite my colleague Mehul Shah and me to two consecutive events in Paris last month: the launch of the Paris Digital Foundry and Minds+Machines 2016 Europe. Both were filled with inspirational talk of the GE vision, and reconfirmed to LNS Research that GE Digital is going all in on the Industrial Internet of Things (IIoT) not just in the US, but globally.
The first evening saw the launch event for GE Digital Foundry in the impressive Le Centorial building, right in the center of Paris. The building is already a hub for some high-tech companies (and was originally the headquarters of Credit Lyonnais, a bank) and seems a fitting place for a Digital Foundry that will support the next generation of contributors to in the ever-changing technology world. Jeff Immelt, CEO GE, and Bill Ruh, CEO GE Digital, stressed the importance of bringing an innovative development environment to an audience that can deliver talent and results. The Digital Foundry will serve as a hub for a digital industrial ecosystem across Europe and will be a focus point for entrepreneurs and technologists. The Foundry will initially employ 250 engineers and data scientists and has an ambitious growth strategy.
Minds+Machines – Welcome to Europe
The following day we moved to the banks of The Seine for the Minds+Machines conference and technology demonstrator. The day was filled with top level speakers from a wide variety of organizations from Jeff Immelt to French ministers, CEOs of major European companies and a thirteen-year-old coder. Much of the focus was on power industries because GE recently acquired the power business of Alstom, a French industrial company, and had major customers present at the conference including Engie, a global French energy conglomerate. The speakers promoted a positive image of Europe as a potential leader in Digital Transformation; the infrastructure, technical skills, research strength and market size can deliver leadership in the future digital industrial world. Mr. Immelt did, however, note a quiet word of caution that Europe's politicians must encourage the commercial investment with a light regulatory touch. Since the conference, the UK's vote to leave the European Union has added a veil of doubt over what comes next. LNS Research believes that industry in both the UK and the EU needs to focus on the digital opportunities and not to delay due to uncertainty.
Minds+Machines 2016 was one more opportunity for GE Digital to demonstrate that it is investing more and has higher ambitions than almost any company in the IIoT market. The plan is to have $6B of revenue for GE Digital in 2016 and for that to rise to $15B by 2020. It is clear that today much of the $6B is bought by GE industrial companies, but external growth will accelerate as products grow. Much of the revenue from the IIoT market will come in the form of services, a real strength of GE. Today the total GE services backlog is an astonishing $226B, almost double the whole company's revenue. Clearly, the IIoT will deliver more value through services so we can expect to see an increase in services backlog and revenue.
Core Strategy - Predix
There are many ways of entering the IIoT market such as being a specialist in connectivity, analytics or Cloud computing. GE Digital has chosen the platform route and has bet the whole strategy, one could almost say the company, on the success of Predix as the IIoT operating system and platform. GE Digital has designed Predix to allow third-party developers easy access to the platform; GE mentioned that there are currently 10,000 developers working on Predix and related apps. The LNS Research definition of an IIoT platform includes Cloud, connectivity, Big Data Analytics and application development. GE Digital's Predix strategy covers all of these IIoT platform requirements, some of which is delivered by partners, such as Cisco for connectivity. We are excited about the opportunities that Predix brings. In particular, the potential to build new business processes from micro apps on the platform should lead to profitable outcomes in a short time.
GE Digital is also building mainstream applications on Predix. These include Asset Performance Management (APM), Brilliant Factory and the GE Health Network, aimed at supporting GE (and 3rd party) medical equipment like scanners. From what LNS has seen from these big applications, there is a lot of potential, but they still need a lot more functionality before they can completely replace traditional APM and Manufacturing Operations Management (MOM) solutions. As well as applications, GE Digital announced partnerships with a wide variety of end-user customers in oil & gas, chemicals, and power; clearly all are potential APM users. They also announced close partnerships with consulting companies, evidently a vital part of the expansion strategy.
What Should You Do?
GE Digital has done an excellent job in marketing the IIoT platform and what it can bring to manufacturers. Most adoption to date has been inside GE, and we now see external companies begin to adopt Predix. Since it is still completely new, there is not yet a standard upgrade path in place today to Predix from GE or other industrial software solutions. GE has shared with us the detailed plans they have in place to help customers depending on circumstance; and we are confident GE sees this as an important success factor. GE is already building with existing customers the appropriate tools and processes for co-existence and eventual migration.
GE Digital has made financial projections as bold as their technology predictions over the last two years. They continue to raise the bar and future performance expectations. There is clearly a risk that some projects will not be entirely successful and that a backlash from the hype of the IIoT will lead people to disillusionment and fear.
We expect GE Digital to deliver on their promise, but potential users need to understand that this is new and evolving; delivery may take a little longer than planned. Companies that want to take a lead in Digital Transformation should be talking with potential suppliers, and GE Digital should be on that list. As we have said, it is early days and those starting now will certainly be among the leaders, but there is enough infrastructure present in Predix and the promise of a huge developer network that should lead to useful products quickly.
Some Inspiration to Finish
I mentioned a thirteen-year-old coder at the start. Niamh from Dublin has been coding at Coderdojo since she was nine and became the European Digital Girl of the Year for 2015. She was excellent on the main stage, and when asked what her strongest impression of the Minds+Machines conference was, she answered: men in suits, and that is probably not the best impression to give to youngsters who are thinking of joining the world of Digital Transformation.
NEW eBook is a must for Quality leaders! This eBook provides senior leaders with best practices for building a business case around quality and the foundational framework needed to gain executive commitment.

Tags: Industrial Transformation / Digital Transformation, Industrial Internet of Things (IIoT), Big Data, Asset Performance Management (APM), Cloud, Manufacturing Operations Management (MOM)