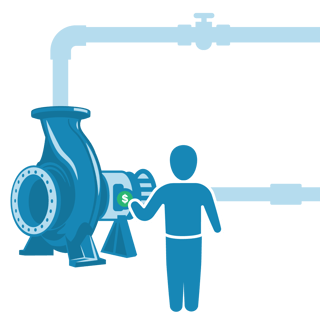 In this monthly in Roundup, LNS Research explores recent announcements and events, such as business goals hurting workers; AspenTech talking Asset Performance Management (APM); FDA on contract drug manufacturing; product engineering to reduce costs and boost reliability; and workers blind to health and safety rules.
Are Business Goals Hurting Employees?
If your company focuses strictly on earnings or bottom line results, it might signal bad news for the well-being of your workforce, according to a study by two accounting professors from UCLA and UT. Professors Judson Caskey and N. Bugra Ozel collaborated to examine the impact of meeting financial goals in a company and injury/illness rates. Fourteen years' worth of data on workplace safety from the OSHA combined with analysts' forecasts revealed that any changes in operations or production that are meant to increase earnings impacted the number of injuries in the company. Specifically, an increase in employee workloads and abnormal reductions of discretionary expenses caused a rise in injury/illness rates when companies met or exceeded analyst forecasts. Learn about the study on EHS today, and look for the complete study and findings in the February 2017 issue of the Journal of Accounting and Economics.
AspenTech Announces Asset Performance Suite
Aspen Technology, Inc. (AspenTech) recently announced a new product suite, aspenONE Asset Performance Management (APM) geared for process industries to address process disruptions, asset availability, and downtime. Only a few customers will have access to the new product until AspenTech announces general availability, while the company continues to build out functionality and capabilities The software company first announced its plans to offer asset performance solutions at their conference in 2015 and recent product statements build on that message. Read the press coverage at Commodities Now, or visit AspenTech's newsroom.
Drug Manufacturing: FDA Issues Final Guidance on Quality Agreements
The U.S. FDA recommends that owners and contract manufacturers implement written quality agreements to define each party's manufacturing activities and roles to ensure compliance with current good manufacturing practices. The guidance covers several categories of drugs including human drugs, veterinary drugs, biological and biotechnology products, active pharmaceutical ingredients (APIs), drug substances, and others. In drafting the quality agreement, the parties may rely on quality management principles and engage in "defining, establishing, and documenting their activities in drug manufacturing operations, including processing, packing, holding, labeling operations, testing, and quality control operations." Learn more about the guidance release at Duane Morris LLP, or read the full document, "Contract Manufacturing Arrangements for Drugs: Quality Agreements."
Advanced Materials and Manufacturing Processes Helps Blades Keep Pace with Taller Towers and Turbines
The design and engineering team at LM Wind Power just released research on a modular blade molding concept that will allow them to make larger, longer wind turbine blades and extend rotor diameter by attaching variable tip lengths. The process enables separate manufacturing of the blade and tip, followed by a traditional joining technique to permanently assemble a blade.
This eliminates the added expense of building a new blade mold. Through a combination of reduced production costs, increased rotor size, and optimized wind-farm output, the company expects the modular products to cut the cost of energy for offshore blade applications by about 6 to 8%. Longer blades translates to more concern around reliability, stability, and durability, so materials and manufacturing are top priorities. An LM Wind Power VP summed it up nicely – "The [wind] industry must increase annual energy production, and reduce costs through innovation in material use and manufacturing technologies, all the while considering reliability and the efficient servicing of turbines during operation. Ultimately, the winners of tomorrow's wind industry will be those who can adapt, innovate, and expand at the lowest cost." Read the full story.
Health and Safety Rules: Employees Don't Know or Don't Care?
If Environment, Health, and Safety risk is a big concern for your manufacturing or industrial company, take a peek at this recent study in the U.K. that shows that more than one-half of workers don't know basic health and safety rules. According to the report, 60% of workers don't comply with employer's health and safety practices and 33% think that their company doesn't have any health or safety rules in place. Misinterpreting safety symbols and signs is a big problem area, followed by not knowing what to do in case of an injury. Read SHP Online's coverage of the study conducted by safety barrier manufacturer A-SAFE.
Categories: Enterprise Quality Management System (EQMS), Risk Management, Asset Performance Management (APM), Environment, Health and Safety (EHS)