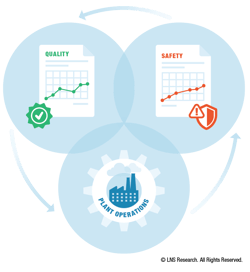 2018 was a year of much change and progress in the world of environment, health and safety (EHS) management; especially the software and digital technologies that enable it. This made for an exciting year for EHS management research here at LNS. The primary focus was on expanding our market-leading EHS 4.0 research on the Digital Transformation of EHS management. We released our full agenda of research on topics such as Big Data and predictive analytics, the impact of the Industrial Internet of Things (IIoT) on safety, integrated risk management, the connected industrial worker, and the convergence of safety, quality, and risk in plant operations, among others.
5 Meta-Trends Shaping EHS Management
Before getting to the predictions for 2019, let's consider significant trends that are impacting EHS management and how it interacts with the rest of the organization and the extended industrial ecosystem.
Business Integration

EHS faces continued pressure to evolve as an integral part of the business that creates and delivers value. Compliance, risk, and sustainability initiatives are only a means to an end. EHS leaders have aligned with organizational transformation initiatives to improve operational excellence, business continuity, and ultimately profitable growth.

Digital Transformation

As industrial organizations accelerate and expand transformation initiatives enabled by digital technologies, the EHS business function is at a crossroads that represents an opportunity to engage, and the risk from not doing so.

Transparency and Disclosure

A combination of technology, legal, economic, and social forces have placed industrial organizations under greater scrutiny by many stakeholder groups. This drives the need for better processes, effective management systems, in-depth data and insights for decision support, and modern information technology to enable all of these.

Operational Risk Becomes Strategic

Rapid changes in technology, business models, and global business networks create the challenge of managing dynamic organizational risk profiles. As the extent of new threats like industrial cyber security on business continuity is better understood, EHS and operational risk management are increasingly seen as key in board-level enterprise risk management initiatives.

Evolving Workforce

With large portions of the aging industrial workforce retiring, a talent vacuum is created that needs to be filled with younger workers. The expectations of this new generation workforce are fundamentally different regarding technology, communication, engagement, values, and overall employee experience.
5 Predictions for EHS Technology in 2019
EHS business leaders will get on board the Digital Transformation train

The adoption of new and emerging digital technologies is widespread in industry, with most organizations already implementing Industry 4.0 and Factory of the Future initiatives. Most of the action has been in core operational areas such as asset reliability, operational efficiency, and product quality. Only about 15% of digitalization investments have been directed to safety and environmental use cases.

This will change dramatically in 2019, as EHS leaders see corporate digitalization efforts unfold, EHS software vendors embed digital technologies such as predictive analytics solutions, and specialist tech vendors offer cost-effective solutions with quick payback, e.g., augmented reality (AR) and intelligent wearables. With increased awareness of the opportunity, the benefits of getting in front of digital EHS will be more apparent and acted upon. Depending on current capability maturity level, this could be as simple as standardizing processes with cloud-based enterprise EHS software and extending it with mobile apps.

The promise of smart, connected EHS will be realized

While there has been much discussion about EHS 4.0 digital technology use cases; success stories have been somewhat limited. This is to be expected as early adopters work through pilots and initial roll-outs, and vendors work with co-innovation partners to bring solutions to market. For example, several EHS software vendors have been investing in Big Data/predictive analytics initiatives for a couple of years and are working with key customers on implementation.

In 2019, we expect a significant number of solid case studies showing results and evidence of business value from advanced analytics for predictive risk management incorporating artificial intelligence (AI) and machine learning (ML) algorithms, and other projects based on IIoT platforms and intelligent wearables.

Connected Worker solutions will gain traction

Most of the investments in Digital Transformation have focused on leveraging asset- and production-related data such as asset performance, operating conditions, and product quality. In 2019, we expect to see significant adoption of Connected Worker solutions that leverage the flow of data and information related to how workers interact with their work environment.

Use case scenarios include delivery of context-sensitive information to the worker (e.g., safe work procedures with AR), real-time monitoring and response to worker-related data (e.g., toxic gas exposure, hazard proximity), and use of Big Data for predictive risk management (e.g., use of intelligent wearables to collect ergonomic or fatigue data and application of advanced analytics to identify trends, patterns and anomalies for preventive action).

The EHS Software Arms Race will Shift from M&A to Go-to-Market

The flurry of major EHS software merger and acquisition (M&A) activity we saw over the past few years calmed down considerably in 2018, and the focus was on the integration of acquisitions. There were still some new combinations, but the pace fell off, and acquisitions tended to be more niche-focused. In 2019, the battlefield in what I term the "EHS Software Arms Race" will continue to shift from M&A to go-to-market.

As a small group of well-resourced players with similar functional footprints and messaging jockey for position, the top priorities are to secure and get more value from the current installed base and to increase market share. This requires a go-to-market strategy supported by differentiated positioning and solutions that resonate with defined target markets. To accomplish this, in 2019 vendors will compete with more emphasis and precision in defining target markets and buyer personas, messaging, development roadmaps, and partnerships to deliver industry vertical- and segment-focused solutions.

Systems thinking will be increasingly adopted

Historically EHS (as well as other business functions) operated in a siloed fashion. Our research consistently shows that lack of cross-functional collaboration and disparate systems and data remain the top barriers to EHS performance improvement. Even in organizations with an effective safety or environmental management system, operational performance will be sub-optimized unless the interconnectedness within EHS disciplines and between EHS and the rest of the business is recognized and taken advantage of by adopting systems thinking.

Considerable strides have been made in this regard. In leading organizations, EHS is embedded into operations in terms of organizational structure, leadership, metrics, and accountability in day-to-day tasks. Some companies have integrated safety, environment, and quality management and technology systems. Our research shows that such integrated approaches that recognize the interconnectedness of systems, pays off in improved performance on key metrics such as overall equipment effectiveness (OOE), on time delivery (OTD), and incidents rates. We expect the adoption of integrated management and technology systems to accelerate in 2019, primarily facilitated by the harmonization of the ISO 9001, 14001, and 45001 standards and the update of ISO 31000 Risk Management guidelines.
There's little doubt that 2019 will be a year of great opportunity for EHS business leaders, especially those that recognize essential business and technology trends. It should be a year characterized by improvement and perhaps even transformation for those that seize the opportunity.
Categories: Risk Management, Industrial Transformation / Digital Transformation, Environment, Health and Safety (EHS), Connected Worker