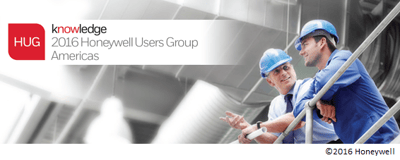 This year's Honeywell conference began to provide a clearer picture on the direction of all things Digital. Through a variety of announcements, Honeywell continues to develop its Industrial Internet of Things (IIoT) ecosystem. This is accomplished by bringing together its advanced data analytics, Cloud technology, and deep domain experience in process technology.
The event culminated in the announcement of Honeywell Sentience, their secure Cloud and edge platform, as well as further insight and direction on the Digital Transformation group that was formed earlier this year. Now as the vision begins to come into a view, the next step will be to see if customers are receptive to the promise and value that is IIoT. Here are a few takeaways from the event.
Announcement of the Honeywell Sentience Platform
Bruce Calder, Chief Technology Officer at Honeywell Process Solutions, announced the Honeywell Sentience Platform. The emphasis on this announcement was the ability to run global security standards embedded throughout the solution and make applications that are plug and play and scalable to support the changing needs of asset intensive business. As the platform progresses it will be important to understand if it runs on a private Honeywell Cloud, Microsoft Azure, Amazon Web Services, and/or others.
Honeywell seems to have the potential to begin offering many of the essential components across the Advanced Solutions Group to support an IIoT Platform. More details and information are required to understand if this is the case. Customers should be asking for detailed information on important items of the platform, for example, data models and partner ecosystem.
Applications Become "IIoT Ready?"
To identify applications that Honeywell is ready to support, they have begun to designate solutions that are "IIoT Ready". From the responses we heard at the conference, this basically means the solution can be supported in the Cloud. The Uniformance Suite is the latest offering launched that is positioned for customers looking for capabilities in the IIoT space; these applications are data driven and support operational intelligence and all are "IIoT Ready".
With the announcement of the Honeywell Sentience Cloud and Edge platform, Honeywell has made clear its intention to pursue an IIoT strategy. At the event a number of Honeywell offerings were denoted as "IIoT Ready." As Honeywell continues to roll out this strategy, it is important that customers gain a clear understanding of what this language means and if solutions run on Sentience or other Cloud offerings. Several other vendors in the space have already made similar announcements and not taken the time to provide clear and consistent guidance on how far up or down the Cloud/IIoT stack they plan on playing and where they plan on partnering. Without a more concise definition, Sentience and "IIoT Ready" have the potential to be viewed as a marketing message, rather than a defining characteristic of a solution.
Honeywell has an opportunity to define further what the Honeywell Sentience Platform is and how it will work with other Cloud offerings, and its impact on solutions that already have the "IIoT Ready" nomenclature. As more Honeywell solutions become "IIoT Ready," they should describe how and if they work within the Sentience Platform and the benefits of running existing applications within this new advanced technology landscape. This should help move it from marketing message to a more substantial and transformative technology message to help with customers focusing on Digital Transformation efforts.
Digital Transformation Begin to take Shape
Honeywell provided an update on the progress of their Digital Transformation group. This group will deliver the components of their Advanced Process Group, namely the "IIoT Ready" offerings. They will work with their customers on how to transform business models and will have a set of solutions to enable organizations to move forward.
Our view is that Honeywell is in the early stages of developing the best practice processes and messaging on the business value and innovation that can be delivered to customers through the Digital Transformation group. Andrew Hird, VP, General Manager is leading these efforts. They are moving at a fast pace, and in the near future we expect to see progress as to how this group will work with the Advanced Products group to deliver value to its customers.
The IIoT Space is Evolving at the Speed of Light
From the presentations delivered at the conference it's clear that Honeywell sees the promise of IIoT. The opportunity for Honeywell is their long history and expertise in the Oil & Gas market. This market is evolving quickly; we have seen examples of other industry offerings changing quickly month to month. It will be important to pay attention to the evolution Honeywell goes through with the offerings related to IIoT
In our closing thoughts, LNS Research reviews some of the key takeaways:
IIoT efforts are taking shape at Honeywell, watch for their message and solutions to evolve to match with customer requirements.

Differentiation will be critical, as IIoT is a hot space, there are many offerings and noise around this space.

The Honeywell Sentience Platform is a good start in an effort to provide customers an architecture for the future, continued definition and what it is will be required.

An opportunity exists to deliver a unified message with "IIoT Ready" solutions and the Sentience Platform.