When we last visited with IBM in April 2019 at their first annual IoT Exchange event, we came away with renewed confidence that IBM was stepping up their game, freshly re-organized into a dedicated ISV-like unit, and investing heavily in Maximo, TRIRIGA, and the Engineering Lifecycle Suite to catch up to, if not outright out-innovate their competition.
In our follow-up blog, we challenged IBM to:
Speed up the rate of innovation in bringing products and solutions to the market.
Strengthen their library of ready to apply asset templates in Maximo as they add AI and ML capabilities to the product.
Improve the productization of their IoT platform, which looked like a cobbled-together set of components that require a certain amount of coding glue and services to deliver a solution.
The good news is that IBM has indeed been hard at work and made significant progress on Asset Performance Management (APM), the core of which for the process industries are the Maximo and Oniqua products. We recently caught up with their APM team, led by AJ Naddell, in a series of briefings and demos. So that is the subject of this blog.

The Lowdown
While Maximo as an Enterprise Asset Management (EAM) solution and Oniqua as an MRO Optimization solution have always been strong products in their own right, they had not been getting the investment in refreshed architectures and the infusion of Artificial Intelligence (AI) and Machine Learning (ML) that competitors have been doing. But over the last 18 months, that has changed in a big way at IBM. Thus, there are a number of highlights worth mentioning that, in LNS Research's view, have put IBM back in the leader's pack of the APM game.
IBM merges its Maximo and Oniqua applications into a single suite, the Maximo Application Suite. The Suite will include remote asset monitoring, maintenance, and reliability applications in a single platform, which was expected to be released by the end of last year.
The Suite is available with a new flexible usage - single, simplified licensing model for the entire Suite, based on a concurrent user and application point model.
The Suite will be deployable as SaaS in a multi-Cloud environment. IBM's Red Hat OpenShift allows deployment of the Suite on any Cloud: IBM, AWS, Azure, or private.
The Suite will retain its Industry Solutions versions, which are getting their own capabilities overhaul.
Very importantly, the Suite is undergoing a major infusion of Watson AI capabilities for predictive and prescriptive asset analytics, including visual inspection, monitoring, alerting, analysis, and reporting. New rapid modeling capabilities include drag'n drop low-code/no-code configuration meaning that data scientists are not required to build and deploy models for Digital Twins.
IBM has expanded its Digital Twin Exchange to allow manufacturers, OEMs, and third party content providers to share digital resources as Digital Twins, where providers can list and sell asset models, bill of materials, and specifications. IBM says customers will be able to find and buy critical content in one place. The Exchange will target asset-intensive industries and provides content open to any solution, including 3000+ Maximo customers.
IBM has modernized the Suite's user interface for easier navigation, common controls, and visualization.
Finally, the Suite's analytics capabilities can be further extended using the Watson Studio in Cloud Pak for Data and to the Edge with Watson IoT.
Looking Ahead
Given this "great leap forward," what's next for IBM? First, they'll need to follow through to drive widespread adoption in their user base, grow their Digital Twins library, and fend off numerous competitors who have long been able to integrate with Maximo.
Second, their competition in the leaders pack is growing and making significant APM investments, even when they rely on integration to Maximo or SAP for the EAM. In addition to SAP, GE Digital, AspenTech, and AVEVA and automation vendors like Emerson and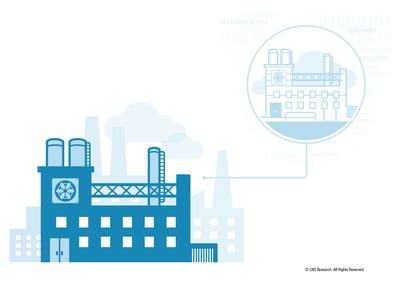 Honeywell, Bentley and Siemens have joined the pack with new oil & gas and power-focused APM solutions. Many of these competitors strive to change the equation by offering far more than just APM and asset twins, such as engineering, process and other Digital Twins, and integration with planning, scheduling, advanced control, and optimization. IBM will undoubtedly get their fair share, but where IBM goes from here, is the question.
This means IBM needs a grander strategy in the operational systems space or risk Maximo becoming an island surrounded by competitors with far more to offer. LNS's research has already shown a renewed interest in Operational Excellence 4.0 and the clash of Environmental, Health, and Safety (EHS) with APM over the ownership of Operational Risk Management (ORM). And with COVID-19 accelerating changes toward remote operations and autonomous operations, there is a bigger game afoot. In the medium term, IBM must decide how they will play in it.
For end users, rest assured that IBM will keep Maximo in the APM leader's pack. And with all the good things IBM is doing, it means that there is little reason to change for the time being.

Categories: Industrial Transformation / Digital Transformation, Asset Performance Management (APM), Digital Twin, IBM