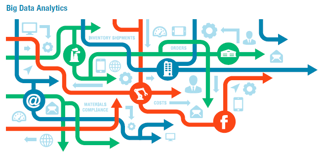 In this weekly Roundup, LNS Research explores recent announcements and events, such as Intel acquired Itseez; celebrating the 100th anniversary of the Indy 500; HP spins off business unit; and Airbus Helicopters putting 3D printing to work.
Intel Focuses on Automotive IoT with Itseez Acquisition
Microprocessor and semiconductor giant Intel has announced an agreement to acquire Itseez, a company that develops computer vision algorithms and applications such as pattern recognition and machine learning for embedded and specialized hardware.
The move comes as part of Intel's transition from a chip company focused mainy on PCs toward one that is a driving force behind cloud technologies and IoT-enabled devices, and plans to make Itseez part of its Internet of Things Group (IOTG) roadmap.
Headquartered in San Francisco, CA, Itseez was founded in 2005 in Russia. Since 2013, the company has been developing a suite of computer vision advanced driver assistance (ADAS) algorithms, including those that recognize traffic signals, lane departures, impending front collisions, and detecting pedestrians. In a May 26 statement, Intel Doug Daviss, senior VP and general manager of the IoT group at Intel, commented on the acquisition in a written statement, "To win in automotive today and help deliver its exciting future, Intel is adding new capabilities to our automotive portfolio like functional safety and over-the-air software management." To read more click here.
Big Data at The Great American Race
This weekend is the 100th running of the Indianapolis 500, an iconic auto race, not just in the U.S., but recognized around the world as one of the premier races anywhere. Todays racing cars, whether Formula 1, or an Indy Car, are highly complex and automated with thousands of data points available in real time that report everything form engine performance to tire pressures, to driver physiology. If ever there was an environment ripe for leveraging Big Data and Predictive Analytics todays high performance racing machine is it. On Friday, May 27th. Spunk tweeted its sponsorship of the the SMP Racing team cars for the 100th running of the Indy 500.
#SplunkNews: "We are proud sponsors of @SPMIndyCar in the 100th #Indy500. Good luck to @Hinchtown, @OriolServia & @mikhailaleshin on Sunday!"
HP Enterprise to Spin Off and Merge Services Businesses
This past Tuesday the Hewlett Packard Enterprise Co. (HPE) announced it would spin off its enterprise services business and merge it with Computer Sciences Corp. to create an IT services company with a reported $26 billion in annual revenue. According to HPE, which was founded at the beginning of November of last year as part of HP's split from being a 76-year-old single IT company, the move is the "logical next step in the turnaround" of enterprise business services and will allow greater focus on its server and data-center gear businesses. HPE shareholders are expected to gain $8.5 billion from the deal, which includes a 50% stake in the new company, $1.5 billion dividend, and $2.5 billion in debt and other liabilities. Leaders of the merger also speculate that the deal will generate approximately $1 billion in cost savings. To read more on this click here.
3D Printing Demonstrates Time and Cost Savings for Airbus Helicopters
Airbus Helicopters has begun to use German 3D printing manufacturer RepRap in working to cut time and costs for camera mount extensions. Fulfilling a crucial function for aerial video monitoring helicopters, the precision necessary to make adjustments to the camera mount is considerable, and exhibits an instance where the additive manufacturing technique provides large benefits over traditional manufacturing methods. According to RepRap, their 3D printer was able to create a needed part in approximately six hours that when cut from aluminum would require two to three days when factoring in external production and delivery time. Meanwhile, 3D printing the cost difference in printing the part was 50 Euros vs 120 Euros for external manufacturing.
"The application at Airbus Helicopters Deutschland GmbH very clearly shows the benefits of manufacturing prototypes with our German RepRap 3D printer," said Florian Bautz, CEO of German RepRap."Besides the obligatory time and cost savings, the internal prototype manufacturing using the FDM procedure also offers greater freedom in the design process." To read more click here.