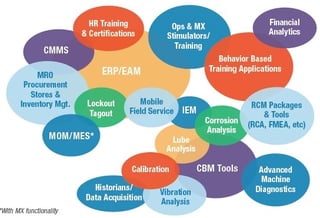 In this weekly Roundup, LNS Research explores recent announcements and events, such as AspenTech acquires Fidelis Group, LLC; adidas goes completely robotic in its first factory in Germany after 20+ years; LNS Research Analyst, Dan Jacob presents on the upcoming webinar, Quality Management in the Board Room: Building the Executive Business Case for EQMS with Quality Digest's Mike Richman and Dirk Dusharme; and HPE further commits to Iot/IIoT.
AspenTech Acquires Fidelis, LLC
Early this week, Aspen Technology, a process industry software and services provider, announced the acquisition of Fidelis Group, LLC an asset reliability software provider. The transactions is aimed towards servicing the process industry better by providing a software that optimizes assets with the ability to increase design operation and maintenance through the asset lifecycle.
What Fidelis Group brings to the table is its two asset reliability software products, Fidelis Titan 2 and Fidelis WST. Fidelis Titan 2 offers:
An event simulation tool for asset reliability modeling to increase design and availability

An evaluation of process reliability and design

Reducing redundancy systems to ensure plant availability, and therefore achieve cost savings
Fidelis WST offers:
A Warehouse Spare Part Sufficiency Tool which optimizes stocking and availability, and ultimately achieves cost savings.
As AspenTech enters the business of asset reliability, we are excited to see what the future holds. To read more details on the acquisition click here.
adidas Opens SPEEDFACTORY in Germany
adidas announced late last month that it would be opening the doors to its first factory in Germany in over 20 years. The factory will be referred to as the SPEEDFACTORY and will be operated by partner Oechsler Motion GmbH across an area of 4,600 m2. Perhaps most interestingly is that this factory will enable lot-size of 1 manufacturing, or in consumer terms, custom footwear with next-day delivery.
The SPEEDFACTORY was set up in December, 2015 as a testing ground with collaboration with industry experts to design a smart manufacturing system. The company will reveal its first pair of SPEEDFACTORY produced shoes later this year, and move to a large scale operation in 2017. Commenting on the SPEEDFACTORY is Glenn Bennett, Executive Board Member of the adidas Group, Global Operations, stating ""Every day our teams come together to bring speed to life, and with the adidas SPEEDFACTORY, we have a game changer in our hands. It enables us to combine speed in manufacturing with the flexibility to rethink conventional processes. Our goal is to give consumers what they want when they want it." To read more on this click here.
LNS's Dan Job on Quality Digest Live
This week Dan Jacob joined Mike Richman and Dirk Dusharme on Quality Digest Live regarding the upcoming LNS Research webcast, "Quality Management in the Board Room: Building the Executive Business Case for EQMS." They discussed some of the challenges that Quality leaders face gaining cross-functional adoption and building a compelling value proposition for quality management with top executives. Due to Dan's Pittsburg Penguins loyalty, he stayed true to the Stanley Cup Finals by comparing Quality to a hockey skill: puck-handling. Like Quality, puck-handling helps on offense (value) and defense (cost prevention), and to be most effective the team as a whole needs to embrace it (it needs to be a cross-functional responsibility).
Just like Quality, everyone agrees puck handling is valuable, but how do you prioritize it versus other skills? Click here to see more of Dan's Quality research and click at the bottom of this blog to register for the upcoming webinar in on June 16 at 1:00 pm EDT.
HP Dives Deeper into IoT Commitment
For the past few months we've been reporting back on the news of Hewlett Packard's (HP) interest in the Internet of Things (IoT) and Industrial Internet of Things (IIoT). Since the initial announcement at Hannover 2016, the company has taken the initiative and begun to invest itself into the world of the IoT.
While HPE spun off services several weeks ago, it is increasing focus on IoT and specifically IIoT
A hardware centric approach with connectivity solutions that enable data capture, device management, security, and analytics at the edge (Edgeline 1000 and 4000)

A partnership based strategy to provide a full platform that includes a new partnership with GE Digital and Predix
To read more on HPE's approach to the IoT/IIoT click here.
Quality Leaders should join this webcast, on Thursday, June 16, 2016 @ 1:00 that will provide senior leaders with best practices for building a business case around quality and the foundational framework needed to gain executive commitment.

Tags: Industrial Internet of Things (IIoT), Asset Performance Management (APM), Enterprise Quality Management System (EQMS)