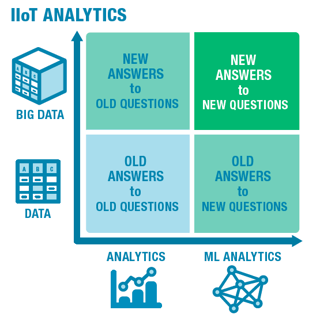 In this weekly Roundup, LNS Research explores recent announcements and events, such as C3 IoT raised $70 million in equity financing; an IoT bill is under U.S. consideration; GE explores 3D printing; Emerson selects Honeywell's reliability solutions; and ABB announces a new Chief Digital Officer (CDO).

C3 IoT Receives $70M Equity Financing
C3 IoT announced a $70 million equity financing led by TPG, a private equity investor that has funded some well-known, high-growth tech companies. C3 IoT executives say that the firm wants to invest in growth, expand their product footprint, and invest globally in customer service and satisfaction. The company styles itself a "full-stack development platform for the Internet of Things (IoT), to enable design, development, and deployment of large-scale Big Data / IoT applications." News about the Series D funding follows several announcements earlier this year, including sales deals with several high-profile clients. Read C3 IoT's announcement.
IoT Bill Under Consideration by US Senate
Four U.S. senators have just introduced a bill to create an Internet of Things (IoT) working group. The legislation, the Developing Innovation and Growing the Internet of Things (DIGIT) Act, is meant to bring together individuals from various agencies to give Congress recommendations on how best to encourage IoT growth and a reporting requirement for the FCC on spectrum needed for IoT growth. This legislation means that the U.S. government acknowledges the impact the IoT will have on the economy. Read what the National Association of Manufacturers wrote about this exciting development.
GE Bidding and Betting on 3D Printing
GE's first foray into 3D printing was a scant four years ago when they acquired Morris Technologies and today the company is laying odds that it will grow its 3D printing business to $1B by 2020. It looks like a big part of their growth strategy includes more investments in or acquisitions of other businesses. This time, they're bidding on two prominent metal-based 3D printing companies – Arcam (Sweden) and SLM Solutions (Germany); the combined transactions total a reported $1.4B. Even though 3D printing has yet to go mainstream, it's already made its way into a diverse array of industries – health care, aviation, aerospace, utilities, energy, automotive, and many others. Read Industry Week's coverage of the story, the Reuters story, or GE's news release.
Emerson Picks Honeywell's Matrikon OPC UA to use in Reliability Product
Emerson's protection system is for industrial companies to monitor assets and acquire prediction data for rotating machinery. The tech vendor plans to embed Honeywell's OPC UA in all process management offerings, and the first solution to feature it is the CSI 6500 ATG. OPC Unified Architecture (OPC UA) is the latest industrial machine-to-machine communication protocol. Even though the OPC Foundation released the first version of the standard a little over a decade ago, it's still relatively "new technology" for cross-platform service-oriented architecture (SOA) for process control that enhances security and provides an information model. Read Honeywell's news release, or the full story at AutomationWorld.com.
IoT Pioneer is ABB's New CDO
With many companies on a Digital Transformation journey, Chief Digital Officer is a title everyone sees with greater frequency. ABB is on the bandwagon and has just appointed Guido Jouret CDO, a former Cisco staff member heading up that company's IoT division. With the new appointment, ABB hopes to use Jouret's long-time experience in Digital Transformation of mature businesses to enhance the software company's offerings for differentiation among tech vendors. Read about Mr. Jouret in ABB's press announcement.
Categories: Big Data, Industrial Internet of Things (IIoT), Asset Reliability