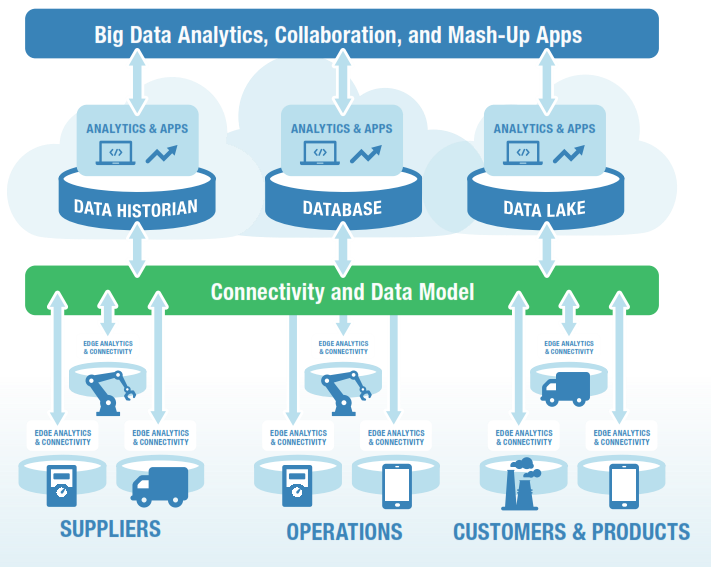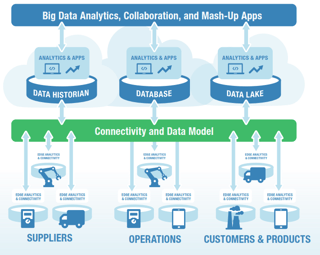 The #MondayMusings blog series provides executive level insights and analysis for the Industrial Internet of Things (IIoT) and Digital Transformation from previous week's briefings, events, and publications @LNSResearch.
Click here to speak with Matthew

At the Heart of Every Technology Investment is a Business Need that is Industry Driven
Digital Transformation is built upon the foundation of people, process, and technology. What makes it challenging is that the processes often vary widely from industry to industry so technology, particularly in the form of applications, works well in one industry may not fit as well for another. At LNS Research we recognize this and have always identified industry variations in the responses to our surveys. This has allowed us to provide a high degree of specificity around our analysis.
Big Data, Cloud, Mobility, and IIoT are impacting every business in existence today, often in many common ways such as Smart Connected Assets enabling new services and delivery models. Yet, every industry, despite having elements in common with others, also has unique or narrowly defined functional requirements that differentiate it from others. For example, Mining and the Oil & Gas industries have deep reliance on geo-technical data, food & beverage and pharmaceuticals have FDA regulatory issues, and so on. LNS Research has always focused on the unique industry requirements in our research surveys for all of the pillars of Operational Excellence we cover. Fortunately, the vendor community is also focusing on these industry requirements. All of our analysts have industry focus based on their past experiences. Because of my end-user experience in the Food & Beverage/CPG industry lead research in this area. Our other analysts have their own focus areas.
While Technology Has Broad Applicability, Industry-Specific Needs Drive Development
Over the last couple of weeks numerous LNS analysts have participated in a variety of briefings about industry-specific capabilities, several of the suppliers we cover. One of these is SAP, which briefed Dan Miklovic and Jason Kasper on their solutions for the Mining, Metals, and Mill Products industries. SAP has almost always had business units that focus on the industries they serve with 25 separate focus areas. All of these areas have Executive Councils and advisory groups within the SAP User Group community, some regionally and others across the product spectrum focusing on specific functionality. SAP regularly has events where users from the relevant industries can meet with each other and SAP staff; both product specialists and industry domain specialists. There is a high degree of commonality among the three industries that were reviewed during the last week with Asset Performance Management (APM) being a key Operational Excellence element in all of them.
In all three industry briefings SAP focused on the evolution of SAP S/4HANA and the "Digital Core" to support peripheral elements including Workforce Engagement, IoT & Big Data, Procurement Excellence & Supplier Collaboration, and others depending on each industry's drivers. It is clear that SAP has made HANA and Predictive Analytics a key element of their go-to-market strategy. Since these industries are not fast movers when it comes to most technology adoption, HANA Cloud Platform (HCP) is not yet a central focal point. However, it is clear that going forward SAP sees HCP becoming more central to these industries, once acceptance grows within the sectors. Two areas where HCP is having an impact currently are in sales and CRM related functionality and in Supply Chain Management.
Operational Excellence is the area where HCP is not yet in high demand, but solutions like Asset Intelligence Network, Predictive Maintenance, and other IIoT based solutions will begin to drive HCP penetration in these industries. Furthermore, it will demonstrate Cloud's value and hopefully drive further adoption. LNS Research sees SAP making steady progress in addressing the Mining, Metals, and Pulp & Paper segments (three of our key focus industries) needs; and believes end-users are best served, if they are SAP users, by engaging with SAP to drive continued industry-specific enhancements.
Schneider Electric also held a briefing, in this case a multi-analyst event, where they introduced their industry-specific go-to-market plans for their software solutions. A number of LNS analysts participated in this webinar. Schneider will be rolling out a series of industry specific solutions over the remainder of 2016 with the first being the "Line Performance Suite," a Food & Beverage packaging line targeted solution to address operational efficiency. Further solutions will roll out to address:
Compliance related automation issues in Life Sciences

Process unit optimization in Oil Refineries

Network optimization in Water

Serialization in Life Sciences

Asset health in Utilities

Supply chain management for Mining, Metals & Minerals
We see Schneider's initiative as a positive first step. Schneider's challenge will be to quickly develop a range of industry-specific capabilities to address a broader range of industries and go beyond the relatively narrowly focused solutions they have already identified.
Managing Production Assets Still Requires Focus
For most industries that LNS Research works with, physical assets are an essential element of their business. The production of goods or services requires the operation of production assets and the reliability and performance of those assets is a key contributor to Operational Excellence. In many industries the care of the production assets is the largest greatest contributor to Operational Excellence, outside of raw material acquisition. Our asset intensive industry analysts, Dan Miklovic and Jason Kasper, recently had briefings with a couple of the vendors that are focusing on the APM space.
Investments Continue in Asset & Industry Benchmarking
Asset Performance Management enhancements and a glimpse at the future were the key takeaways from the briefings Dan and Jason had from Meridium recently. The main theme was data and how Meridium can help organizations, and potentially industries, organize and contextualize data from multiple data sources that commonly exist in the Asset Performance Management technology footprint at many companies.
Although industry's wide acceptance of benchmarking asset classes (comparing performance across multiple companies) is lagging, LNS Research still sees value for organizations to benchmark internally across multiple sites. For example, organizations often attempt to report the same numbers across the organization to understand performance. Some plants look good, others do not. But without a standardized benchmarking system that cleans and digests data, can you really trust the reporting?
Meridium told the story of a customer who was able to figure this out. By diving into the data, they uncovered issues with currency conversion. The mistake was showing a plant with stellar results, when in fact they were a sub-par performer. Solutions like Asset Answers from Meridium help uncover these insights and allow organizations to make the necessary adjustments to continuously improve.
Longer term, we expect more industry or cross industry adoption by asset class of benchmarking. The key for Meridium and other providers of these solutions document the customer case stories and the value being achieved by taking this collaborative approach to Asset Performance Management.
Industry Focus an Imperative in Some Industries
Dan Miklovic also had a briefing with an IT firm, Ramco on their ERP/EAM solution which is gaining traction in a number of asset intensive industries. An industry Ramco has had deep penetration in for quite some time is the aviation industry. The unique requirements of both airlines and other commercial aviation businesses related to FAA and other regulatory inspection and service rules as well as the highly dispersed and mobile fleets in the industry have proven challenging to many other EAM suppliers but Ramco has built its solution out to meet these needs. In doing so, it has positioned itself well to move into other asset intensive industries with asset fleets such as utilities and infrastructure operators. Having served the industry for more than 20 years, Ramco is finally expanding its marketing activities in North America and trying to build on its success in global aviation and regional strengths in other segments.
NEW eBook is a must for Quality leaders! This eBook provides senior leaders with best practices for building a business case around quality and the foundational framework needed to gain executive commitment.