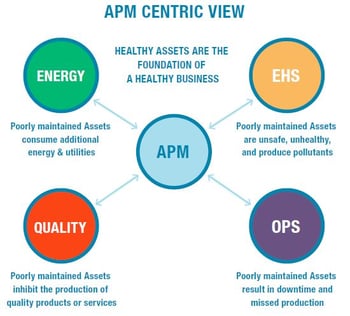 Recently the Department of Transportation (DOT) in the United States proposed rules that have put public transit organizations on center stage on approaching maintenance in a best practice way. One particular announcement creates a standard for a National Transit Asset Management system. This would be uses to monitor and manage public transportation assets. Based on the current performance of some transit authorities, it's a positive step forward to improving safety and increasing reliability and performance of the nation's transportation infrastructure that serves millions every day.
Critical Components Outlined for the National Transit Asset Management System
The DOT does a good job of outlining what a National Transit System requires. Within the framework they outline three key elements required to have an effective system to enable safe and reliable assets. These elements are:
Condition Assessments: To understand the risk and criticality of assets

Asset Investment Prioritization: In order to improve the state of good repair of capital assets; and

Decision support tools: To effectively manage the life cycle of critical assets
This activity is central to any public transit organization, as it's a path to funding for future assets infrastructure projects and the modernization of fleets. In 2013, FTA estimated that more than 40 percent of buses and 25 percent of rail transit assets were in marginal or poor condition. There is also an estimated $86 billion backlog in deferred maintenance and replacement needs, a backlog that continues to grow even today!
The DOT does state in its rules that these systems do not need be software based, but there are purpose-built software systems to support the elements of condition assessment, asset prioritization, and overall maintenance of transit. These Asset Performance Management (APM) systems will increase the speed, accuracy, and accountability required for executives that are becoming increasingly accountable for safety and reliability of transit operations.
Start Using APM People, Processes, and Technology
Whether regulations come or not, it's important to ensure organizations are establishing the best people, processes and technology to ensure safe and reliable operations. Leadership is key in establishing an environment where APM is viewed as a critical pillar that aids in achieving the company's goals, not as a cost center to be minimized or as a necessary evil to deal with unwanted equipment failures. To get started, businesses can follow some simple steps.
The key steps to getting started are:
Develop an APM Architecture: It is important to understand what the elements of APM are, and how they need to be connected to accomplish your objectives. LNS Research's APM Best Practices Guide can provide helpful guidance on how to do this.

Identify Critical Assets and the Processes to Support Them: It is important to know which assets have the greatest impact on all aspects of your business. Then, companies need to understand what APM processes are appropriate to minimize the operational risk failure of those assets presents.

Invest in Appropriate Technology: APM cannot be performed with yesterday's tools. With Clouddelivery of even the most advanced APM solutions available, cutting-edge APM technology is within reach to almost every business. Huge capital investments are no longer the only way to gain access to the best technology on the market.
Structure the Organization for Success: With the right architecture, the right technology, and an understanding of the processes needed to achieve individual objectives, organizations will only be able to drive to Operational Excellence if its people are empowered and motivated to do so.
Why Wait, Assets Could Be at Risk Now
There is no reason to wait to see how the new rules from the FTA take shape. There are many solution options to support transit and freight rail systems today. Executives managing these diverse set of assets are increasingly becoming more accountable; with their jobs on the link when passenger safety is at risk. Using some of the outlined steps within this paper, organization can begin to carry out the recommended transit asset management practices and a transit agency safety plan. Bottom line: there is no real benefit in waiting as assets could already be at risk and have the potential to affect public safety and a liability of your organization.
This NEW eBook explains the IIoT, Cloud, Big Data Analytics, and Mobility, as well as how these technology trends are enabling innovative approaches to communication, asset maintenance, and products and services that drive enormous business value.
---
All entries in this Industrial Transformation blog represent the opinions of the authors based on their industry experience and their view of the information collected using the methods described in our Research Integrity. All product and company names are trademarks™ or registered® trademarks of their respective holders. Use of them does not imply any affiliation with or endorsement by them.