OSIsoft held its annual PI World user conference in San Francisco the week of April 8, with 2,500 attendees and dozens of OSIsoft partner companies in the exhibition area. This vendor has continued to evolve from its origin as a data historian for process industries to an enabler of data analytics and intelligence for a broad set of industrial companies, and has moved up the stack in terms of data visualization capabilities. Even during a typically heavy industry event season, (and the world's largest industrial trade show, Hannover Messe in Germany the week before) attendance at PI World increased year-over-year again. PI World is now widely regarded as one of the most important conferences on the calendar for process industry IT and operations technology (OT) professionals.
PI World Key Moments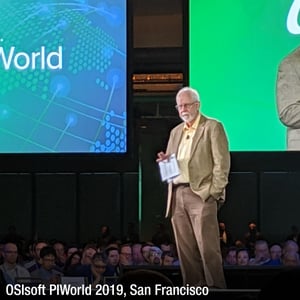 Several moments and messages stand out from the 2019 edition of PI World:
During the founder's presentation, Dr. Pat Kennedy made several interesting statements: "There may be more data in IIoT systems than in control systems," "Value from data scales with scope," and "Data is unique. The more people who consume the same data, the more valuable it becomes." His main point seemed to be that data is valuable in how companies use it, and that small changes in how that data is processed and analyzed can have a tremendous impact on a business.


OSIsoft's reveal of PI Vision 2019 was a major advancement for the company. The data conditioning and visualization tools are now powerful enough that, when coupled with ad hoc queries and upgrades to the PI Server itself, it starts to encroach on territory traditionally limited to analytics vendors. As we've said previously, dashboards and metrics — or even simple analytics — are not enough for analytics vendors to set themselves apart; those companies must focus on adding higher value to the PI Server data via artificial intelligence (AI), machine learning (ML), or both.


Another major upgrade featured in demos at the event was OSIsoft Cloud Services (OCS), a set of managed platform-as-a-service (PaaS) and software-as-a-service (SaaS) offerings. After conversations with industrial organizations over the past few years and reviewing the functionality and user experience (UX) ourselves, we would describe previous versions of OCS as clunky. This year's revisions have addressed many of those issues, and the number of partners debuting new or upgraded analytics solutions based on OCS attests to the quality and value of the upgrade. In our opinion, this is a good start for OSIsoft as the company begins to move to enterprise-level solutions, but there is still work to be done.
Partner Showcase
The ecosystem around PI continues to expand and get more sophisticated, especially with regard to data models, industrial analytics, ML, and AI. Of particular interest this year, an AI provider that is just starting to make waves in the industrial world received top billing as the sole platinum sponsor at PI World 2019: Petuum. Petuum also unveiled its Industrial AI Autopilot at the conference, and simultaneously announced a technology partnership with OSIsoft. Petuum has been better known in the healthcare and financial services industries, where it first made inroads with its AI platform. Petuum is also known in the healthcare and financial services industries, where it first made inroads with its AI platform. Its partnership with OSIsoft marks an ambitious launch into industrial AI, which is utilizing OSIsoft Cloud Services to enable real-time inference and learning on streaming data.
Other new partners showcasing use of PI included:
EFT Analytics | This company's product, Cortex, was designed for process engineers to analyze data. Owned by Koch Industries since 2016, this company is enabling process engineers with powerful analytics capabilities that don't require a data science background. In particular, the analytics vendor noted that process engineers often spend a great deal of time manually analyzing and correlating data to resolves issues; EFT's goal is to provide descriptive, predictive, and actionable insights utilizing machine learning and real-time visualizations.
Canvass Analytics | A Toronto-based Canadian analytics company, this three-year-old AI software vendor focuses on improving yield for process manufacturing and reducing energy consumption. It concentrates analytics on improving the processes, and on improving performance and uptime of assets. Industries as wide-ranging as steel and spaghetti manufacturing use Canvass.
Takeaways for Industrials Considering OSIsoft
The OSIsoft product line — and its entire ecosystem — is a powerful force in process industries. The ubiquity of PI Server has been a springboard for the company to expand functionality and partnerships. Their happy customer base, excited to be at PI World 2019 and eager to try new functionality, is a testament to a well-run vendor organization with a well-designed product portfolio and a smoothly functioning partner ecosystem.
However, as LNS Research has pointed out in previous reports, we believe it's vitally important for industrial organizations to pursue both a bottom-up and a top-down approach to data utilization and Industrial Transformation (IX). OSIsoft, with its legacy as a provider of data historians, is still very focused on a bottom-up approach, and this was exemplified by the types of users in attendance and the event's focus on hands-on training and demos. This vendor has made several moves to address the enterprise market over the past few years, including the improvements to OCS and their enterprise agreements (EA). Every manufacturer we've talked with regarding the EA has reported a very positive experience: they are collecting more data than ever and are receiving more significant value for their investment and resource usage. In fact, OSIsoft executives tell us that EA customers typically track 3X or more data streams than standard licensing customers. These are compelling moves in the right direction, but while OSIsoft has a strong leadership position in its legacy industries and with their traditional users, the company still has work to do to become relevant in the enterprise market for the long term.
Categories: Solution Vendor / Software Vendor, Big Data