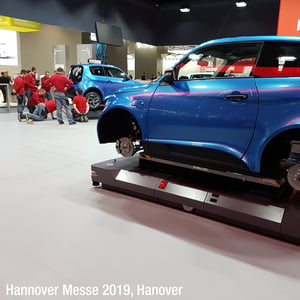 Hannover Messe continues to accelerate, and along with it the Industrial Transformation (IX) space. LNS Research received 46 executive briefings this year, more than any previous year. Yes, it's an enormous show, but we've condensed it down to the five biggest trends you need to know.
Big Trend #1 | Industry Embraces Power of Hyper-Scale Clouds
Both BMW (with Microsoft) and VW (with Amazon Web Services [AWS] and MindSphere) made enterprise commitments to the Cloud and IIoT for industrial operations, to drive a single version of the truth, flexibility, and improved performance. In the case of VW, it included 122 manufacturing sites and ~1,500 suppliers. These are the kind of announcements that the IIoT platform, IoT Cloud, and IX space has been waiting for years to hear. It surely adds credibility to the vision LNS Research has prescribed since we first defined the IIoT platform space in 2013, but they are still only announcements. The real test will be in a year when we see how quickly and broadly these companies can scale.
Azure and AWS have become the two market leaders when it comes to IaaS Cloud and PaaS IoT providers for the IIoT. Microsoft has a deep history in the space and has done an admirable job of converting its multi-decade long SQL and OS partnerships with OT vendors into being the preferred choice for recently-launched IIoT platforms from these same companies. However, AWS increasingly is seen as a viable alternative beyond its traditional success with ISV's offering a SaaS to industrials, and will win its fair share of competitive deals. (It should also be noted that Alibaba continues to be a significant play when deploying Cloud on the ground in China.)
Big Trend #2 | IIoT Platform Consolidation
The world doesn't need 600 IIoT platforms; it doesn't even need 10. Continually we are seeing the market consolidate to a few winners focused on specific ecosystems or industries. At this year's event, many of those winners were highlighting leadership positions, including Siemens MindSphere, PTC ThingWorx with Rockwell Automation, ABB Ability, and Schneider Electric Ecostruxure. The ultimate winners will likely be broader than this list – but these are the companies that have momentum today.
These companies also have deep experience and credibility in the OT. Many of the IT vendors that first entered this space, and were highlighted by other research firms, have since pivoted. Some shifted towards a much narrower area of the platform, like connectivity, apps, or AI, while others towards solutions rather than platforms.
Big Trend #3 | Edge Momentum Continues
In the industrial sector, we are still a long way from the "cloud first" mentality the Cloud hyper-scalers would all like us to adopt. For this, and many other reasons, the focus on Edge continues among many industrial companies.
HP Enterprise (HPE) showcased continued growth in the space through new hardware and software with the HPE Edgeline OT Link to deliver scalable industrial compute capabilities, coupled with industrial edge data management and intelligence.
Cisco had a much more focused message this year – no longer being distracted with analytics or IoT platforms – they talked about Edge data management, industrial networking, industrial Edge computing, and industrial cyber-security.
Big Trend #4 | Companies Shift to Solutions and Multi-Vendor Environments
As Cloud and IIoT platform consolidation continues at a rapid pace, other vendors aren't standing still. There are many longtime software vendors in the space that are using current consolidation as an opportunity to showcase the ability to orchestrate end-to-end solutions and help customers avoid platform vendor lock-in.
SAP and IBM have long been the market-share leaders for enterprise asset management (EAM). They have also left much of the whitespace around EAM to third-party providers over the past decade. LNS refers to this combined space as APM 4.0, and it includes many additional solutions like condition-based maintenance (CBM), reliability-centered maintenance (RCM), asset lifecycle management (ALM), predictive analytics and more. Based on this year's fair, it was clear these two companies are now going to compete in this full solution area and take on the other companies that have grown in this space, like Uptake, C3AI, GE Digital, and AspenTech, among many others.


PTC has been perhaps the company most aggressively pivoting towards the IX space over the past five years, with a ThingWorx business that grew 35% year-over-year in 2018. What was a pivot five years ago can now be described as a fully functioning business unit within PTC. As such, the company this year is moving towards offering solutions rather than just a platform or products. During the event, the company announced four new solutions, focused on workers, productivity, assets, and performance management.


Hexagon MI is on the opposite end of the spectrum from PTC, and just beginning its journey in the IX space. HMI 2019 was a launch party of sorts for the company's manufacturing intelligence business unit, moving beyond its traditional positioning of metrology and quality – to offering full solutions for smart manufacturing, asset management, and additive manufacturing.


HMI is mainly a discrete manufacturing show, and both SAP and Oracle highlighted end-to-end solutions.



SAP has done an admirable job of bringing operationally focused solutions, with 3D visualizations and machine integrations, out of the back office and down to the shop floor, extending across product engineering, manufacturing, and the supply chain. The combination of financial, business process and operations is powerful.


Over the past five years, Oracle has invested heavily in Cloud and rebuilding from the ground up value chain applications like EQMS, PLM, MOM, and SCM; giving the company a unique position. More recently, the company has been investing in manufacturing specific solutions; including the launch of five IoT applications focused on areas like productivity, asset performance, workers, and fleet. Coupled with their investments in IoT and AI, which more and more are being embedded with enterprise software, the end-to-end solutions showcased were compelling.

Although IBM continues to lead with IBM Cloud and IBM IoT in other industries and use cases, it's clear IBM is moving toward a solutions-based approach for IX use cases. At the show, hardly a product was mentioned in the IBM booth ― with the highlight being solutions focused on delivering value to customers quickly by improving the performance of manufacturing and assets. Behind the scenes, these solutions are delivered by taking a modular and micro-services-based approach with:



IBM Services DSiX consulting unit (GBS) and business partners aided by IoT solutions


Maximo EAM and newly developed APM solutions


AI-driven production optimization software focused on major key performance indicators like: OEE, throughput, quality, cost, and fulfillment

Surely, for some of the reasons highlighted above, the message now is about taking a micro-services approach, with a strong portfolio of applications and AI technology, to allow end-users to bring together full solution and avoid lock-in.


Notably, Software AG is also moving more aggressively into the IX space, including the recent acquisition of TrendMiner. Similarly, Software AG isn't going to take the hyper-scalers head-on; instead, they push a multi-vendor solution. Indeed, I would award Software AG with a "Best Of 2019 Award" in the new tagline battle for "Freedom as a Service™."
Big Trend #5 | Partner Ecosystems for Digital Twin
LNS Research (and many others) have written extensively about Digital Twin. Originally a concept pushed by the PLM and CAD communities to describe 3D virtual models of products, it has more recently been extended to include connections to the physical world. We see this most notably by major turbine manufacturers to improve asset reliability and enable new business models like risk sharing and power-by-the-hour.
As ever more companies outside complex discrete manufacturing want to embrace this extended definition of Digital Twin, it's becoming clear that individual vendors can't deliver the full solution. As such, partnerships are quickly emerging. Siemens announced a partnership and investment in Bentley Systems in 2018 and gave a compelling demo of process industry Digital Twin in the Siemens booth. 2018 also saw the announcement of the PTC - Rockwell partnership and investment, which was featured prominently in the PTC booth. And partnerships continued in 2019, with ABB and Dassault Systems announcing one as well. Finally, the Schneider Electric and Aveva partnership was on full display, with a number of the Aveva product offerings and solutions well integrated into the Schneider Electric booth.
As 2019 rounds out and we move into 2020, we expect to see still more partnership/investment moves. However, it's looking more like a game of musical chairs where a company doesn't want to be the last one without a seat when the music stops.
Concluding Thoughts
Hannover Messe is, as usual, the most compelling show of the year, and I didn't even cover all the exciting announcements from the 5G and robotics halls.
The software continues to grow as an essential part of Hannover Messe and IX respectively – but HMI 2019 made it clear that the end game with IT-OT convergence isn't a diminished value of OT, but value-oriented solutions.
This will be a benefit to users and allow vendors to talk about how technology will transform business. It will, however, challenge both sales executives and technology buyers when it's not clear how products and platforms combine to form multi-vendor solutions – or even how to buy something like "manufacturing flexibility" or "operational intelligence."
We're already seeing clear signs that 2020 will be the biggest year yet for IX.
You can also check out Andrew Hughes' Hannover Messe coverage as he zeroes in on manufacturing operations management (MOM) happenings at HMI 2019, along with his thoughts and insights on MOM/MES vendors that were there.
Categories: Cloud, Industrial Internet of Things (IIoT), Industrial Transformation / Digital Transformation