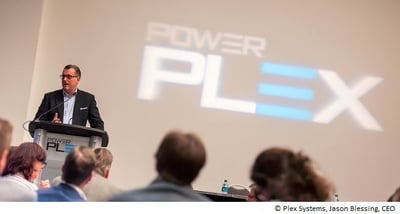 PowerPlex was held in downtown Detroit, April 25th to the 28th. A fitting location for the event, as one of the original cradles of American manufacturing and a success story for urban revitalization.Click here to speak with Matthew
I have not had the pleasure of attending PowerPlex in several years. My last was Jason Blessing's first as the new CEO, in Columbus Ohio 2013. Since that time the event has been transformed. By my estimation, it has more than doubled in attendees to 1,200 and now represents the top Cloud event in the manufacturing industry.
When Jason Blessing joined Plex almost three and half years ago, LNS identified a critical challenge for him to overcome; the need to preserve the unique and passionate engagement of the user base, while modernizing and accelerating the growth of the company. Fast forward to today, the Plex management team can take credit for success on this front. Plex continues to have one of the most passionate and engaged user bases in the industry; exemplified by true competition for being the leading social user on the PowerPlex mobile app and some highly creative Twitter feeds, including T_Plex from one of the CIO customers at the event.
Financial Results
Jason Blessing spent much of his keynote and analyst round table discussing financial results. Plex continues to show market leading performance. Jason led with a stat that caught my attention: Plex customer revenue has grown 40% over the past year. This stat is impressive on several fronts. First Plex customers are successful in business not just technology deployment. Second, most manufacturing ERP vendors don't even have the ability to measure this metric because they don't have a multi-tenant architecture. Finally, Plex charges customers as a percentage of revenue. This is a path many more companies should take, but most don't; relying on either users or data for basing subscriptions, both of which are removed from value and even counter-productive.
Other stats shared included: year over year customer growth of approximately 400 to 460, revenue growth of 30%, and a 97% customer retention rate. Perhaps, even more impressive than the year over year numbers, from when the new team started in 2013 the total revenue has grown from approximately $40MM to $100MM if the company hits plan this year (Plex beat plan in Q1 2016).
It was also clear, and not surprising, that the recent tech sector turmoil in the public and private equity markets have impacted corporate strategy. The team is now opting for a strategy that is more conservative and long-term focused; with breakeven coming at the end of the year and the future IPO coming later than originally planned.
In many ways, the larger Cloud/tech sector market has impacted Plex in a way that did not clearly represent the fundamentals of the Plex business model. As the space was hot and gaining momentum, unrealistic expectations were put on Plex to perform like consumer web-companies or even enterprise application providers that serve a more generic market, like HR or data storage. In manufacturing, we are just never going to have hi-flyers the way some other industries do. On the flip side, now that the Cloud/tech space seems to be slowing down and private equity is dealing with the death of the unicorns, Plex is being unfairly punished. Although Plex was never going to fly as high as some of these other companies, the underlying growth drivers of the business are as strong as ever and will sustain the companies for many years to come.
On the whole, these results represent impressive growth in the core markets for Plex (Manufacturing ERP for the automotive supply chain). It is also clear, that given the penetration and refresh rates for these solutions in these markets, Plex has years of runway ahead of it that will maintain its current growth rate without necessitating a broad based move into new markets.
Product Strategy
Having covered Plex for almost ten years as an analyst, the company has experimented with many different vertical markets, including medical device, food and beverage, electronics, aerospace and defense, and more. Some of these have done well like food and beverage and electronics and others not so much, like medical device. The company has also experimented with different strategies for moving into the large enterprise market: including global financials, two-tier ERP, stand-alone MES/MOM, and more. Although the company has had some success with large companies, it has been relatively isolated and does not yet represent a significant portion of the 460 customers.
During the day 1 Keynote, Karl Ederle Group VP for Product Management, outlined his key areas of investment in the product moving forward, including 4 areas of note:
Supply Chain Products – Standalone applications that don't depend on Plex ERP and will begin to allow for the more sophisticated demand sensing and responding that is required for companies selling direct to customers and running Sales and Operations Planning processes.
Plex UX – Modernizing the user interface to take full advantage of modern browser capabilities, align screens to the user workflow rather than system architecture, and improving productivity with capabilities like fewer clicks and drag and drop.
Plex Connect – Exposing Plex to third parties with RESTful APIs and different levels of coordination. In some cases it will just be adapters provided for others to connect, like in the area of payroll. In other cases it will be highly managed connections like the case of Microsoft Excel or Salesforce CRM. As part of Plex Connect, there will also be investments made on Cloud integration, so Plex can easily integrate with external Clouds, as well as a developer portal to enable a broader ecosystem.
Plex Insight – Next generation solutions for IntelliPlex, more than just reporting, moving to insight and action and being more self-service. Will be delivered both through partners and additional home grown capabilities.
Although all of these investments will help keep Plex at the leading edge of Cloud technology and will deliver clear benefit to existing customers and prospects in core markets, it is unclear how exactly these new investments will move Plex into new markets.
The Supply Chain Products offer one potential path. Many customers and prospects still view Plex as a single product company. This serves the company very well in the Small and Medium Sized space, not so much for large enterprises. If Plex can be successful selling products that do not depend on ERP or even tight ERP integration, it could be transformative for the company.
Plex Connect and Insight represents another path. Although Jason did mention Industrie4.0 in his keynote, there was very little mention of the Industrial Internet of Things (IIoT). At LNS we believe that Cloud is a necessary part of the IIoT platform, but insufficient. If Plex continues to develop Plex Connect and Plex Insight to support the IIoT and not just its traditional enterprise applications, it could also open up a new market for the company. Some of the initial use cases could be in asset reliability, closed loop quality, and supply chain traceability.
There are also a number of Value Chain and Operational Excellence areas that were not mentioned for the roadmap, but could use deeper functionality, including: Environment Health and Safety, Asset Performance Management, and Product Lifecycle/Data Management. Time will tell if these areas will become a focus for Plex and its customers.
Customers Well Ahead of the Curve
It's not every user conference we get to go on a factory tour, in fact very few. At PowerPlex we had the opportunity to tour the MFC Netform facility outside of Detroit, where they use innovative flow forming processes to manufacture transmission parts. MFC Netform uses Plex wall to wall across the factory and is showing some very impressive results both in operational performance, profitability, and revenue growth.
Tim Cripsey, General Manager of the company, is clearly the driving force behind the success of the company and Plex implementation, but was more than happy to bestow the success unto others. As any great leader intuitively understands, company strategy needs to be built around a differentiated offering for the customer, and success of the strategy depends on the people, process, and technology capabilities of the company.
Tim and the rest of the Netform management team believe in the benefits of technology and use cutting edge technology as part of their differentiation. This technology includes Plex and using as much of Plex as possible, but also include using mobile capabilities like iPhones and iPads, as well as robotics from FANUC and others to eliminate non-value added work in operations. However, even more importantly, the team does not see technology as a means to an end, but rather as a way to enable the operator and continuous improvement, in their minds everything else is just overhead.
Many other industrial leaders, either from big or small companies, would be well served for taking a page out of Tim's playbook.
LNS Research Take
PowerPlex 2016 demonstrated the continued growth of the Plex Manufacturing Cloud and a strategy that we believe will sustain this growth for years to come.
Industrial companies that participate in the automotive supply chain and are looking to better utilize technology for improved operational and financial performance will be well served by evaluating Plex and the Manufacturing Cloud. The same can be said for small and medium sized EMS, food and beverage, and other discrete manufacturing companies.
As Plex continues to execute on the strategy highlighted at PowerPlex 2016, LNS Research hopes to see Plex more clearly define how they will deliver value for potential customers in other markets and pursue a broader IIoT enabled solution.
Access this NEW eBook, "Manufacturing Metrics in an IoT World: Measuring the Progress of the Industrial Internet of Things," presents results from the fourth iteration of the biennial Metrics that Matter research study conducted between LNS Research and MESA International. It places particular focus on what IIoT means to manufacturers in the MOM space.
Categories: Supply Chain Management (SCM), Cloud, Enterprise Resource Planning (ERP), Industrial Internet of Things (IIoT)