Is manufacturing new product introduction critical for organization? Developing profitable, timely, high-quality products is more important today than ever before. Visibility to product performance has never been higher, while competition continues to squeeze margins and time to market. These market dynamics, among others, are increasing the pressure on product teams.
Click here to speak with Dan Jacob
What the New LNS Research in New Product Introductions (NPI) Reveals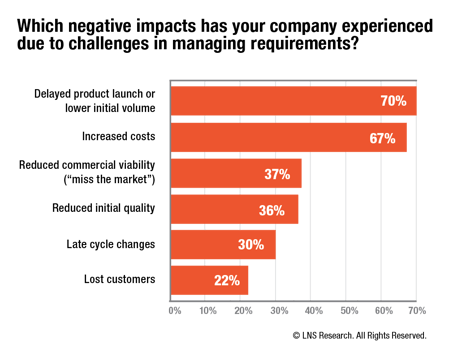 LNS' new research takes a cross-functional approach to new product introduction (NPI), examining NPI success and data, process, and organizational practices from multiple NPI stakeholders. The research conclusively demonstrates:
Multiple NPI stakeholders identify quality improvement is among top NPI success criteria
New product introduction process owners improve the rate of NPI success by integrating quality and other cross-functional disciplines into the NPI process
Late cross-functional engagement, poor technology strategy, and inconsistent processes are leading causes of NPI failure, and result in delayed product launches, reduced initial quality, decreased revenue, and missing the market
Manufacturers that have correctly embedded the Industrial Internet of Things (IIoT) and Quality 4.0 into their NPI process improve NPI success and innovation, brands, revenue, and customer retention
Manufacturers devote considerable cost and effort to NPI. Our research reveals, the median manufacturer invests 25% of its personnel in NPI and introduces a new product in 24 months on average. Even with this substantial investment, NPI often fails to deliver expected outcomes. Only 56% of new products meet all NPI success criteria.
Launching Successful NPI
When we dig deeper, we discover the market battles obstacles of ambiguity, siloed ideation, partially informed decisions, and misaligned actions. As an example, 55% of manufacturers experience insufficient cross-functional validation of requirements and specifications, which leads to market delays and increased project costs. Since 91% of companies still rely on spreadsheets and electronic documents to track requirements, is this surprising?
There's only one way to survive in today's fierce climate: remove the obstacles that prevent collaborative NPI. LNS projects the gap between NPI leaders and laggards will continue to widen. Innovation leaders have overcome the traditional hurdles by digitalizing their NPI process. They leverage the advanced technologies of the IIoT to gather new insights from connected operations and connected products. The new insights can considerably reduce the uncertainty surrounding product performance, manufacturing operations, and in-service operating conditions, which has value to many NPI stakeholders. Most successful manufacturers will combine these new, clearer insights with the right culture and competencies to create market disruption.
Corporate and functional leadership must reexamine NPI, remove the obstacles that prevent favorable outcomes, and digitalize processes and information to achieve success in today's market conditions.
Differentiate Through Digitalized Quality in NPI
Today's market has unprecedented visibility to the quality of finished goods, whether through regulatory bodies, business-to-business customers, or consumers. LNS' research demonstrates NPI is expected to improve brands, increase revenue, and increase customer retention. It also shows that quality is seen as critical to the success of NPI by multiple NPI stakeholders. With several stakeholders and many objectives, quality is the one prominent thread that connects all.
So, how does a firm differentiate on NPI quality? Quality leaders must advocate and nurture a collaborative NPI process and ensure NPI stakeholders are working together to achieve common goals. This forms the backbone to align teams, processes, and data, and to remove obstacles that prevent collaboration and promote destructive internal competition. Much of the market has substantial progress to make in these areas, but the pace is accelerating.
LNS' data shows today's market leaders have built a corporate-wide data architecture that provides real-time visibility across multiple stakeholders, democratizes data, and leads to collective decisions. While this is valuable and lead to differentiation in the past, it is insufficient in the current market environment.
Manufacturers need a digitalization strategy. It indeed should integrate data from traditional systems like the enterprise quality management system (EQMS), product lifecycle management (PLM), and enterprise resource planning (ERP) among others. It must also include data from sensors, mobile devices, social media, and online marketplaces. Innovative manufacturers couple all that data with advanced analytics to capture new insights that push product performance to previously unattainable levels.
When this digitalization strategy is coupled with a strategically aligned and collaborative NPI process, it enables differentiated NPI performance and innovation; a digitalized, strategic, and collaborative NPI process facilitates the LNS Digital Innovation Cycle.
Takeaways
LNS Research recommends Quality leaders lead their company's response to today's market dynamics by advancing a strategic, collaborative, and digitalized NPI process. This approach is necessary to address today's market environment and overcomes internal obstacles that prevent success. Brand value, financial performance, disruption, and innovation all have their roots in successful NPI. However, while firms invest heavily in NPI today, their current success rate is relatively low, and market trends such as increased visibility to product performance, global pressures, and sophisticated products make NPI success more difficult to achieve. The only way forward is to overcome obstacles by making NPI strategic, collaborative, and digitalized.
Categories: Industrial Internet of Things (IIoT), Industrial Transformation / Digital Transformation, Quality 4.0, New Product Introduction (NPI)