The #MondayMusings Industrial Transformation blog series provides insight and analysis for executives from the previous week's briefings, events, and publications @LNSResearch.
Click here to speak with Peter Bussey
"A leader has the vision and conviction that a dream can be achieved. He inspires the power and energy to get it done." — Ralph Lauren
One of the benefits of being an industry analyst is that I have the luxury, and even the duty, to contemplate what's going on in the market, how we got here, and what's in store for the future. Last week I spoke with Phillipe Tesler, President, co-CEO, and co-founder of Enablon, the global environment, health, and safety (EHS) and sustainability software vendor. During the conversation, Phil shared that he's leaving Enablon as a conclusion of an 18-month integration and succession plan. He will be an advisor to Wolters Kluwer, the information solutions giant that acquired Enablon for $275M USD in 2016.
Phil is a long-time and well-known player in the EHS and sustainability software industry. He co-founded Enablon in 2000, along with Dan and Marc Vogel, and served as head of product, strategy, go-to-market, and North American CEO during an extended period of growth leading up to the acquisition by Wolters Kluwer. His leaving Enablon is not a surprise, but it is a significant event. This news got me thinking about the role Enablon played in the evolution of the industry as we know it today, and what lessons we can take from the journey of industry pioneers like Phil.
On the Shoulders of Leaders
My perspective on the EHS software space goes back to 1996 when I was involved with the launch of Oracle EHS applications and includes the better part of 15 years at SAP focused on EHS and sustainability software. No doubt there are others with more experience in the space, but I will claim to have a long-term view.
My take on Enablon (and other market participants) comes from competing against them at SAP, and more recently interacting with them as an analyst, including briefings, advisory, and attending and speaking at their customer conferences. I see Enablon as part of a vanguard of visionary companies that formed the nucleus of what grew into the dynamic EHS software industry today. Phil and his co-founders saw an opportunity and seized it to build something of long-term value.
Others in that vanguard of visionaries include companies like Dakota Software, Essential Technologies (now part of Sphera), EtQ, Gensuite, Intelex, Locus, Medgate (now Cority), ProcessMap, and SAP that applied the concept of enterprise business software to EHS management, while others were still dabbling in point solutions.
These companies have 15 to 25+ year histories. Their long-time leaders such as Neno Duplan, Mark Jaine, R Mukund, Glenn McCarty, Dave Rath, Reg Shiverick, and Mark Wallace have been in it for the long-haul, and their organizations continue enjoying strong market positions.
What it Takes to be a Long-Term Market Leader
Why have some EHS software players been able to break away from the pack and become market leaders? In our work in the EHS technology space, we've observed critical success factors. These qualities transcend the table stakes of sound business management, e.g., strategic planning, management systems, process standardization, competency management, resource alignment, etc.
Companies like Enablon and other industry leaders that have met with remarkable success tend to embody these qualities:
Inspirational Leadership
Long-term growth requires one or more leaders at the top lay out a compelling vision for the future, and relentlessly communicate that internally and externally. Moreover, customers, employees, partners and other stakeholders need to be challenged and inspired to help realize that vision. An excellent example of this is Enablon's sustainable company message, which has been religiously reinforced and improved, through Phil's keynotes at customer conferences.
Focus on Value Creation
A successful software company requires a vibrant ecosystem of customers, employees, and partners working together towards a common goal. Each participant has their objectives but relies on the others to achieve them. This collaborative approach requires each stakeholder group to consistently create and transfer value to the others so that all win together. To sustain this requires the willingness to make short-term sacrifices to gain long-term value. I saw many situations at SAP in which the company would voluntarily take a short-term financial hit to ensure customer satisfaction and value over the long haul.
A Culture of Innovation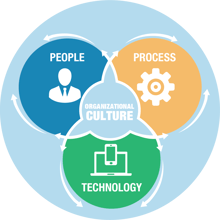 For a software company, staying ahead of the pack means embracing change across the people, process and technology dimensions of the business. From a technology perspective, innovation requires a forward-thinking approach, a willingness to take the risk, and investment in R&D. Many PC-based EHS software companies occupied the market in the 1980's and early 1990's, well before the current market leaders. Although they had the right idea, in many cases they were doomed by failing to adapt rapidly evolving enterprise business software architectures, i.e., client-server, hosted, Cloud SaaS, etc. Today's leaders, on the other hand, embraced innovation regarding architecture, functionality, integration, and breakthroughs such as mobile apps, advanced analytics, and SaaS delivery models.
Persistence
In the case of Enablon and its co-founders, the journey from founding to acquisition by Wolters Kluwer took 16 years. The same applies to many of the other market leaders that have benefited from an acquisition or private equity investments that were 15-20 years in the making. Sticking to it in a relatively small, unrecognized corner of the software industry over such a long time is impressive. No doubt there were dark days along the way at these companies, but in the end, persistence paid off. As Churchill said, "When you're going through hell, keep going." Not to mention, "Never, never, never give up!"
Have Fun on the Journey
I feel fortunate to have 22 years (and counting) in the enterprise software space. It has been challenging and gave me an opportunity to do some meaningful work, while still having fun. Maybe I've just been lucky; even working at giants like Oracle and SAP was a blast and so is working at LNS. This applies not only to relationships with bosses and co-workers, but interactions with customers and partners. The work may be hard, but that doesn't mean it shouldn't be entertaining. Having attended countless industry conferences, I can say that Enablon exemplified this attitude. Who can forget Phil's keynotes at Enablon customer conferences (dry humor anyone?) and the hilarious falderal MC'ed by him at the evening events?
Together, these qualities help define an organizational culture that creates value for senior management, the company and long-term success for an industry ecosystem.
Implications for Enablon Customers and the Industry
What does the departure of Phil as co-CEO mean to Enablon's customers and prospects? As a compliment to Enablon and Wolters Kluwer, the impact should be limited. The culture of innovation that Phil and company built over the years facilitated Enablon's success and continues to position the company well for future growth. After Wolters Kluwer acquired Enablon, an 18-month integration and transition plan was put in place, highlighted by bringing in senior executive talent from the outside. This included co-CEO Chris Joseph, who will take the reins. The plan seems to be working well as evidenced by business results, and customers can take confidence from how the integration and management succession has been handled under the guidance of Stacy Caywood, CEO of Wolters Kluwer's Legal and Regulatory Division.
As the EHS software industry matures and merger and acquisition (M&A) activity continues, we will see more departures by long-tenured founders and more senior management turn-over. This makes it doubly important for organizations selecting an EHS software business partner to emphasize on vetting the experience, competency and track record of the executive team.
Of course, traditional quantifiable criteria such as functional fit, technology, user experience, cost, financial viability, domain expertise, etc. will continue to be of great importance in selecting an EHS software solution. But if the goal is to choose the best long-term business partner, the soft qualities for success become critical, and those start with the leaders at the top.
Phil's departure from Enablon reminds us of the significance of intangible qualities that build and sustain an organizational culture conducive to long-term business success. Let's accept the challenge to be bold in our dreams, and to realize them through persistent action. To innovate and push others to do so. To focus on creating value for all stakeholders. Above all, let's have fun in the process. Doing so will help us and our organizations add value to the world, not to mention creating a little "joie de vivre" along the way.
Categories: Culture, #MondayMusings, Environment, Health and Safety (EHS)