The #MondayMusings blog series provides executive level insights and analysis for the Industrial Internet of Things (IIoT) and Digital Transformation from the previous week's briefings, events, and publications @LNSResearch.
Click here to speak with Matthew Littlefield
Last week LNS Research published vendor spotlights on several notable briefings, including:
Sight Machine's Expanding Capabilities with 2.0 Release: Understanding the Impact of Real-time Dashboards and Machine Learning
On September 26th I was briefed by Sight Machine's Nate Oostendorp, Co-Founder, CTO and Ryan Smith, VP Product regarding its current and planned technology releases through the first half of 2017. These new releases include:
Global Ops View: Real-time visibility for production, machines, lines, and plants across the extended enterprise (available now)

Contextualized Dashboards: User-customizable views of data, including real-time streaming (available Q4 2016)

Downtime Classifier: Automated analysis of downtime reasons using machine learning (available now)

Sight Machine Commander: Self-service data preparation (available H1 2017)
Sight Machine is a company on the move. LNS has commented before that we believe the executive and technical teams are a major determining factor in the success of next-generation industrial software companies, along with having leading technology, happy customers, and strong funding.
Sight Machine, along with several other companies in the space, brings together a leadership team that bridges the gap between the data scientist and engineer – a mix that should serve them well over the coming years. Sight Machine has also done an admirable job winning customers and strong funding.
The company is now clearly focused on pushing the initial product to one that is a leading technology in an emerging IIoT space –and in turn transitioning their early set of customers, including 10 $1B+ revenue manufacturing customers, into happy long term customers.
Real-time Visibility and Dashboards
Given Sight Machine's positioning as a next-gen manufacturing analytics company, at first glance, it may be surprising that they are announcing a new global visibility and dashboard solution. These types of solutions have been available for the greater part of a decade. In fact, almost every major ERP, MES, and Automation vendor has built or acquired an Enterprise Manufacturing Intelligence (EMI) solution that delivers this type of capability.
So what is new and why does Sight Machine think they have something news worthy?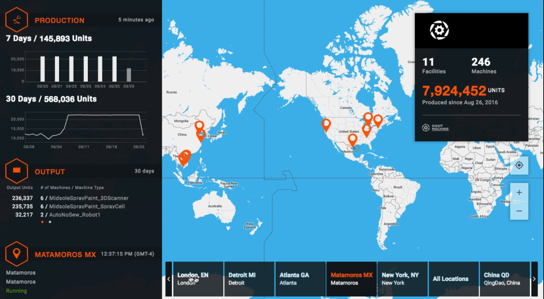 What's new is more than just a pleasant web-based user interface, which Sight Machine has. The underlying technology and architecture is where the real innovation lies. Sight Machine does not, like traditional EMI, depend on information flowing threw a hierarchical and structured technology landscape where it is reporting on Automation, Manufacturing Execution System (MES), and Enterprise Resource Planning (ERP) data. Rather, Sight Machine uses this traditional data along with IIoT Connectivity and Cloud capabilities to provide global visibility of operations in regards to how industrial assets are actually performing, not how they are performing through the lens of filtering provided by Automation, MES, or ERP.
In many ways new technology like this makes for a very exciting time, in other ways it could quickly become the Wild West at many industrial companies.
To learn more about how your company should address global visibility challenges with IIoT, as well as Machine Learning and Self Service Data Prep, please see the full report.
Industrial Internet Consortium Tackles IIoT Security
Although both LNS Research (an analyst firm) and the IIC (an industry consortium) have worked independently, putting considerable effort into developing reference architectures and frameworks for the IIoT, I am always impressed by how much more is the same than different between the two bodies of work.
On September 29, 2016, Sven Schrecker, Chief Architect, IoT Security Solutions, Intel briefed LNS Research on the launch of the Industrial Internet Consortium's new Security Framework.
From the IIC Security Framework briefing, I took away three key points that I whole-heartedly endorse and industrial companies should be aware of and begin incorporating into their own thinking regarding the IIoT and security.
1. Even though there is much work going on regarding bringing together IT and OT systems, it does not mean all of these systems will have similar characteristics moving forward. A good way to think about these systems are through a set of tradeoffs between resiliency, privacy, reliability, safety, and security. Where IT systems have typically traded off reliability and not even had to deal with safety; and OT systems sacrificed security without considering privacy. The IIC sees there new framework as bring together all five of these characteristics without tradeoffs.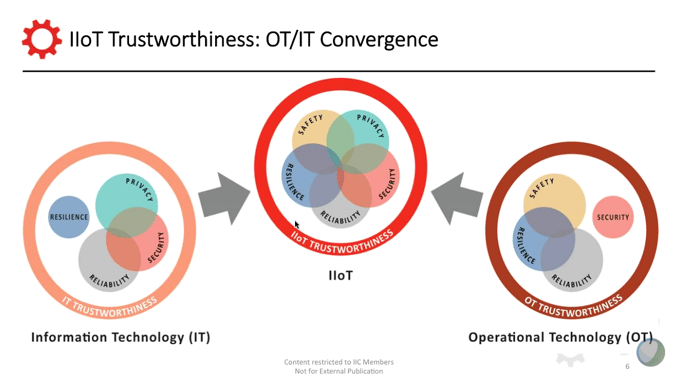 To learn more about the other LNS key takeaways regarding how to incorporate security into all levels of the platform and how to address interoperability/standards challenges, see the full report.
Arena Solutions Continues to Expand Multi-Tenant Cloud based EQMS and PLM
Arena briefed LNS Research's Dan Jacob on September 20, 2016, to describe the company's focus on development and direction. Arena was founded in 2000, and has historically delivered a multi-tenant Software-as-a-Service (SaaS) Cloud PLM solution for the high-tech products market. As such, it has supported mechanical products, but has been more focused on electronics. This focus helped manufacturers developing high-tech products in medical devices, electronics and consumer products among others.
Over the years, customers have driven Arena to develop Supplier Management and Quality solutions on its SaaS platform. This briefing did not drill into detail on any of these specific topic areas, and we expect to uncover more details in subsequent briefings. Over the past several years, while Arena has continued to develop native capabilities, it has augmented this approach with an expanded partner program. There are some valuable capabilities as a result of the partner program; some flesh out existing Arena offerings, while others extend content managed in Arena's platform to a broader user community across the enterprise, increasing the value of that content.
To learn more about Arena Solutions and LNS Research's recommendations regarding the company, please see the full report.

Tags: Industrial Internet of Things (IIoT), Industrial Transformation / Digital Transformation, Enterprise Resource Planning (ERP), #MondayMusings, Cloud, Enterprise Quality Management System (EQMS), Manufacturing Operations Management (MOM)