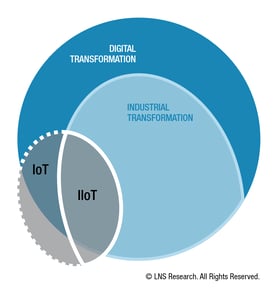 Is your organization ready for the journey to digitally transform its environment, health and safety (EHS) business function? LNS Research recently published research on the digital readiness of organizations to undertake Industrial Transformation (IX) programs. We define IX as a proactive and coordinated approach to leverage digital technologies to create step-change improvement in industrial operations, i.e., the Digital Transformation of industrial operations. Most industrial organizations are already well underway with IX: 45% of industrial organizations are already engaged, and another 23% of companies expect to launch programs within one year.
Industrial transformation creates operational and business risks that EHS should play a key role in addressing. It also presents a once-in-a-career opportunity for EHS business leaders to transform EHS management and how it delivers value to the business. The LNS Research EHS 4.0 framework provides a roadmap for this journey.
Positive Indicators of Digital Readiness
Based on our recent EHS 4.0 work with industrial organizations, here are seven signs that you and your organization are ready to start (or significantly accelerate) initiatives to digitally transform the EHS business function:
SIGN #1 | EHS Is Not a Department
In many industrial organizations, EHS has been run as a standalone department lacking integration with day-to-day business operations. A basic tenet of Digital Transformation is optimization through collaboration and connectivity. Inadequate alignment and integration of EHS with core business operations will likely render digitalization efforts useless.
SIGN #2 | Others Don't View EHS As a Compliance Cop
Many companies set up EHS and safety management business functions to meet regulatory compliance requirements and respond to accidents and incidents. These areas represent a low level of capability maturity as industry best practice has evolved to risk-based approaches. Merely optimizing compliance processes misses the real value of digitalization in enabling predictive and prescriptive risk management.
SIGN #3 | There Is an Effective EHS Management System(s)
Many companies have implemented EHS management systems based on consensus standards such as ISO 14001, OHSAS 18001, and increasingly ISO 45001 to provide a framework for how EHS should be managed across people, process, and technology dimensions. Others have implemented in-house developed management systems, or often a combination. Without a well-defined, effective management system(s), the foundation to which to apply digital technologies is weak.
SIGN #4 | You Have an EHS Software Platform in Place.
Digital Transformation depends on data that can be analyzed and turned into information and insights to support better, faster decision-making. Given the complexity of EHS data, processes, and system integration, an enterprise EHS software platform is an essential foundation for Digital Transformation. Without such a platform, processes will be sub-optimized. Digital technologies such as Industrial Internet of Things (IIoT), Big Data analytics, and augmented reality extend, not replace, core capabilities like data management, workflow, reporting, and analytics. Attempting Digital Transformation without an enterprise foundation in place is not likely to succeed.
SIGN #5 | EHS is Aligned with Operational Excellence and IX Teams
Operational Excellence programs such as Lean, Six Sigma, etc. are commonplace in industry. This has provided EHS an excellent opportunity to collaborate with other teams on continuous improvement. Inherent in these programs are cross-functional collaboration and an integrated approach to improvement that considers teams and processes first, and technology as an enabler. Now OpEx teams are converting to IX teams. To be in the game, EHS must be aligned to and participate in these strategic initiatives.
SIGN #6 | Your Organization Has a Chief Digital Officer (CDO)
As the IX trend has accelerated, new executive roles focused on Digital Transformation such as Chief Digital Officer (CDO) have emerged. If your organization has a CDO (or the CEO is leading digital initiatives), this indicates a strategic commitment to Digital Transformation and potential resources to facilitate EHS transformation in terms of funding, collaboration with other teams, and support for pilot projects and implementation.
SIGN #7 | EHS Has a Seat at the Table Executive Table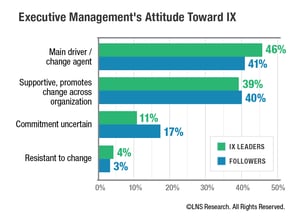 Where does the EHS leader sit in your organization? How aligned is EHS with business strategy, corporate objectives, and critical business initiatives? The more EHS is plugged into and accountable to the C-suite executive team and board of directors, the better. This means more significant exposure to an opportunity to participate in strategic initiatives including digitalization programs.
EHS Leaders at the Digital Crossroads
The Digital Transformation of industrial operations is happening all around us. The IX trend is only accelerating. This puts EHS business leaders at a unique place in the history of industry. What path will you take? We suggest that the best, if not only, way forward is to embrace digitalization and use it as a springboard to level-up EHS performance and how it contributes to the business.
The degree to which such transformation is possible is constrained by the digital readiness of your EHS business function, and the organization in which it operates. Not all the seven indicators discussed above need to be in place but having more will undoubtedly facilitate the transformation initiative. Lack of foundational capabilities such as an effective management system or an enabling software platform will limit what can be accomplished and in what timeframe. As an EHS business leader, no matter the state of digital readiness in your organization, you should have a digital game plan which may include shoring up the foundation. The future of EHS at your company depends on it.
Categories: Environment, Health and Safety (EHS)