Building business cases is often the first of many challenges today's industrial companies have to face as part of their Industrial Transformation (IX) programs. The ideal business case should help companies identify and prioritize the correct problems and provide a clear roadmap for the solution.
However, many companies struggle to effectively do this. Business cases in most of today's transformation programs perform well in securing early wins but tend to fall short when they have to be scaled across multiple plants or business units. In this blogpost, we will examine some common business case challenges in Industrial Transformation programs and provide three recommendations on how to successfully scale your IX business cases.
Focus on solving business (not technology) problems:
One of the common mistakes companies make in their Industrial Transformation programs is making it all about technology. LNS' research on IX programs has shown that successful IX programs should be focused on actual business problems and not used as a means to try out technologies.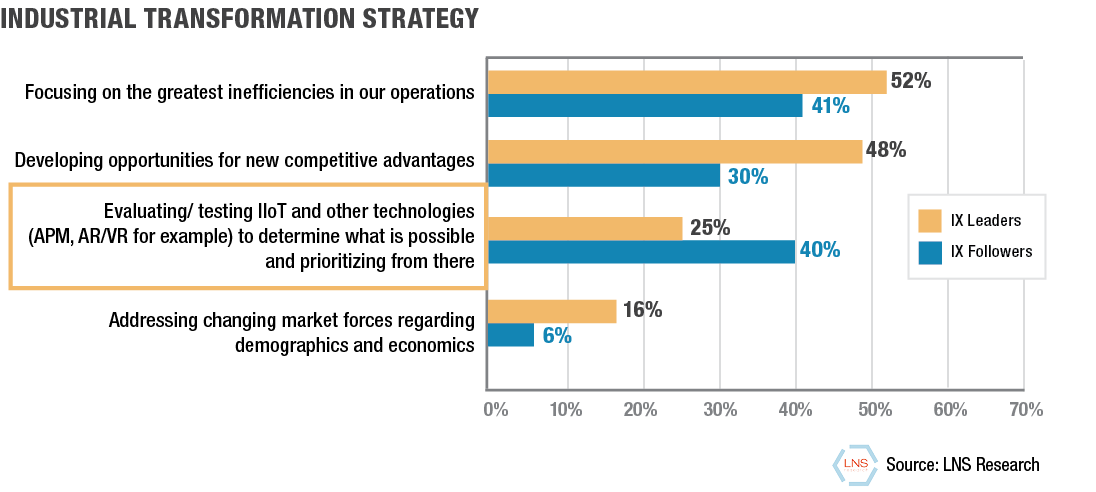 The above data point from the IX Readiness research proves this: while IX Leaders (companies with remarkable success in their IX programs) focus on solving business problems like improving operational inefficiencies and developing opportunities for competitive advantages, the Followers are more likely to lead with technology-led initiatives. Technology-led projects may be easier to implement and could even provide some early-stage momentum but are less likely to produce scalable and sustainable benefits over an extended period of time.
Align scope of the business case to maturity of the organization
Moving down from the strategic level, a common mistake companies make at the implementation level is not aligning the scope of their business case to the maturity of the organization. Without considering their maturity, companies either begin with use cases that are too broad or too narrow.
Ideally, business cases should reflect and be built on an organization's maturity level. For instance, in the initial stages of maturity, the focus should be on simple, departmental use cases that are easy to measure and control. As maturity increases and there is an established value proposition and ROI, companies can gradually broaden the scope of IX business cases by including cross-functional teams and turning their attention to more complex use cases.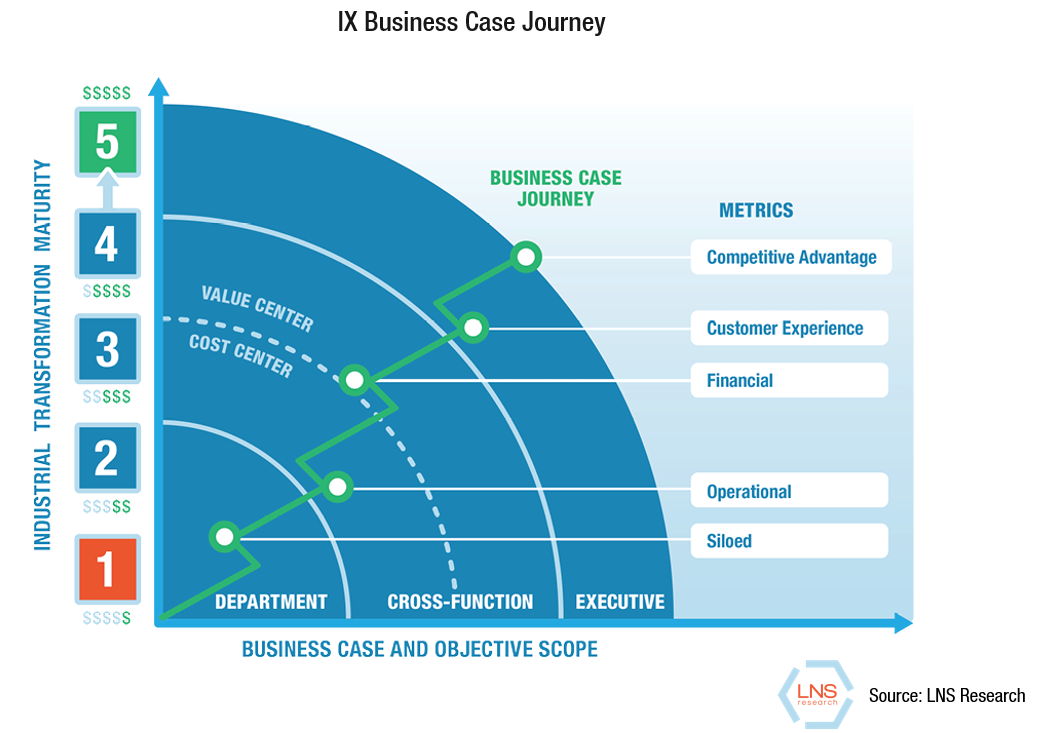 As companies broaden the scope of business cases with increasing maturity, they should also be shifting their focus from reducing cost to producing value to the organization. Crossing this value-cost divide is a critical but turbulent phase in most transformation programs, and it is one of the major reasons why so many IX programs fail to scale. (More on this explained below).
Beware of the Transformation Chasm:
As explained above, the mid-maturity stage where most companies switch from cost-centric use cases to value-centric ones is a critical but turbulent stage in the IX business case journey. At this stage, companies will have to make substantial changes to their priorities, organizational structure, management systems, and technology architecture to realize long-term financial benefits.
However, between running the day-to-day operations and change managing the transformation business case, the majority of companies won't be mature enough to achieve significant financial improvements. Any improvements that they do achieve will not be enough to compensate for initial investments, hence most companies at this stage are likely to take a short-term hit in profitability.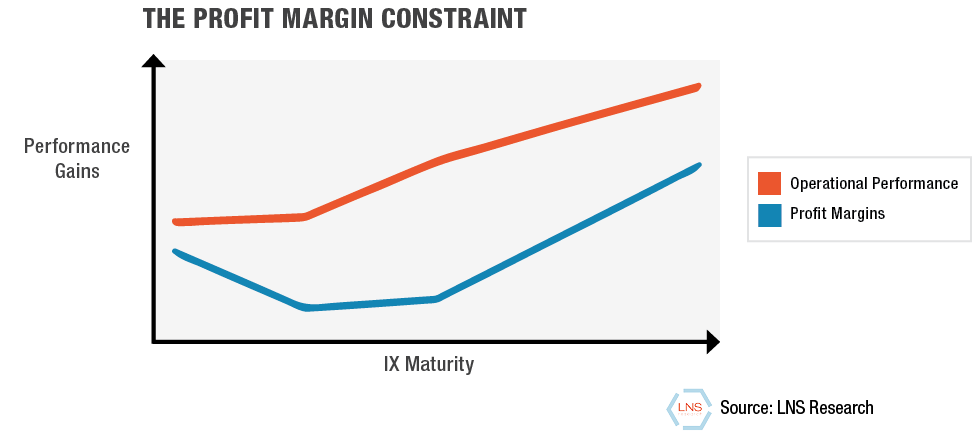 This short-term phase where the operational gains don't translate to profitability is what LNS Research refers to as the Transformation Chasm - a phase where the early-stage capabilities don't support long-term success. Crossing this chasm requires companies to proactively evaluate and pivot existing People, Process, and Technology capabilities to shift from the cost-centric phase to the value-centric phase. For more research on how this Transformation Chasm impacts long-term success, check out LNS Research Principal Analyst, Tom Comstock's work on the Four Stages of Industrial Transformation.
---
All entries in this Industrial Transformation blog represent the opinions of the authors based on their industry experience and their view of the information collected using the methods described in our Research Integrity. All product and company names are trademarks™ or registered® trademarks of their respective holders. Use of them does not imply any affiliation with or endorsement by them.
Categories: Business Process Management (BPM), Industrial Transformation / Digital Transformation, Industry 4.0 / Smart Manufacturing, IX Platform