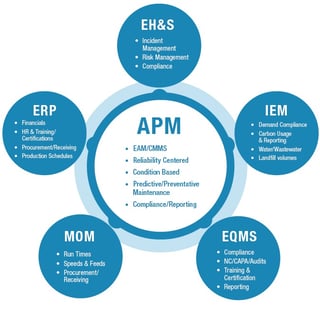 It's that time of year, in the thick of the holiday season, touching base with family and friends, and from a company perspective, the beginning of exploring the goals accomplished in 2015 and what the plans are for 2016. From an Asset Performance Management (APM) perspective, we thought it would be of value to our readers, new and old, to recap the most read blog topics, and understand how these can be applied starting now and into 2016.
APM has a wide depth and breadth of functionality that when used properly with the right balance of People, Process and Technology, ensures all assets are being operated optimally. APM solutions range from on-machine sensing for performance diagnostics to the management of field technicians and spare parts.
Our opinion as to why this was are most read blog was the simple fact that the APM landscape is complex and all encompassing. It's difficult to venture on your own to determine what solution will fit the requirements of your organization. In this blog we mention two important research reports, the first was the "APM Best Practices Guide", the other, now fresh off the presses, is the "APM Solution Section Guide".
Now that the APM Solution Selection Guide is available, we recommend using this resource as a starting point when evaluating vendor's for the issues you are trying to address. We will continue to blog and provide additional research about this guide in 2016, stay tuned!
Our second most read blog touched on specific industry events and the difficulty in trying to balance availability and reliability while minimizing risk and cost. To move forward in this journey organizations need to move beyond reactive maintenance to preventative or predictive maintenance.
Too much maintenance is as bad as not enough, a great example was provided about the Australian Defense Force and how preventative maintenance activities can introduce failure for a variety of reasons. We suggest a quick review these reasons, and incorporate the lessons learned in to your daily operations and maintenance activities. It's a great path forward for any organization striving for Operational Excellence.
The bigger the project creates the increased chance in not proving the Return on Investment (ROI). In this blog the focus was on larger APM solutions. The examples were Enterprise Asset Management or Computerized Maintenance Management Solutions. These solutions are typically large in scope and cover many, if not all assets in an organization.
Typically in these larger implementations, the promised value centers around Inventory Reduction, through better parts utilization, Labor, by reducing overtime or headcount reduction, and Asset downtime/uptime, by reducing unplanned maintenance.
The takeaway here is to hold everyone accountable and agree on the metrics required to measure success or failure in each ROI indicator. In many ways, you can follow lean principles as you want to figure out what the right thing to do is, do it consistently, and measure to set yourself up for continuous improvement and achieve the ROI planned.
By providing an overview on insights within our Asset Performance Management Survey data, this blog explored what solutions contribute most to their success. Interestingly, it also provided some initial insight to the state of the Industrial Internet of Things (IIOT) and its relationship with APM.
Although 38% of respondents indicated all categories of APM solution providers contributed to their success, there were 21% that said automation vendors contributed the least. Our view was and still is that because much of the information from these vendors contributes to APM, they should do a better job to message their role in APM.
It also showed the IIOT has yet to take hold within the APM landscape. Our recommendation is to watch this area closely. LNS Research recently launched our IIOT survey and early indications are this will change fast as some of the initial projects are targeted at the asset.
Rounding out our top 5 was a blog about the importance of Calibration within APM. Where the software resides typically rests with which department is doing the function. The important takeaway was regardless of which department is caring out the task, the information it provides can provide value to APM.
Calibration management data is a critical part of asset history and condition. A key area you should focus on is understanding where the Calibration function resides and if and hopefully how tightly integrated it is in your APM architecture.
Take Advantage of These Insights and Many More
If you missed any of our blogs you can search by topic on our website, and we look forward to continue the discussion on Asset Performance Management in 2016. We have great topics in store that will interest anyone from Field Technicians to Senior Management. We will explore the realms of the Industrial Internet of Things, Smart Connected Assets and provide insights to our just released solution selection guide on the APM vendor landscape!
Understand the capabilities of twenty of the leading vendors in the APM space by downloading our APM Solutions Section Guide. The guide contains comparison charts for the factors listed above and the detailed profiles of the twenty vendors ranging from automation companies, to enterprise software providers and includes many specialized APM solutions as well.
---
All entries in this Industrial Transformation blog represent the opinions of the authors based on their industry experience and their view of the information collected using the methods described in our Research Integrity. All product and company names are trademarks™ or registered® trademarks of their respective holders. Use of them does not imply any affiliation with or endorsement by them.