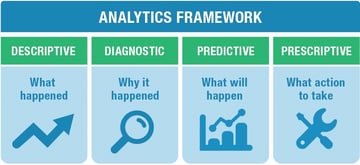 OSISoft has been the undisputed leader in the data historian market for over 20 years. The world, however, is changing; Big Data Analytics startups now have viable products for the industrial space and either directly compete with or create value from time series data, and hence, OSISoft.
Click here to speak with Matthew
The challenge comes in understanding the differences between all these new startups and how they target the space. To add some clarity I wanted to share my thoughts on how several of these new vendors align.
Splunk is focused on the Data and moving up the stack. Splunk briefed LNS last week and is the big kid on the startup block and has partnered with Kepware (now PTC) to collect machine data in a proprietary time series Cloud-based environment that enables long-term historized storage of machine data along with analytics and visualization.
Seeq is adding value to existing OSISoft data. Seeq is an interesting new startup with a leadership team made up of execs with IT and OT backgrounds and has developed easy to use (non-programming) analytics and collaboration tools to create value out of under-utilized existing time series data.
Sight Machine is mashing up OSISoft data with other legacy data sources. Sight Machine is another interesting new startup with a leadership team made up of IT and OT execs. Sight Machine is a company focused on delivering a new data model that mashes up time-series data with structured (ERP, MES, etc.) and unstructured data (Web, product, etc.) to pull out previously undiscoverable insight from the data.
Splunk, Seeq, and Sight Machine are just several of the new startups that we have been briefed by in the past several months that are in the space. Others that we have recently been briefed on and plan on covering in our future Industrial Internet of Things (IIoT) research include: Arimo, Element Analytics, Bitstew, ThinkIQ, and TrendMiner, among many others. In future research we will spend even more time thinking about these different types of analytics companies: Data Up, Data Type, and Data Model centric.
For industrial companies considering working with any of these companies outside of a pilot stage, it is critical to understand:
What these companies are truly offering outside the buzz words

How they compare in regard to the different (or same) problems they solve,

How they fit inside your company's own digital transformation vision and operational architecture for IIoT
Quality and Reliability: Big Data and IIoT Use Cases
According to our research, industrial manufacturers have prioritized Quality Improvement and Reliability as two of the most sought-after IIoT and Big Data use cases. The vendor community is listening and responding.
Dan Jacob, Dan Miklovic, Jason Kasper, and I had briefings with three separate vendors this week that have fielded IoT and Big Data solutions with a strong Quality Improvement message. Sight Machine is manufacturing Big Data Analytics, providing a novel platform to transform manufacturing data into new operations and quality insights. Schneider Electric has been covered elsewhere in this Monday Musings, but highlighted the importance of quality and failure prediction to deliver new levels of customer satisfaction and product performance. PTC has launched a Connected Quality offering, leveraging its ThingWorx platform to connect Smart Devices with quality and reliability to drive improved performance of existing products and future products.
It's clear that technology users and vendors agree that quality is one of the most important IoT and Big Data use cases!
From IBM Watson IoT Briefing
IBM held an analyst community briefing this week on the progress in its Watson IoT program. The analyst community reviewed current customer case stories and, not surprisingly, many of the best cases were related to Asset Performance Management (APM). IBM highlighted its APM related successes with Whirlpool, Pratt & Whitney, and several airlines. Another key use case was in energy management. IBM reviewed its recent announcement about the adoption of Watson technology by Siemens in the building management space. Kone was another building IoT-use case related to energy savings related to moving people and controlling access. IBM reviewed its platform for IoT going forward with an emphasis on cognitive reasoning.
We believe key take-aways from this IBM briefing include:
Many early IoT use cases will continue to revolve around APM and Energy Management

IBM is investing heavily in a platform approach that leverages IoT in the Cloud with very powerful predictive analytics driven by the Watson technology.
End users looking for a platform for Cloud-based IoT implementations with powerful predictive analytics capabilities should consider IBM.
Alcoa Has Real Smart Manufacturing and IIoT Ambition
Much of our recent and future IIoT research at LNS has been related to how new technologies will transform legacy system architectures in manufacturing.
In a fascinating conversation between Andrew Hughes and one of our GEC council members, Haresh Malkani - leader of Alcoa's manufacturing intelligence and automation team at Alcoa's central technical center, manufacturing transformation was front and center. Haresh is as enthusiastic a manufacturing technology man as you could meet. We talked about Smart Manufacturing investments Alcoa is making and delved deeply into the potentials for the IIoT on the shop floor.
It is clear from the discussion that Haresh believes easy machine to machine communication should be central to any IIoT strategy, ultimately making it so that plants can be reconfigured with ease. We share Haresh's view that flexibility is one of the important impacts of IIoT and we hope to see Alcoa continue down this journey, become an IIoT leader, and begin to leverage IIoT success to other parts of the business.
Join us on Tuesday, March 29, at 1:00 pm EDT as Andrew Hughes presents the results from the fourth iteration of the Metrics that Matter research study conducted between LNS Research and MESA International, and places particular focus on how the deployment of IIoT, Cloud, and Analytics are transforming manufacturing today.
Categories: Enterprise Quality Management System (EQMS), Cloud, Smart Connected Assets, Industrial Internet of Things (IIoT), Asset Reliability, #MondayMusings, Asset Performance Management (APM)