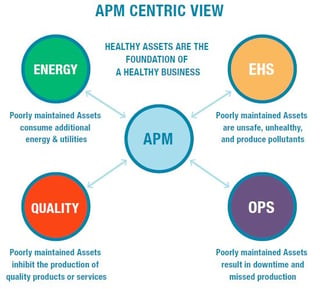 Overall Equipment Effectiveness (OEE) is a metric that most manufacturers rely on to help them understand how well their manufacturing operations are performing. Almost every discussion LNS Research has with end user clients about manufacturing operations eventually comes to OEE. A key factor influencing OEE is asset reliability. The bottom line is that a poorly performing asset due to poor maintenance can kill your OEE performance. The challenge that many companies face is there are multiple ways to address reliability. That's why LNS Research is highlighting the automation and Product Life Management (PLM) giant, Siemens, and its approach to equipment reliability.
Siemens APM Functionality Starts with Siemens Products
Based in Germany, Siemens is a more than 165-year-old global electronics and electrical engineering company, operating in the industry, energy, healthcare, and infrastructure and cities sectors. Siemens is one of the largest vendors in the industrial/manufacturing market space with a broad range of offerings in automation, software, and services. The company is well known for its prowess in Industrial Automation, and it also has capable offerings for PLM software, Manufacturing Execution Systems (MES), and EMI. Based on recent acquisitions and developments, Siemens is also extending its solutions into Enterprise Quality Management System (EQMS).
As a diversified volume manufacturer itself, Siemens has a good understanding of the needs of engineering, manufacturing, and IT executives, allowing it to offer a broad set of functionalities to many industries. In the Asset Performance Management (APM) sector Siemens' approach is fundamental to offer superior reliability and predictive solutions for its products, although it is expanding its coverage to include third-party drives and machinery. It also provides enabling technology at both the process automation level as well as via its portfolio of PLM related applications.
Siemens brings its APM capabilities to market under primarily two business units, Digital Factory (DF), and Process Systems & Drives (PD). Some of the key products and technologies related to APM are:
SIMATIC Win CC (DF)

B Data (energy management) (DF)

SIMATIC IT (DF)

Siemens PLM Software with Tecnomatix, Teamcenter, and NX (DF)

COMOS and COMOS Walkinside (ITS) (PD) – 3D Plant Design & Modeling

Sinumerik Integrate (DF) – CNC Automation Support

TIA Portal (DF)

SIMIT and PCS 7 (PD) – Simulation and Process Control

Plant Data Services (energy and condition monitoring) (DF – PD)

Siemens can deliver a relatively broad spectrum of APM functionality, but it spreads across many different products and services. The vast majority of these offered by each product group have a functionality specifically defined for each product family. This necessitates purchasing many different solutions that would need to be integrated with each other if a single comprehensive solution is the objective. This can lead to complex architectures and high support costs. On the other hand, being so focused on the automation and drives hardware has allowed Siemens to deliver high-value results with low initial implementation costs.
For end-users with a complete or predominantly Siemens automation and machinery environment, the machine-specific APM functionality that Siemens can provide makes sense to consider. For environments that contain a mix of vendors and are seeking to develop an integrated APM platform, alternatives may make more sense. Individual Siemens APM applications may still be appropriate provided they can plug into your APM platform solution.
LNS Research sees Siemens as a credible APM solutions provider that has the underlying technology to help end-users deploy Smart Connected Assets and leverage the Industrial Internet of Things (IIoT). The challenge that most users face is identifying what pieces and parts are needed to accomplish any specific APM task.
How to Use the APM Solution Selection Guide
LNS' Asset Performance Management Solution Selection Guide is a free resource that dives deeper into Siemens and 19 other APM solution providers by criteria such as company sizes served, geographies covered, technology platforms delivered, licensing and deployment models, and others. In addition to a written section for each of the 20 top APM vendors, the guide offers a side-by-side comparison of each provider for quick reader reference on the capabilities and attributes that matter to them.
Categories: Overall Equipment Effectiveness (OEE), Asset Reliability, Asset Performance Management (APM)