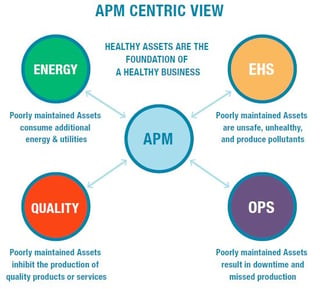 Asset Performance Management (APM) is a critical core competency for any manufacturer or asset intensive company. LNS Research has designated APM, along with Quality, Manufacturing Operations, Energy Management, and Environment, Health, & Safety (EHS)/Sustainability as a pillar of Operational Excellence. Failure to achieve excellence in any one of these pillars puts Enterprise Performance at risk and failure in in two or more pretty much dooms any chance of achieving Operational Excellence, regardless of how the enterprise defines it.
In certain industries, particularly those that are asset intensive, the type and makeup of production assets have evolved over time, through the implementation of different models, different repairs, components, and so on; contributing to a heterogeneous and constantly shifting mix of assets.
This can lead to maintenance and inventory challenges, both in having visibility into all the characteristics of the various plant floor assets, and in having the right type and amount of corresponding repair parts on hand to ensure uptime without tying up valuable space and capital in useless or outdated parts that will never be used. Maintenance, Repair, and Operations (MRO) Inventory Management is designed to automate and integrate these necessary processes such as MRO purchase requests and orders, storeroom operations, excess inventory disposal, and optimization.
Another maintenance challenge is the ongoing maintenance of the control systems infrastructure. The software driving processes is as much a part of the production asset base as the machine tools or process vessels used to manufacture a widget or produce a packaged compound, such as food, pharmaceuticals or personal care products. The collection of tools needed to properly maintain hardware, software and the rest of the infrastructure sand the inventory of parts described above often requires a portfolio of tools. That's why LNS Research has released its Asset Performance Management Solution Selection Guide, featuring 20 of the top APM providers in the space by key criteria, and with an eye on how they can help you build out the architecture for Industrial Internet of Things (IIoT) and Smart Connected Assets. We've been highlighting a different guide participant; today's example is automation and services provider Rockwell Automation.
Rockwell Automation: Infrastructure Reliability Critical to APM Performance
Headquartered in Milwaukee, WI Rockwell Automation is a longtime player in the industrial automation and information market space. The company has an extensive distribution and system integration network to serve customers around the globe.
Its manufacturing software portfolio, FactoryTalk, allows manufacturers to gain increased insight into production operations, analyze sources of inefficiencies, poor quality or downtime, and provide standardized workflows and procedures to optimize production operations. Specifically, the company only optimizes inventory for Rockwell Equipment, remaining in its own asset base without any cross over of other assets bases outside of the Rockwell circle. Rockwell Automation also provides services and some underlying technology in the APM space, with the three primary focus areas of its services offerings including:
MRO Process Management
Storeroom Services
Spare Parts Management
Each of these services is being "productized" to fit the company's delivery strategy moving forward.
Within the technology side, Rockwell Automation provides key network management technology in partnership with Cisco, Panduit, and Endress & Hauser. In addendum, it provides Enterprise Manufacturing Intelligence (EMI) / dashboarding for Overall Equipment Effectiveness (OEE), tracking equipment performance and analytics to support Condition Based Maintenance (CBM), and a process data historian. In addition, the company also has an offering known as Asset Center that benefits end users and OEMs that have embedded Rockwell Automation's technology in their own products.
In contrast to many of its competitors, Rockwell Automation's focus is weighted toward the services aspect of asset management. The company possesses strong messaging around the IIoT. It can articulate the value of deploying Smart Connected Assets, though it focuses more on the Asset Management services offering and is currently building out Cloud infrastructure to support this offering as well as remote monitoring capabilities.
More About Rockwell Automation's APM Capabilities
The LNS Research APM Solution Selection Guide dives much deeper into Rockwell Automation's APM solution set as well as 19 other key providers by key evaluation criteria such as geographies served, functionalities delivered, industry and core strengths, solution delivery models, and others. The LNS Research APM Solution Selection Guide is a critical resource for APM professionals on their solution selection journey.
Categories: Overall Equipment Effectiveness (OEE), Smart Connected Assets, Industrial Internet of Things (IIoT), Asset Performance Management (APM)