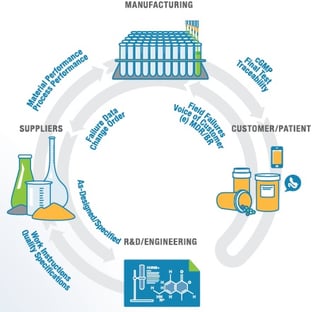 The #MondayMusings blog series provides executive level insights and analysis for the Industrial Internet of Things (IIoT) and Digital Transformation from the previous week's briefings, events, and publications @LNSResearch.
Several weeks ago I wrote a post helping to clarify a lot of confusion in understanding what the Cloud is. It didn't take long for a new Cloud offering in the EQMS space to exemplify the need for this understanding.
Click here to speak with Matthew
Veeva Launches EQMS
Last week, LNS' Quality Management Research Analyst, Dan Jacob and I met with Veeva, a Life Sciences-focused multi-tenant Cloud-based solution provider that has deployed Vault QualityDocs, Vault eTMF, an electronic trial master file (eTMF) application, and Vault RIM; a regulatory and information management (RIM) suite of products over the past several years. We met to discuss the launch of Veeva's latest product, Vault QMS, which was announced on May 26, 2016.
The Vault QMS product provides some much needed capability and is a good step along the journey toward a full EQMS offering. Veeva is currently engaging with a group of early adopters and anticipates working with a broader group of customers later this year. Veeva customers looking towards a broader EQMS solution should consider the new offering. In the short term, Small and Medium Life Science organizations with a preference for Cloud-based, document-centric solutions would do well by adding Veeva to their list of candidates. Longer term, possibly upon completion of Veeva's early adopter program, we expect Veeva's Vault QMS offering to be applicable to a wide set of Life Science organizations.
There were several interesting takeaways from the meeting:
-Veeva's customer base demanded the development of this EQMS solution. In our recent EQMS Solution Selection Guide, there are a growing number of multi-solution providers investing more heavily in EQMS. We like this market trend because it underlines and enables the importance of quality as a cross-functional activity.
-Veeva's investment is both in product, as well as personnel. They on-boarded a seasoned group of executives from life science EQMS competitors to guide the development of the new product offering, which is a successful strategy.
-Veeva's Cloud-only model is generating substantial growth rates. As a whole, EQMS is growing at a healthy rate, but Veeva's sustained triple-digit growth rate is impressive. This provides another data point validating the competitive importance of Cloud in the EQMS market.
Cockpits are key in making informed decisions – enter IFS and Enterprise Operational Intelligence
Mehul Shah and Jason Kasper, LNS Asset Performance Manangement (APM) Research Analyst, met with executives at IFS as they took analysts through the current state of the business at a recent Influencer Series held in Boston, MA. At a high level they provided information on the status of the acquisition of IFS by EQT. It appears to be a mutually beneficial opportunity as it provides IFS to grow their brand and increased dollars allocated to R&D to benefit the product portfolio.
We then had an opportunity to be taken through the solution vision and roadmap for IFS Enterprise Operational Intelligence by Managing Director, Alfred Godeke. This solution will allow end-users to make informed decisions using "cockpits" as opposed to traditional dashboards. The concept is that the cockpits are designed to make you act, where as in a traditional dashboard format they only can inform.
Customer examples were given to show the success in implementing the solution from both the Virginia Department of Transportation and Serco who deliver outsourced services by using local people. In the future IFS expects to develop industry specific solution templates for all industries served.
LNS Research likes the direction and the mention on how prescriptive analytics will be a part of the EOI solution. We are also looking forward to the IFS IIoT position, which they teased as something to expect to hear more about in the coming months and at IFS World this October.
Going seamless with Bentley's AssetWise CONNECT Solution
Bentley's Director of Marketing, Sandra DiMatteo and Jim Newman, Director of Product Management briefed Jason Kasper and Dan Miklovic on plans for the AssetWise CONNECT Asset Performance Management offering to LNS in a recent briefing. This solution is capable in a variety of asset intensive industries.
From 3 to 1, working with a single user interface will be fun! The consolidation strategy includes a mix of modern code enhancements and a common interface going across the solutions. This is a good approach and viewpoint. Often Vendors can get hung up in the battle to try to re-write and modernize all code for their offerings, in reality this can be cost prohibitive and time consuming, when in reality the end-user customer really wants an easier to use interface that can span across multiple solutions.
Asset performance modeling, asset lifecycle information management and a common data environment, reliability, work management, operational analytics, connectivity and interoperability are all key components of the solution. Future plans are to continue to bring in additional capabilities within this single user interface approach and we look forward to hearing the progress in future briefings.
Join the webcast, on Thursday, June 16, 2016 @ 1:00 will provide senior leaders with best practices for building a business case around quality and the foundational framework needed to gain executive commitment.

Categories: Enterprise Quality Management System (EQMS), Cloud, Industrial Internet of Things (IIoT), Industrial Transformation / Digital Transformation, #MondayMusings, Asset Performance Management (APM)