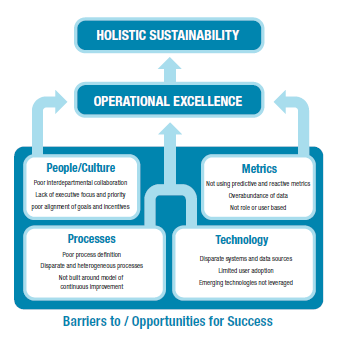 In this weekly Roundup, LNS Research explores recent announcements and events, such as Velocity and Enhesa announces a strategic partnership; Emerson sells Network Power Leroy-Somer business for $5.2 billion; Tesla is set to acquire SolarCity; and Biogen may have a possible buyout on the horizon.
VelocityEHS and Enhesa Announce Strategic Partnership to Streamline Regulatory Compliance
VelocityEHS, a Cloud Environment, Health, Safety (EHS) and sustainability software provider, announced a strategic partnership with Enhesa, the global EHS regulatory consultancy. The partnership aims to facilitate the ability of VelocityEHS customers to directly access and deploy Enhesa's regulatory compliance checklists within the VelocityEHS Audit & Inspection software product. The integration is intended to simplify compliance in the face of increasingly complex global EHS regulations.
LNS Research Analyst, Peter Bussey commented, "The partnership between VelocityEHS and Enhesa exemplifies the trend we see in the market towards EHS software platform vendors providing more comprehensive solutions that incorporate content as well as software and services. The integration of regulatory content, in this case to support audit and inspection processes, not only improves efficiency but increases effectiveness by helping to ensure the latest compliance obligations are used." To read more on this click here.
Emerson Sells Shares for $5.2 Billion
Emerson, the electronic manufacturing mechanical company, announced earlier this week that it will be selling its Network Power, Leroy-Somer, and Control Techniques businesses for $5.2 billion. The majority of the shares will be sold for $4 billion to Platinum Equity and another group of co-investors. Nidec Corporation, a comprehensive motor manufacturer, will buy the remaining $1.2 billion shares of the Leroy-Somer businesses.
Emerson Chairman and CEO, David Farr commented on the agreements and said, "This agreement marks a major milestone in the strategic portfolio repositioning we announced last June." Emerson stated that it would make significant changes by September 2016 to the business as it anticipated a spin off or sale of Network power. The changes were estimated to shrink the annual sales by $8 billion. To read more on what's to come for Emerson and the agreements it has reached in selling its Leroy-Somer businesses click here.
Does Biogen Have a Big Buyout in the Making?
In an earlier blog we bid farewell to our neighbor, Biogen, and its oldest and smallest manufacturing plant. Recent news shows even more of a surprise, as Biogen's stock shares significantly increased, by 10% on Tuesday, August 2.
According to the Wall Street Journal, the rumors of the increased stock shares lead to the possibility of Merck or Allegran interested in a buyout; informal discussions between the organizations and Biogen have already taken place. Another reason sources may speculate on an acquisition is the departure of Biogen CEO George Scangos in future months and stock shares continue to remain at a low. If an acquisition were to take place, the organization is to be valued at $75 billion. To read more on this click here.
Tesla and SolarCity: The "To-Be" Acquisition
Tesla has been making headlines lately with the announcement of its Gigafactory, and now with the $2.6 billion SolarCity acquisition on the horizon. The creation of the vertically-integrated renewable energy company was first proposed in June by Elon Musk, Tesla CEO.
The $2.6 billion all-stock deal is said to bring new means of energy and storage to Tesla products. Musk expressed in his initial proposal that harnessing solar energy with the use of SolarCity and maintaining it with Tesla batteries makes for an efficient use of energy and money. He continued to express that Tesla's mission has always been tied to sustainability." While the acquisition/merger may be for the greater good of clean energy, it does not bode well for Tesla's shares that have dropped nearly 11% since the announcement was made. To read more on the proposed deal click here, and lookout for updates!
Categories: Sustainability, Manufacturing Operations Management (MOM), Cloud, Environment, Health and Safety (EHS)