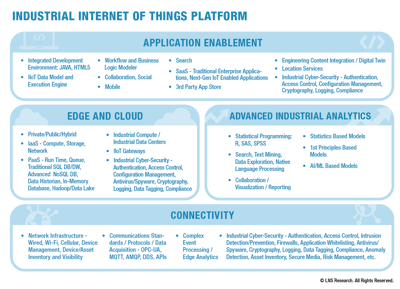 In this weekly Roundup, LNS Research explores recent announcements and events, such as GE releases its new Brilliant Manufacturing Module; Honeywell Process Solutions announces it new IIoT analytics suite; Microsoft and set to acquire LinkedIn; and Biogen's Cambridge, MA locations announces its closing at the end of 2016.
GE's New Brilliant Manufacturing Module
General Electric (GE) recently announced the release of its new Brilliant Manufacturing Suite module, Plant Plus Optimizer. GE stated the new Brilliant Manufacturing Suite module is to allow manufacturers the ability to run the plant on "up-to-date" production, inventory, quality, and product delivery information.
The new suite made an appearance in Paris, France at GE's 2016 Minds + Machines Europe, where Jennifer Bennett, GE Digital General Manager for Manufacturing Software set the stage to make the announcement. Included in the details of the suite, it is also designed to further enterprise optimization by utilizing the Predix platform and leveraging the Industrial Internet of Things (IIoT). It was announced that the suite would be available at the end of June. To read more on the announcement and new Brilliant Manufacturing Suite Module click here.
Honeywell's NEW Uniformance Suite IIoT Analytics Platform
Earlier this week Honeywell Process Solutions announced the launch of its new system, Uniformance Suite. The system is stated to be fully integrated with process software solutions that allows Big Data Analytics derived from the plant to enable Smart Connected Operations.
The suite is said to also have other capabilities, such as:
Collect and store data for accessibility and analytics
Predict and detect events based off of analytic results
Connects process metrics with KPIs for better decision making
Enables the IIoT, Mobility, Cloud, Big Data, and Predictive Analytics and Enterprise Analytics
Commenting, upon the release of the new suite was Ali Raza, VP, HPS Advanced Solutions business, who alluded to the importance of the system by stating, "The Uniformance Suite is Honeywell's analytics platform for digital intelligence and a big part of our Industrial Internet of Things strategy." To read more on the release of the new Uniformance Suite click here.
Microsoft Set to Acquire LinkedIn
Last Monday Microsoft and LinkedIn announced a definitive agreement in which the former will acquire the latter for $196 per share in an all-cash deal valued at $26.2 billion, including LinkedIn's net cash. Expected to close before 2016's end, the deal will leave LinkedIn retaining its brand, culture, independence, and CEO—Jeff Weiner—who will now report to Microsoft CEO Satya Nadella.
LinkedIn, a leading global professional networking site, has recently launched a new version of its mobile app, enhanced its newsfeed functionality, acquired Lynda.com, an online learning platform, and engaged in other innovations that have grown its business by key metrics, such as 19% growth year over year in membership, and others.
"The LinkedIn team has grown a fantastic business centered on connecting the world's professionals," Nadella said. "Together we can accelerate the growth of LinkedIn, as well as Microsoft Office 365 and Dynamic as we seek to empower every person and organization on the planet." To read more on the proposed acquisition click here.
Biogen to Close Oldest and Smallest Manufacturing Plant
In news from the LNS Research backyard Biogen, the Cambridge, MA-based biotech company, has announced it will halt production at its Kendall Square plant by year end, a move that could affect as many as 285 workers.
Biogen, the largest biotech company in Massachusetts, will seek to sublease its bioprocessing operation in a building at its headquarters and research campus, with a possible shutdown of the 66,000 square foot plant—the company's oldest and smallest manufacturing site—if another tenant can't be found.
The site's function, which is to make drugs to treat multiple sclerosis and hemophilia, will be moved to larger sites in North Carolina and Europe. "We've made a decision to end Cambridge manufacturing operations as part of a look at our overall manufacturing activities," said company spokesman Jason Glashow, "This does not reflect a lack of commitment to Cambridge or to our work here. This is about manufacturing efficiency."
Biogen's Kendall Square plant has a total capacity of about 10,000 liters, just over 5% of the company's overall manufacturing capacity of 196,000 liters. To read more details on the anticipated move click here.
Categories: Enterprise Quality Management System (EQMS), Cloud, Big Data, Mobile / Mobility, Predictive Maintenance (PM), Industrial Internet of Things (IIoT)