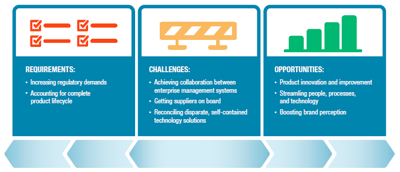 In this weekly Roundup, LNS Research explores recent announcements and events, such as Intelex acquires Ecocion; Cisco is to acquire CloudLock; Volkswagen settles on emissions scandal; and ABB announces a new location in Silicon Valley.
Intelex Acquires Ecocion
Earlier this week Intelex Technologies, an environmental, health, and safety (EHS) software provider announced the acquisition of Ecocion, a software provider used to increase an organization's environmental risk, compliance, and regulatory requirements.
Commenting on the acquisition is LNS Research Analyst, Peter Bussey, who said, "With increasing regulatory and stakeholder pressures, responsible management of environmental issues is more important than ever for sustainable operations in the energy and manufacturing industries. The acquisition of Ecocion by Intelex is a smart move that adds deep functionality, content, and domain expertise to meet heavy-duty environmental obligations such as permit and task management, emissions calculations, and reporting. This is an area that has been historically underserved by integrated EHS software vendors across the board, and Ecocion's capabilities should add significant value to Intelex customers looking to consolidate on a single EHS application platform." To read more on this click here.
Cisco to Acquire CloudLock
Earlier this week Cisco announced its intent to acquire a Cloud success security broker technology, CloudLock. Cisco intends to leverage the acquisition in hopes to enhance its Security Everywhere strategy.
The privately held company's main focus is providing analytics and visibility of user behavior regarding sensitive data to increase Cloud adoption. Commenting on the acquisition is Cisco Corporate Development Vice President, Rob Salvagno, saying, "As companies are migrating to the Cloud, they need a technology partner that can accelerate that transition and deliver critical security capabilities for all their users, apps, and data in a seamless way. CloudLock brings a unique Cloud-native platform and API-based approach to Cloud security which allows them to build powerful security solutions that are easy to deploy and simple to manage." The $293M in-cash deal is expected to close in early 2017. To read the full details click here.
Volkswagen to Buy Back Flawed Vehicles
Volkswagen, the German automaker, has been gaining a lot of attention over the past year due to the emissions-scandal that broke in 2015. After the improper use of software to intentionally avoid government emission test regulations, North American Volkswagen CEO, Michael Horn said he found the company's actions to be deeply troubling. After more than six months after the initial news, Volkswagen has agreed to pay up to $15.3 billion to buy back vehicles.
What is described as the largest automotive buyback offer ever in the United States will serve the purpose of buying back flawed vehicles and potentially fixing a number of the flawed vehicles. Although Volkswagen is attempting to right its wrong with the buyback, the company is still vulnerable to criminal charges. To read more details on the on-going Volkswagen emissions scandal click here.
Another Big Industrial Firm Moves to the Valley
The industrial world continues to see value in the Silicon Valley. This week ABB announced the opening of an office to bring together five business: ABB Wireless, ABB Enterprise Software, ABB Power Conversation, Los Gatos Research, and ABB Robotics to a new home in the center of the technology universe. The intent is to leverage its internal resources and new hires to continue to pursue the Industrial Internet of Things (IIoT), Services and People.
Time will tell what the ultimate outcome will be, but consolidating the expertise of these advanced-technology groups and essentially breaking down the silos that typically hinder innovation is a good move. Collaboration should speed breakthroughs in IIoT, expect to see results hitting the product roadmap of these combined groups soon primarily around Smart Connected Assets. To read more on this click here.
Categories: Risk Management, Cloud, Industrial Internet of Things (IIoT), Asset Performance Management (APM), Environment, Health and Safety (EHS)