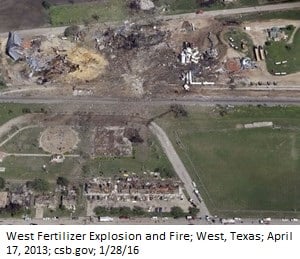 On April 17, 2013 when 30 tons of ammonium nitrate exploded at the West Fertilizer Company (WFC) killing 15 people, the last thing anybody was thinking about was "what went wrong with the company's Environment, Health, and Safety (EHS) management system?" Yet, its failure was the fundamental cause of a preventable catastrophe.
The same can be said for numerous other high profile industrial disasters that have occurred over the past few decades, going back to the toxic chemical release in Bhopal, India in 1984, and beyond.
In this post we'll use the WFC incident as context to refresh on the vital role of EHS management systems in not only preventing adverse events, but in driving performance improvement. We'll look at some of the risks of management system failure, and an integrated approach that factors in people, process, and technology aspects to effectively operationalize EHS management systems.
The Vital Role of Management Systems
Every industrial organization has some sort of EHS management system, whether it's documented or not. It's the way an organization plans (or doesn't plan) to manage EHS. Of course, most large companies have a well-defined EHS management system (or systems). It may be based on consensus standards such as ISO 14001 and OHSAS 18001, an industry standard, such as Responsible Care in the chemicals industry, or a hybrid that is unique to that organization.
Such management systems define how an organization will manage EHS performance, based on the well-known Plan-Do-Check-Act cycle of continuous improvement. The management system is the heart and soul of a company's EHS efforts. It defines the framework of organization, processes, and initiatives that will be used to achieve the EHS goals of today and tomorrow. Defining the management system is relatively easy...effectively executing it is not. And failure to do so can have major negative consequences to people, the environment, and business continuity.
What Went Wrong at West Fertilizer Company, and Why?
When the WFC facility exploded in 2013 it was big news. 15 people were killed, 260 injured, the plant was destroyed, and there was extensive property damage in the surrounding community including several schools and health care facilities built dangerously close to the plant. Aside from the human toll and property damage, the company was put out of business. How could this have happened, and what can be learned from it?
The massive explosion involved 30 tons of Fertilizer Grade Ammonium Nitrate (FGAN) stored on site. The US Chemical Safety Board investigated and released their final report earlier this year. (This animated video clearly explains what happened and why.) The findings were that causes included storing combustible materials near the FGAN stockpile, lack of fire detection and sprinkler systems, and inadequate emergency preplanning, among many others. Most surprisingly, the company lacked basic awareness of the hazards of FGAN, one of the main products it distributed. (Note: recently federal officials announced that the fire may have been set intentionally; this development doesn't change the basic investigation findings of procedural and technical faults that led to the explosion after the fire started).
The causes mentioned above were deeply rooted in the failure of WFC's EHS management system. Although the CSB investigation report doesn't detail the extent and quality of WFC's EHS management system, we can infer that such as it was, it failed miserably. Any facility that handles large quantities of hazardous chemicals should have a hazard identification and risk management program in place. If this had been the case, and it was implemented effectively, in all likelihood this incident would not have occurred. With even a rudimentary EHS management system, risk assessments would have dictated appropriate hazard controls, inspections and audits would have revealed deficiencies, and corrective actions would have been monitored through to completion.
The Challenge: Operationalizing EHS Management with an Integrated Approach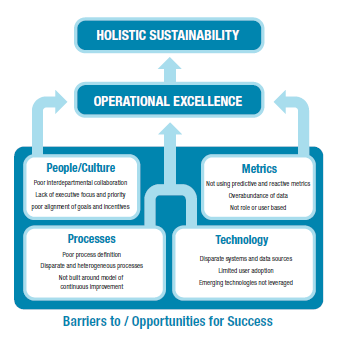 When you peel back the layers of the management system-onion, you find that the required elements boil down to defining how people, processes, and technology capabilities will be deployed to enable EHS performance improvement. This is entirely consistent with the LNS Research framework for operational performance improvement based on aligning the right combination of the people, process, and technology aspects to achieve business goals. Here are some examples of capabilities that, had they been in place as part of an EHS management system, could have helped prevent the WFC disaster:
People: management leadership of and involvement with safety, adequate safety resources, hazard awareness, training, emergency response drills
Process: proactive risk assessment, implementation and monitoring of controls, hazard communication, emergency preplanning, audits and inspections, performance monitoring
Technology: fire detection and sprinkler systems, management dashboards (incidents, audit findings, corrective actions, etc.), workflow management with alerts, risk registry, process automation, EHS data management
At LNS Research, we believe that effectively operationalizing EHS management systems is key to safe, sustainable operations, yet this remains a major challenge for many companies. This topic will be a focus of our EHS research efforts for the rest of the year, including a focused research campaign culminating in a webinar in October. Keep an eye out for additional blogs and content on this topic in the coming months.
What are your experiences with regard to implementation of EHS management systems? What challenges have you faced, and how did you overcome them? What questions and topics are of most interest to you? Please leave your comments below.
Quality Leaders should join this webcast, on Thursday, June 16, 2016 @ 1:00 that will provide senior leaders with best practices for building a business case around quality and the foundational framework needed to gain executive commitment.
Categories: Operational Excellence, Risk Management, Environment, Health and Safety (EHS)