To effectively manage the flow of energy through an organization, it takes a robust operational excellence program with the right combination of leadership, business process, and technology. Taken a step further, aligning these resources with operational, financial, and environmental objectives, executives can take a measured approach to realizing energy management improvements.
When it comes to industrial energy and its relationship to the operational excellence model, energy directors and line of business leaders are constantly challenged with the management of energy procurement, use, and reporting. These three areas can be considered the sub-categories of industrial energy management software, each with their own respective functionalities and best practices.
In comparing and selecting an IEM vendor, there are a few areas on which executives should focus. As part one of a three part series, this post will examine the role of procurement in the LNS Research Industrial Energy Management Software Framework. The proceeding posts will cover use and reporting.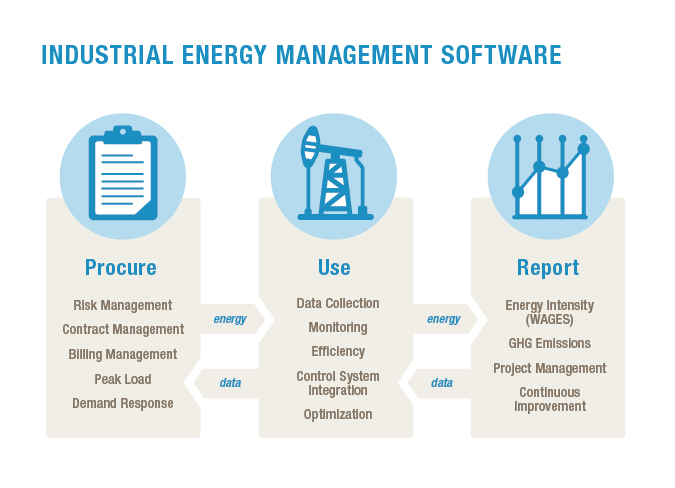 Procurement Functionalities in IEM Software
In the area of procurement, there are several key areas of functionality that any industrial company should focus on when selecting an Industrial Energy Management Software provider:
Risk Management
The energy and manufacturing industries are inherently risky. Prices are clearly subject to volatility, as can be seen in recent price changes in oil and natural gas. Similarly, the amount of energy an industrial company requires varies as the demand for the goods manufactured varies. Both of these market forces can put energy procurement professionals in a precarious position. They need effective tools for managing the uncertainty of energy prices and energy requirements.
Share on LinkedIn | Tweet this Post
Risk Management functionality provides capabilities to model and visualize the risks associated with energy prices and requirement, enabling energy professional to make optimal decisions. Inputs to these models include energy market data from third parties, internal data of energy needs, and demand forecasts. It should also be noted that the use of these tools is often coupled with analysts or consultants from the software company to augment internal resources at the industrial company itself.
Contract Management
With the deregulation of energy markets, the emergence of peak load pricing and incentive programs for coordinating the consumption of energy with the needs of the grid are a focal point in energy management strategy. As a consequence, the complexity of energy contracts has become a challenge for many industrial companies. It's important for companies to have expertise and software that can assist in evaluating different contract structures.
The utilization of incentive programs like demand response or peak load pricing can seem like an instant benefit for an industrial program. However, these contract decisions are often not fully evaluated and better terms could have been negotiated. IEM software can facilitate the integration of contract management functionalities and expertise with other areas of procurement, so, for example, there's insight into how contract terms may impact risk or a company's ability to shed peak load before commitments are made.
Billing Management
With contract complexity, multiple sources of energy supplying a large industrial facility, and many large industrial facilities selling energy back to the grid, ensuring the accuracy of utility bills and minimizing the internal costs associated with managing billing processes is another major challenge for industrial companies. Billing management solutions leverage a combination of business process outsourcing to replace or augment existing resources.
Share on LinkedIn | Tweet this Post
These solutions contribute to efficiency gains with the use of software that automates the collection of meter data and compares it to billing data, which often exists in disparate financial or ERP systems. The analytics provided as part of this functionality can highlight errors or other irregularities in either billing or consumption. This software is generally integrated with the contract management system and can also contribute insights into the use and efficiency of energy in operations.
Peak Load Management
Many industrial companies today have moved to an environment where the price of energy depends on the demand of the grid. In these situations, there can be substantial savings in strategically shifting production to periods that have lower energy costs. Of course, there are also challenges to managing this process. Most energy programs today do not include energy on the bill of materials and planning systems such as MRP do not account for changes in energy costs.
IEM software provides functionalities for optimizing consumption as it relates to peak loads. Data visualization, forecasting, and automation functionalities allow energy professionals to understand where energy is being used, when it's being used, and how consumption can be altered to avoid premiums associated with peak loads. These functionalities can provide direct impacts to the bottom line.
Demand Response
Today, most energy professionals have an asset they don't even realize is available, the ability to curb energy consumption during periods of intense stress on the grid. By participating in demand response programs, large industrial companies can provide capacity (in the form of unused energy) to aggregators that can then be sold back to grid operators at a cost that is substantially less than bringing additional generation capabilities on-line.
There are, however, challenges in dealing with a demand response event. It often requires quick response time and the ability to curb energy use for both critical and non-critical production processes. For the most part, this is still a manual process that requires engineers and supervisors quickly traversing the plant and communicating plans to operators and maintenance personnel.
In the future, more and more companies will be using software for automating energy curbing programs. Building management and automation systems will be able to sense and react to demand response events, eliminating the need to manually alter energy consumption.
Taking a Suite Approach to Industrial Energy Procurement
Within IEM software, procurement is an important part of the overall process and a suite approach is critical to ensuring that all stakeholders are aligned with energy management objectives. It's not out of the ordinary for many of the areas mentioned above to be managed in silos, rather than holistically throughout the organization. In fact, this is one of the energy management challenges faced by many manufacturing and industrial organizations.
Standardizing, centralizing, and streamlining the procurement side of energy management with software is a central component to realizing operational excellence. It's also required to effectively support an organization's broader enterprise sustainability management initiatives.
Share on LinkedIn | Tweet this Post
The next post in this series will cover IEM software as it relates to energy use. In the coming weeks, we'll also be releasing our IEM solution selection guide and best practices guide. Stay tuned!
You might also be interested in:
A Guide to Understanding Energy Management Systems
Industrial Energy Management Software – What is Right for You?