Operations and Maintenance Managers have been investing in a broad range of Asset Performance Management (APM) solutions for many years. After years of investments and a patch work of highly functional applications for separate purposes, functionality can be found across a broad range of applications. And the question comes up, could I do my job more effectively if I could only see a portion of the software with this functionality?
This post will discuss the opportunities the emerging space of Industrial Internet of Things (IIOT) platforms have to offer to support these requests for mash up applications, which can provide value to Managers increasing the operational performance of assets.
The Breadth and Depth of APM
The APM landscape is a wide breadth and depth of business process and machine centric capabilities that go across reporting and predictive functionality (See Figure 1). Vendors can span the space with enterprise level solutions providing multiple facets of functionality, to single offerings with deep capabilities and the expertise to support it.
Managers typically invest in the right mix based on business issues relating to operational efficiencies, such as increasing uptime/reducing downtime. Ultimately, the decision to buy is based on the return on investment, and how quickly managers can get the workforce using and uploading information to support operations and maintenance activities.
The Fault in the Way it's Done Now
As time progresses and business requirements change, additional solutions are added as they find one solution doesn't fit all the business processes managers require. The only approach is to integrate these solutions, so they form a chain and a single workable business process. Unfortunately, this approach doesn't translate well to the user interface. This causes the workforce to have to log on to different applications to access information to do the job. This creates a latency in efficiency and a data issue as not all information is captured correctly or it's not filled in at all.
Now pressure is increasing more on managers, with the increasing use of smart phones on the consumer side, workforces are increasing asking, why? Why can't they access the software they use and have an interface that is easy and intuitive? How can I provide an idea to my manager and IT on an "app" idea to make my job more efficient? Enter the opportunity for the Industrial Internet of Things Platform…
The 4 Elements of an Industrial Internet of Things Platform
LNS Research defines the IIOT platform as a framework to categorize the technology capabilities needed to deliver IIOT solutions like Smart Connected Assets, Operations, and Enterprise. We have four main areas to make up the platform (See Figure 2):
Connectivity: includes the needed hardware and software for networking in the plant and at the enterprise
Cloud: includes the use of all types of clouds across the enterprise to put computing and storage capabilities where they are most needed
Big Data Analytics: includes the use of a broad set of statistical and optimization tools to cleanse, monitor, and analyze both structured and unstructured data
Application Development: includes the needed tools for quickly and easily creating new mashup software applications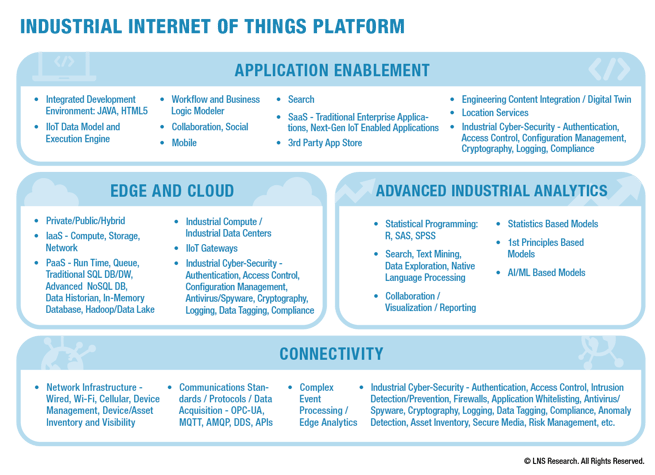 Although all the elements of the platform are required to extract the benefits IIOT has to offer, where managers can realize the immediate benefit for their workforce is application "app" development. Using an IIOT Platform approach will enable usable shop floor app's while at the same time improve a manager's view on the status of operations and maintenance. Mashup app's will eliminate the expensive integrations required between traditional APM applications by enabling data to be brought to and from any location within the landscape to support the business process required by managers and the workforce.
A good example is a large energy company, considered an early adopter, they are combining IIOT and mobile software to support emergency shutdown and safety for pipelines. Using an IIOT data platform, they developed a mash-up app that included GIS, asset, alarm, and sensor data. This allowed field technicians using smart phones to drill down through the map to any pipeline across the entire network to see pressure, flow and vibration levels and shutdown pipelines in emergency situations. Before mash-up applications they would lose time pinpointing the location and scale of issues. Applying and IIOT techniques has increased gas production revenues in one region by up to $2 million.
This exact example was at SAP SAPPHIRE main stage last year. The example was on top of HANA and included a mashed-up app using mapping/GIS data with asset, alarm, and sensor data. It allowed anyone to drill down through the map to any specific pipe across the entire network, and quickly shutdown in an emergency situation. The emergency shutdown and safety capabilities drove the project and dramatically reduced shutdown time, then there were many secondary benefits for APM. If you add something like emergency shutdown and safety application for pipelines, then talk about additional APM benefits, it will better resonate.
Select a Flexible Platform & Watch the Market Closely
Managers should look for IIOT platforms enabling mash up applications and incorporate analytics to improve insight to operations and maintenance. Invest in platforms that can manage the landscape of data with fast implementation times. Most customers we work with create pilot projects to understand the ROI, then invest more deeply and broadly.
Managers should listen closely to their customer base – the workforce. Now more than ever with the flexibility of mash up applications, organizations can truly work and take advantage of the knowledge base built up over many years in operations and maintenance departments to develop usable applications.
Today IIOT platforms are delivered by a variety of vendors including large IT vendors, automation vendors and startups. The ecosystem is innovating quickly and many vendors can demonstrate components of IIoT platforms. Many vendors today have offerings in a few areas we outlined earlier and as acquisitions increase in pace, it won't be long before some vendors have robust offerings in all four.
Gain a year of free access to new research in our IoT Research Library by completing a survey.
Tags: Smart Connected Assets, Industrial Internet of Things (IIoT), Asset Performance Management (APM)