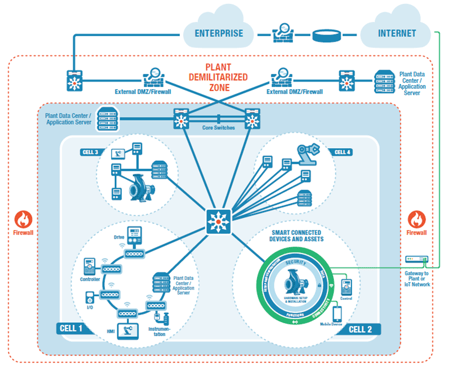 The #MondayMusings, Digital Transformation blog series provides executive level insight and analysis from the previous week's briefings, events, and publications @LNSResearch.
Click here to speak with Matthew Littlefield
September to November represents the heart of user conference season and the season is winding down with two of the most important events in the space: Rockwell Automation's Automation Fair and GE's Minds + Machine.
Automation Fair 2016: Connected Enterprise Moves from Vision to Reality
The 25th Automation Fair held on November 9th and 10th in Atlanta, Georgia marked the first Automation Fair for Blake Moret as CEO of Rockwell Automation. As has been the case for many years now, Automation Fair is one of the largest events in the industry, is co-located with PSUG (process solutions users group), and is preceded by Automation Perspectives (a 1-day media and analyst event).
LNS Research has covered Rockwell Automation in detail twice so far in 2016; once when Blake Moret was announced as the new CEO and once after Blake's first major event after the announcement, #ROKTechED. In this coverage, LNS Research issued a challenge to the incoming CEO, to set a fresh and differentiated direction for the company moving towards 2020 and beyond.
The Challenges Facing Rockwell Automation and the New CEO are Well Documented:
A competitive landscape that includes aggressive start-ups and incumbents.

A quickly changing technology landscape ripe with disruptors.

A marketplace unsure of what is real today, what will be real in the next year or two, and what is just hyperbole.
Based on this year's Automation Fair, Rockwell Automation is both aware of these challenges and prepared to tackle them head on.
The Connected Enterprise is Taking Shape
At this year's Automation Perspectives, there were a number of new technology announcements, including:
The evolution of Project Stanton to FactoryTalk TeamONE: In our previous coverage of TeamONE (when it was still Project Stanton) we said for it to be a success it would need the full weight and backing of Rockwell Automation as an application platform with compelling content - not just a mobile collaboration tool. This announcement is a big step in that direction and the new frictionless business model with apps ready to go should fuel adoption.


A host of new FactoryTalk analytics and Cloud offerings: Big Data Analytics is a big space, pun intended. Rockwell Automation has now developed and launched a framework and product set for how and when to deploy Big Data Analytics from devices through to the enterprise. The focus today is on automating the collection of data from Rockwell Automation devices on the network or from the OEM; then delivering preconfigured Predictive and Prescriptive Analytics to users in the form of action cards. We expect to see Cloud to gateway solutions available next year along with third party vendors as data sources to be announced at a later time.


FactoryTalk MES moving to a modular architecture: For years Andrew Hughes has been advocating for the industry at large to move from a monolithic to modular architecture, and for years FactoryTalk MES has not gotten much mainstage time at Automation Fair. Previously, FactoryTalk MES was a base set of capabilities with industry suites being developed on top for CPG/F&B, Automotive, and Pharma; where in each case individual modules could not be deployed independently. Now, customers will be able to deploy production, quality, and/or performance functionality independently, all on a modern HTML5 enabled UI, with more new modular capabilities to come. Certainly, a major step forward in our eyes and an important part of delivering the flexible, agile, lightweight applications users want as par the Connected Enterprise.
When taken in totality, these announcements reveal Rockwell Automation's strategic vision for what can be directly delivered as part of the Connected Enterprise and what will with the help of partners.
To read the full report, including my analysis of what Rockwell Automation's strategy is moving forward will likely mean for your organization, please see the full report here.
GE Minds + Machines: 12 Months, 4 Miles, & Real Progress
Jason Kasper, Dan Miklovic, and Mehul Shah attended GE's 5th annual Minds + Machines event in San Francisco on November 15th & 16th, converting an industrial pier into a vibrant user group event location with views of AT&T Park and the Bay Bridge. With more than 2700 attendees, GE outgrew last year's location at the Ft. Mason event center, about 4 miles north, which is set up to hold events. This year, GE used its power equipment, technology, and industry prowess to convert Pier 48 into a fully equipped event venue over the course of the previous weekend.
Industry Examples Emerging for IIoT Platforms
Day one profiled several big customer names moving in the direction of GE Predix. The first is BP who intends to implement a solution to support reliability and safety efforts in offshore production operations. BP is moving in the right direction by starting with a pilot on one platform, and if successful they will roll it out to more platforms around the world.
A similar story is emerging in the Power Generation sector with the announcement that Exelon will deploy GE Predix across its entire generating fleet. This comes after the successful completion of five pilots over the last year. It is also important to note that this is one of GE Power's largest deals to date for its digital solutions.
Customers in either the Oil & Gas or Power industry should watch the progress of each implementation. We expect to hear throughout the year how both stories are evolving and the value they are generating for each organization respectively. These business cases could help support the development of the business case for those looking to move into Industrial Internet of Things (IIot) platforms.
LNS Research continues to see an ongoing trend of pilot first, prove a success, then roll out to other strategic areas. Our research indicates these pilots are successful as there is momentum for larger projects this year and next. For customers, not in the first mover bandwagon, an opportunity can emerge as both BP and Exelon will be partnering with GE to develop additional applications. These applications will be packaged for others in the industry to implement, potentially shortening the time to value for those looking to move in this direction.
Key Acquisitions Provide an Opportunity to Broaden IIoT Platform and APM Reach
The dust didn't settle for long after the recent buy of Meridium. GE continued its acquisition spending by announcing the purchase of Bit Stew, Wise.io, and ServiceMax at the event. All acquisitions will complement the direction of the IIoT Platform and Asset Performance Management (APM) capabilities.
For the last 12-18 months, APM has been the leading use case and opportunity for IIoT. Many of the stories have been one-offs on a critical asset, or specific industry use. For IIoT platforms to emerge from a site-by-site offering to an enterprise level strategic tool, consolidation of the many diverse offerings is needed, GE is one of the first to begin to consolidate capabilities under one platform offering.
Each of these acquisitions begins to complete part of the puzzle that formalizes the IIoT Platform. LNS Research defines IIoT Platforms as providing four key components, Connectivity, Big Data Analytics, Cloud, and Applications. Bit Stew has the potential provide connectivity with speed and scale. Wise.io should provide deeper Machine Learning capabilities, this is Big Data Analytics. The solution primarily relates to customer service, important in field service management. ServiceMax provides applications for GE Digital in the field service management market. These acquisitions put GE Digital in a better position if they can integrate and productize them on the Predix platform in an efficient manner.
It takes a strong partner ecosystem to support an IIoT Platform, GE appears to be taking the lead in taking that a step further by moving partners to products offered through GE Predix. More than 35 partners exhibited at Minds + Machines with system integrators, infrastructure providers, and complimentary applications all featured. Elevator and escalator provider Schindler was an example of an OEM that has bundled GE's technology into its services offering as an example of another partnering opportunity.
To read summaries of LNS Research's reference calls with Predix users and our final recommendations based on the product and acquisitions announcements, please see the full report.

Categories: Industrial Internet of Things (IIoT), Big Data, #MondayMusings, Asset Performance Management (APM), Cloud