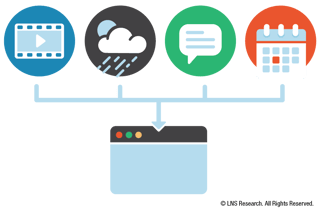 On Wednesday, February 14, LNS Research hosted the webcast, "Making Manufacturing Operations Management Choices in a Changing World." The presentation examined the complex considerations involved in MOM system choices, why the Industrial Internet of Things (IIoT) and manufacturing operations management (MOM) will partially merge, and what to expect in terms of data organization and protocols. The discussion also included an examination of how manufacturing information architectures will change as companies move to smart manufacturing.
Q1: Is there any scenario when it's best to wait and not move forward immediately with MOM deployment?
A1:Yes, deploying MOM is not essential for every manufacturer today. What is crucial and is becoming an even more significant challenge is remaining competitive and growing the business. Much of the promise of IIoT, smart manufacturing and other initiatives are driven by a changing business environment where flexibility, quality and cost improvements will allow companies to stay ahead of their competitors. Waiting, in this context, does not seem the optimal approach. However, MOM is only one part of a much bigger picture – LNS Research believes every manufacturing company should be working towards clear transformation plans in the next year or two. The speed of implementation will vary widely, but everyone should start soon.
Q2: Can you clarify what LNS considers EDGE? On-premise or on site?
A2: I take a different view than others because I'm a plant guy. For me, Edge is beyond where I have natural control. Sensors are Edge devices; small machines might be Edge devices. IT might say that everything in the plant is Edge, but people working in plant would argue that point. Rather than worrying about what edge means, we should ensure that our enterprise and operations architecture can support execution and data management in our company.
Q3: There's a lot of data that comes off the manufacturing execution system (MES); which data is the "right" data, and which analytics are the most important ones?
A3: It is tough to answer this question generically. For me, finding the right data is a matter of "where to start?" It is easier to deduce where to start with analytics – find some pain points that are not well addressed, try to work out what data is required to measure improvements in these pain points and address the analytics that will help measure, report and improve these numbers. Some decide to go for well-known measures such as OEE, others choose to address a business problem like asset performance. Both are valid starting points.
One thing that we would recommend is to choose initial analytics that is real-time. MOM and manufacturing intelligence systems do plant speed measures and reporting well (I use plant speed because real-time varies according to who and what is affected – timeliness is a good term to consider here). Find a metric that is longer than a few minutes, perhaps shift related or comparing performance across sites, so you can introduce new analytics above the plant level and demonstrate difference between traditional enterprise manufacturing intelligence (EMI) and IIoT based analytics.
Q4: What is the biggest reason why manufacturers should invest in MES?
A4: It is a cost-effective way to collect manufacturing data and supervision. If a company is going to launch an industrial transformation program, a prerequisite for success is access to data across the enterprise and beyond. We would strongly recommend considering MOM as a starting point.
Q5: You mentioned that there's going to be a survey soon. How do we take it, and how do we get the report?
A5: LNS Research, in partnership with MESA International, is studying the use of analytics in manufacturing - inside the plant, throughout the enterprise, and beyond. This survey follows up on past research about metrics to examine the change in plant-focused manufacturing maturity, and understand where companies are with using analytics, descriptive all the way through to prescriptive.
We will publish the results in May.
Participate in the study and make your voice heard. Take the survey to reserve your copy of the research so you can benchmark your company's practices and performance. As always, the results of this research will be reported only in aggregate. Click here to start the survey now.
Q6: Will companies that have achieved process and system harmonization in the past 10, 15 or 20 years be more successful in digitization and MOM/IIOT activities?
A6: Probably, I should say yes, but there is one requirement – willingness to change. Digital Transformation, IIoT and MOM activities are all part of a journey to industry 4.0. Companies with active change management and continuous improvement teams in place are likely to be able to put together Digital Transformation teams more efficiently than those who have not had centralized strategic teams addressing IT and operational technology (OT). Willingness to change is an important issue and so choosing people from within existing teams and newcomers to change management program is the key to success. Do not just change the name of an existing team to undertake Digital Transformation but instead choose a digital leadership that can bring the lessons learned from old programs and includes new thinking from IT and OT personnel.
Q7: Do you see trends from custom MOM to commercial off-the-shelf (COTS) and from many to fewer MOM systems in a distributed company to enable successful and less costly digitization?
A7: Great question! When I look at 7 lives of MOM, much will be driven by apps from multiple sources. Being able to build mashup apps from diverse sources might suggest that we get a custom software rather than a reduction. I hope not. I think that the benefits of having common (but not identical) MOM functionality across a large enterprise will reduce the cost of ownership considerably. I also hope that the selection of COTS MOM apps for the mainstream IIoT platforms will start to grow very soon. There is an excellent opportunity for smaller independent MOM suppliers to sell their functionality as configurable apps on third-party platforms. Exciting times for the MOM industry.
Q8: Is 7 lives of MOM kind of a "simulation within a simulation" and if so; how much would you trust it?
A8: No, it is merely a way of looking at the evolution of MOM in the context of the fourth industrial revolution. MOM functionality as we know it today will deliver more value in a digital world. The 7 lives simply allow us to consider the level of maturity of MOM solutions concerning a move to IIoT. It also suggests future operational architecture decisions that will have to be made. Do not consider it prescriptive but instead thought-provoking; it is sure to change as industrial transformation moves forward.
Categories: Manufacturing Operations Management (MOM), Manufacturing Execution System (MES), Smart Connected Assets, Industrial Internet of Things (IIoT), Industrial Transformation / Digital Transformation