The #MondayMusings Industrial Transformation blog series provides insight and analysis for executives from the previous week's briefings, events, and publications @LNSResearch.
Click here to speak with Matt Littlefield
Last year we covered the launch of ABB Ability at Hannover Messe and how the power generation industry is quickly becoming an unwitting first mover in Digital Transformation. Continuing with the coverage, last week I had the opportunity to attend the opening of ABB's latest Collaborative Operations Center and the first from the Power Generation & Water business unit, from the company's Industrial Automation division.
The event included over 30 media and analysts and over 50 customers, a live demo of the facilities capabilities, and presentations by Kevin Kosisko, BU Managing Director, Susan Peterson, BU Digital Lead, and several customers.
Moving Beyond Service Level Agreements and Remote Monitoring
In LNS's most recent IIoT research, the top use case companies are pursuing remote monitoring.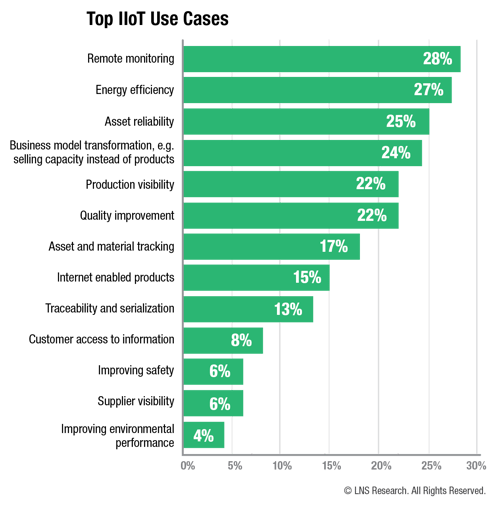 Of course, there are many different definitions and levels of maturity representing what remote monitoring can be. At its most basic level, it is an IIoT enabled connection that provides data to a third party and alerts to the customers. At its most mature level, it can include outcome-based service agreements that will allow collaboration, analytics, and insight in context for third party and customer subject matter experts.
ABB Collaborative Operations represent a move towards this mature vision and how the company is trying to deliver value to customers through its new digital capabilities referred to as ABB Ability. These centers serve as a center of excellence (CoE) that houses ABB subject matter experts for the industries and technologies served like:
Power generation
Water and wastewater
Asset Performance Management (APM)
Automation systems
These centers are leveraging ABB's newest digital capabilities in strong partnership with Microsoft to deliver new types of service offerings. More than just data sharing and alerts, the Collaborative Operations Centers have built-in Microsoft collaboration, alternate reality/virtual reality (AR/VR), and analytics technology to provide ABB subject matter experts the ability to understand customer challenges and provide insight and recommendations. As of last week, 687 plants are connected to ABB Collaborative Operations Centers, many of which have ABB and third-party control systems. Early service offerings from the ABB Collaborative Operation Center include, among others:
Asset health
Safety management
Cyber security
Alarm management
Performance Optimization
Energy optimization
Condition monitoring
Predictive maintenance
Operation and technical support
Increasing Vendor Differentiation for Value Delivery in IIoT
ABB Collaborative Operations represents one example of how industrial automation and software vendors are embracing different approaches to IIoT value delivery for customers. Some are taking a technology-centric approach, that focuses on developing digital platforms and applications that can be delivered through a robust ecosystem of system integrators and consultants. Others, including ABB, are taking a services-led approach; where service organizations are embedding digital capabilities to transform customer relationships and deliver outcome-based services.
LNS Research Take
ABB Collaborative Operations represent a strong, services led, digital offering for customers in the associated industries. It will be especially attractive for long-time ABB automation and service customers that are struggling with workforce and subject matter expertise issues.
As the IIoT space continues to mature, it will become significantly important for industrial companies to have a clear vision for the technology, services, and business outcome engagement model that they are most comfortable with and aligns their vendor choices appropriately.
We will be discussing these issues and much more in our forthcoming IIoT Platform Solution Selection Guide, scheduled to release at Hannover Messe 2018.
Categories: Operational Excellence, Big Data, Industrial Internet of Things (IIoT), Industrial Transformation / Digital Transformation, IT/OT, #MondayMusings, Asset Performance Management (APM)