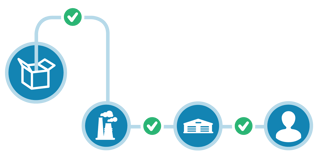 The #MondayMusings Industrial Transformation blog series provides insight and analysis for executives from the previous week's briefings, events, and publications @LNSResearch.
Click here to speak with Matthew Littlefield
Supplier Quality Management with Coca-Cola and Whirlpool
Dan Jacob recently led the LNS Research Supplier Quality Management (SQM) Executive Roundtable on March 14th and 15th. The event was held at World of Coca-Cola in Atlanta, with presentations from LNS Research and LNS Research members Coca-Cola, Whirlpool, and Oshkosh Corporation. For those companies that weren't able to attend, here are some of the insights shared for deploying a world-class SQM program:

- Mergers and Acquisitions: How do quality and SQM risks factor into your company's M&A decisions and post-acquisition operations? We discussed several approaches with the council. A general observation is that organizations that prioritize quality and brand protection include a quality review as a part of the due diligence process, and give quality leaders a seat at the table during M&A discussions. The supply chain will be a part of the acquisition process, potentially a very important one, and due diligence should include supply chain risk.
- Supplier Risk "Plus": Supplier Risk and Scorecards are obviously crucial to separating top performers from suppliers that are average, fringe, or exiting. However, by how much do these tools lag today's conditions? Is risk managed at the total supplier level, by the combination of product and supplier or by line, so that more specific decisions can be made beyond good supplier/bad supplier? IT practices play an important role here by providing analytics tools, and connecting data feeds to the tools. A process-only approach may work for local organizations with simple supply chains, but reach and complexity require analytics and IT support.
- Development: Approaches to supplier development vary quite a bit. What does your organization do with suppliers that are on the fringe, or are underperformers with potential? Assuming they can be identified (see prior conversation), what's the value of investing in these suppliers to mutually improve? There's a lot of talk about building better relationships with suppliers. This is one way to improve that relationship and, at the same time, improve supplier quality, on time delivery, and margin.
- Specialized SQM Competencies: How effectively can your company manage a diverse group of suppliers numbering in the thousands? It's one thing to assess the supplier's core quality management system. A good SQE is well-qualified to evaluate this for any supplier globally. But is the supplier adopting current best practices in wafer manufacturing, software development or composites? Do their capacity plans reflect transients, are they performing the right inspections frequently enough, and are their corrective actions effective? That's when it's important to scale the knowledge of that single subject matter expert as efficiently as possible. A community of practice and/or SCORM systems can be effective.
If you missed this event, look to our next LNS Research executive roundtable "Quality and Technology", held at the World of Whirlpool in Chicago, Sept 21, 2017. In the interim, we'll be holding a series of virtual roundtables, coming shortly.
ABB Ability Launches
Last week Dan Miklovic attended the ABB biannual users event in Houston, renamed it to "ABB Customer World." ABB used this event to unveil its digital strategy and introduce its digital platform "ABB Ability." It was ABB's new Chief Digital Officer, Guido Jouret's first venue to broadly lay out the ABB vision since he joined ABB in October of 2016, coming from Cisco.
Over 8,000 attendees, made up of end users and distributors as well as over 40 press and analyst attendees, had the opportunity to look at ABB Ability positioned both from a platform perspective and a solution portfolio perspective delivered in industry specific messaging.
The majority of the customers should have come away from the event with a new perspective on ABB's commitment to digital technology and some excitement many of the announcements at the event. Many members of the press and analyst community that LNS talked to were more conservative in their observations; having seen comparable solutions from ABB's competitors over the last 18+ months. With digital technology evolving so rapidly, a biannual event doesn't give a company enough visibility in the market vis-à-vis its incremental progress deploying technology in support of Digital Transformation.
ABB Ability Stakes ABB's Digital Claim
One of the most important series of announcements were those related to ABB Ability, the ABB digital platform. ABB is positioning ABB Ability as both its digital/Industrial Internet of Things (IIoT) platform and its go-to-market strategy, by industry for:
Utilities

Industrial Manufacturing

Transportation & Infrastructure
From a platform perspective, ABB is underpinning Ability with Microsoft technology, relying on Azure for the Cloud elements. It does paint a picture of edge/fog aspects for connectivity and suggests that ABB Ability is designed to co-exist with other IIoT platforms like Predix or Ecostruxure.
ABB, with its heavy focus on utilities, asset-intensive industrial and transportation & infrastructure bases its talk around the "fourth industrial revolution." It minimizes the use of somewhat overhyped, but more common terms like Industry (or Industrie) 4.0, Smart Manufacturing, or even IIoT. Still, Ability is ABB's Industry 4.0 answer. It combines existing digital technology present in its smart equipment which is very broad in the electrification side of business and its robotic and automation offerings with its services portfolio and Microsoft Azure Cloud services. Initial ABB Ability offerings are:
ABB Ability System 800xa800xA

ABB Ability Asset Health Center

ABB Ability Collaborative Operations

ABB Ability Digital Substation

ABB Ability Smart Sensor(s)
LNS's initial assessment is that ABB Ability provides a mechanism to respond to competitive offerings vis-à-vis the IIoT. Until we can do a much deeper technical dive into the underpinnings of the platform aspects of Ability, which we were unable to do at the event adequately, our perspective is that it's work-in-progress. It lays out a path forward as well as a way to position current smart products in the context of Industry 4.0.
To learn more about what CIO's should think about ABB and the full LNS takeaway, see the new full report from Dan Miklovic.
Categories: Enterprise Quality Management System (EQMS), Supplier Quality Management (SQM), Industrial Internet of Things (IIoT), Industrial Transformation / Digital Transformation