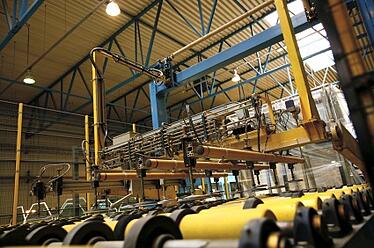 As a research company covering several areas of operations within a variety of manufacturing and process industries, we're accustomed to reading and writing acronym-heavy content on a daily basis. It's just part of the game. However, we realize that this can at times lead to confusion with either lesser-known or updated terms if they aren't properly defined and differentiated.
Making Sense of the Landscape of APM
So, in the spirit of providing education and clarification as we launch our Asset Performance Management practice here at LNS Research, the following are 20 acronyms we've identified as central to this area of operations, and ones you should be familiar with as they are likely to be featured in future posts, reports, and discussions around this research area. The following terms cover applications, metrics and measurements, and other activities across the APM space.
CAFM – Computer-Aided Facilities Management: A combination of Computer-Aided Design (CAD) and/or relational database software with specific abilities for Facilities Management (FM). This helps the facility's manager ensure that the organization's assets are in full use at the lowest possible cost, and providing benefit to every phase of a building's lifecycle.
CBM – Condition-Based Maintenance: Using a real-time (or near real-time) assessment of equipment obtained from embedded sensors and/or external portable equipment, CBM is a proactive software solution that forecasts imminent asset failures.
CMMS – Computerized Maintenance Management System: A software suite that includes a computer database of information about an organization's maintenance or assets and facility management. Replacing paper-based systems, it tracks the status of maintenance work and its associated costs. Can also be known as Enterprise Asset Management (EAM) or Computerized Maintenance Management Information System (CMMIS).
CM – Calibration Management: Integrates the critical reporting and compliance requirements for instrument inventory. Helps reduce costs, increase instrument availability, and improve quality.
EAM – Enterprise Asset Management: Allows holistic visibility and management across all physical assets of an organization to maximize value, covering design, construction, commissioning, operations, maintenance, and decommissioning/replacement of plant, equipment, and facilities.
FMEA – Failure Modes and Effects Analysis: A step-by-step approach for identifying all possible failures in a design, manufacturing, an assembly process, or a product or service, in order to identify what is most in need of change. Includes reviewing:
Process steps
What could go wrong
Why and how would the failure happen
Consequences of each failure
MRO – Maintenance, Repair & Operations (alternatively Overhaul): Includes maintenance supplies, consumables, and spare parts used in the production process. These items may be either non-valuated or valuated, and depending on the value of the items, physical inventory may or may not be performed.
MTBE – Mean Time Between Events: The predicted elapsed time between downtimes of a particular system during operation.
MTBF – Mean Time Between Failures: The predicted elapsed time between inherent failures of a system during operation. MTBF is typically calculated by taking the arithmetic mean between failures of a system.
MTTF – Mean Time to Failure: The length of time a device or other product is expected to last in operation--one of the many ways to evaluate hardware or other technology reliability. The key differentiator between MTTF and MTBF is that MTBF is used for products that can be repaired and returned to use, whereas MTTF is used for non-repairable products.
MTTR – Mean Time to Repair: Measures the maintainability of repairable items. This represents the mean time required to repair a failed component or device.
O&M – Operations & Maintenance: Activities related to the performance of routine, preventative, scheduled, and unscheduled actions aimed at preventing equipment failure or decline. The goal is to increase reliability, efficiency, and safety.
OEE – Overall Equipment Effectiveness: A measure of a piece of equipment's effectiveness calculated by taking the product of the availability of the equipment, the quality of the product produced on the asset, and the performance as compared to maximum theoretical capacity.
OEM – Original Equipment Manufacturer: The company that originally manufacturers a product or component that is purchased by another company and retailed under the purchasing company's brand name.
PM – Preventive Maintenance: Includes partial or complete overhauls of assets at specified and scheduled periods to prevent unplanned downtime. A progression from reactive maintenance facilitated by automated and improved asset data collection and analytics.
PdM – Predictive Maintenance: A step beyond Preventive Maintenance, Predictive Maintenance includes overhauls of assets only when warranted by data facilitating the prediction of when assets will be in need of service.
RC(F)A – Root Cause (Failure) Analysis: A systemic procedure to investigate the root causes of asset failures. Diagnoses are used in maintenance tasks as a proactive way to prevent repetitive failures.
RCM – Reliability-Centered Maintenance: A process to ensure that assets continue to operate to user requirements in their present operating context. Uses a combination of reactive, time- or interval-based, condition-based maintenance, and proactive maintenance practices.
TPM – Total Productive Maintenance: A system of maintaining and improving the integrity of production and quality systems through the assets, processes, and employees that add business value to the organization.
W.O. – Work Order: With respect to APM, refers to a service or maintenance request on a particular asset.
Which APM Abbreviations Do You Find Most Useful?
These above terms are ones that we see as some of the most relevant in starting the discussion around asset performance management. And you can expect to see many of them in our upcoming Research Spotlights exploring the application landscape.
Understand the capabilities of twenty of the leading vendors in the APM space by downloading our APM Solutions Section Guide. The guide contains comparison charts for the factors listed above and the detailed profiles of the twenty vendors ranging from automation companies, to enterprise software providers and includes many specialized APM solutions as well.
---
All entries in this Industrial Transformation blog represent the opinions of the authors based on their industry experience and their view of the information collected using the methods described in our Research Integrity. All product and company names are trademarks™ or registered® trademarks of their respective holders. Use of them does not imply any affiliation with or endorsement by them.