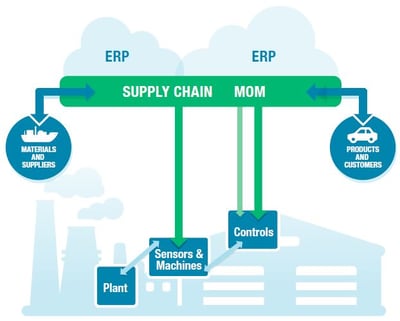 In this weekly Roundup, LNS Research explores recent announcements and events, such as Epicor is to be acquired by KKR; Honeywell acquires Intelligrated for $1.5 billion; a trio-partnership forms for an integrated automation platform; and J.D. Power's recent release of its quality survey results.
KKR Annouces Intended Acquisition of Epicor
KKR, a private equity investment company with a very broad portfolio ranging from natural resources to industrials and technology has announced its intended acquisition of Epicor; an established ERP provider serving the mid-market and divisions of larger companies with multi-tier ERP strategies.
LNS Research sees this as a proof point that the ERP segment is becoming revitalized due to technological trends like Cloud, Big Data, and the Industrial Internet of Things (IIoT). As the footprint of ERP going forward changes and Epicor's broad penetration into a number of industries (manufacturing, distribution, retail, and services) obviously made it an attractive investment for KKR. Being Cloud enabled, Epicor is positioned for continued growth and should be able to do so under KKR ownership provided there are no significant management changes. To read more on the intended acquisition click here.
Honeywell Acquires Supply Chain Automation Solution Provider
In recent news, Honeywell has announced the acquisition of Intelligrated, a supply chain automation solution provider. Honeywell acquired the company for $1.5 billion, which in turn is estimated to about 12 times Intelligrated's 2016 earnings.
Commenting on the acquisition is LNS Research Analyst, Jason Kasper saying, "As the Industry Internet of Things take shape, smart connected assets continue to show their value. At 12 times EBITA, Honeywell's is paying a big premium to gain a foothold into the growing sector in advanced automation for warehouse and supply chain solutions. Honeywell clearly see's opportunity the warehouse and into its largest sector, Oil & Gas, as it quickly builds and messages around Digital Transformation and this acquisition will be additive towards this strategy." To read more about the news click here.
Three Behemoths Band to Deliver a Jolt of IIoT to Factory Automation
Hitachi, Ltd. recently announced that it's partnering with Mitsubishi Electric and Intel for a testbed to seamlessly integrate factory automation to support manufacturing operations and management. According to Sensors Online, the three, "Proposed, and received approval for Factory Automation Platform as a Service (FA PaaS) Testbed in the field of next-generation factories at the Industrial Internet Consortium (IIC)."
The partnership isn't surprising, and is one more signal from the market that the IIoT is gaining momentum. LNS Research Principal Analyst Dan Miklovic notes that the collaboration reflects the current trend in the market for companies to rely on multiple parties to deliver the full potential of the IIoT. No single supplier today can provide everything users need in an IIoT platform, so combinations of hardware, software and services tend to be the way the market will continue to evolve for the near term, at least. To read the full article click here.
Kia Tops J.D. Power's Quality Survey
Late last month, the J.D. Power initial quality survey report was posted. While there is always interesting information to be gleaned for the initial quality report, in this case there are two stand-outs. One is that initial quality data improved for nearly all manufacturers, particularly as it relates to the use of technology. It is believed that customer familiarity with technology, such as touch panels is responsible for some of the decreases in complaints, although investments in ease of use can likely take some credit, as well.
Business leaders must take ease of use as it is important to customers, but also to your internal teams. Secondly, sister companies Kia (#1) and Hyundai (#3) took top honors in quality for the first time, which would have seemed impossible without the support of Hyundai's CEO. It took CEO sponsorship of quality to achieve this monumental shift. Our recent Executive Business Case for Quality eBook provides the tools, frameworks and strategies for corporations to achieve market leading quality through executive sponsorship that encourages and supports the long term value of consistent and on-going continuous quality improvements. To read more on the J.D. Power quality survey results click here.
Categories: Enterprise Quality Management System (EQMS), Cloud, Enterprise Resource Planning (ERP), Big Data, Mobile / Mobility, Industrial Internet of Things (IIoT)