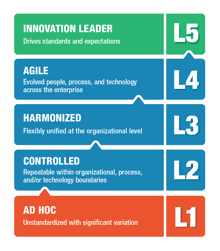 In this weekly Roundup, LNS Research explores recent announcements and events, such as IIC's Industrial Internet Security Framework; the new global quality standard for auto industry; a global mining company digitizes global operations; industry-specific PLM approach; and Oracle's acquisition of a supply chain management vendor.
Ethics Now Part of Global Quality Standard for Auto Industry
The Automotive Industry Action Group (AIAG) announced that the October 2016 release of its international standard for quality management includes language on corporate ethics. Formerly ISO/TS 16949— the new standard is called IATF 16949 (International Automotive Task Force). According to Tanya Bolden, director of corporate responsibility products and services for AIAG, "This is the first time that ethics language has been included in an automotive quality standard. It's significant because it gives us an opportunity to verify where the supply base stands on several core ethics policies." Read the full story at QualityDigest.
Industrial Internet Security Framework Released by IIC
On September 19, the Industrial Internet Consortium (IIC) published the Industrial Internet Security Framework (IISF) that addresses security issues in Industrial Internet of Things (IIoT) systems. The IISF emphasizes the importance of five IIoT characteristics – safety, reliability, resilience, security and privacy – that help define "trustworthiness" in IIoT systems. The IISF also defines risk, assessments, threats, metrics and performance indicators to help business managers protect their organizations. Visit the IIC to learn about the Industrial Internet Security Framework.
Driving Car Tech into the Goldmine
Barrick Gold Corp., the world's largest gold mining company, just announced that they're investing an initial $100M in the first phase of what they're calling a digital reinvention of its global operations. The firm's executive chairman, John Thornton was doing some tire-kicking and looking at how technology is transforming the automotive industry. What he got instead was a plan to reshape the business – one that's at least a century out of date. Thornton says that everything he heard about tech and the auto industry, "Had dramatic applicability for the mining industry." The miner wants to use the Digital Transformation to cut costs, boost production, and manage environmental, health and safety concerns to avoid mishaps. Barrick believes it will derive significant competitive advantage from the plan, and be able to expand by buying less efficient mines or companies to turn them around. The company perceives that as a result of technology, their workforce will grow rather than shrink. Explore Barrick Gold's digitization story on Bloomberg.
PLM Software Taking Cues from Industry-Specific Requirements
Siemens reports that the company is working with appliance manufacturing client, BSH Hausgeräte GmbH, to understand the special requirements of the home appliance product lifecycle process. The companies issued a joint news release in which they expressed a shared vision of Industry 4.0, the IIoT, and Digital Transformation. The European appliance manufacturer says that today's challenges demand a new approach toward product development and production process. The company is cooperating with Siemens with the hope of inspiring PLM solutions that are specific to the needs of home appliance manufacturers. Read the Siemens news release now.
Another Supply Chain Management Acquisition on the Horizon
Oracle recently announced an agreement to acquire LOGFIRE, a Cloud warehouse management solutions vendor. Oracle Supply Chain Management (SCM) Cloud offers a broad suite of applications for supply chain organizations to modernize supply chain processes. The addition of LOGFIRE would complement the logistics functionality of the Oracle SCM Cloud by adding warehouse management capabilities. See what Oracle wrote about the acquisition.
Categories: Enterprise Quality Management System (EQMS), Supply Chain Management (SCM), Manufacturing Operations Management (MOM), Product Lifecycle Management (PLM), Industrial Internet of Things (IIoT), Industrial Transformation / Digital Transformation