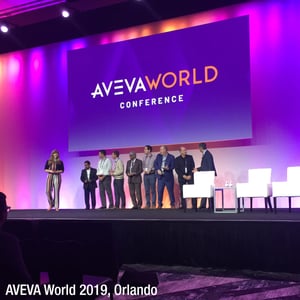 This year's AVEVA World 2019 North America users conference was held in Orlando with over 1100 customer and partner attendees from a diverse set of industries plus 300 from AVEVA. The conference was kicked off by Steen Lomholt-Thomsen, Chief Revenue Officer, who introduced Christine Harding, the new Head of the Americas. Lomholt-Thomsen's opening keynote highlighted AVEVA's renewed focus on their core industries – oil and gas, chemicals, F&B, Smart Cities – and customers are successfully expanding across the applications portfolio – starting with MES and moving to APM as highlighted on stage as well as with examples from AVEVA clients. Guest keynotes from Lisa Bodell, CEO of FutureThink who spoke about the workplace complexity that is killing organizations' ability to be agile, fast and innovative, and Keller Rinaudo, whose company Zipline uses autonomous drones to deliver medical supplies in war-torn 3rd world countries, also set an encouraging tone for the conference.
The New AVEVA
AVEVA is now organized around five key product lines, each led by a Business Unit VP, with the latter two under one lead.
Engineer, Procure and Construct
Asset Performance
Monitor and Control
Plan and Schedule
Operate and Optimize
In addition to several products and solution releases across all product lines, the unifying theme of the conference was Digital Transformation and the incorporation of Artificial Intelligence and Machine Learning, the "AI-ification" if you will, of all AVEVA's products to varying degrees. AVEVA was fairly open in sharing its product roadmaps, which the customer audience found valuable and allows users to properly plan ahead at least 1-2 years for upgrades in product capabilities.
AVEVA demonstrated strong technology capabilities around Cloud, IIoT, Edge, and analytics and are making progress using these capabilities to harmonize the user experience across the portfolio. AVEVA also has all the pieces for IIoT platform – but aren't competing directly in the market yet. They are moving more products to the Cloud SaaS as well as to subscription pricing with the new AVEVA Flex licensing model.
AVEVA and APM 4.0
AVEVA is one of the few vendors that have embraced the APM 4.0 concept and backed it with a full solution set from APM strategy to Enterprise Asset Management (EAM), RCM/RBI, Digital Twins, and the Connected Worker, all collectively called APM 4.0. AVEVA leverages the full range of advanced analytics with a rich set of modeling tools supporting predictive and prescriptive analytics and root cause analysis. Data is acquired and contextualized via AVEVA Historian, AVEVA Net and AVEVA Connect, and accessed through dedicated HMIs as well as through the integrated visualization environments, AVEVA Insight and AVEVA Unified Operations Center. AVEVA does perhaps the best job of any vendor in explaining the alignment of risk management and reliability strategy and then placing the role of analytics technology in context, much due to the addition of MaxGrip, acquired in April 2019.
The Growing 4.0 Theme and Other Developments
The original AVEVA's roots grew from being an engineering design and modeling firm, CADCentre, from Cambridge in the UK. Not to be outdone by APM 4.0, AVEVA introduced EPC 4.0, its Unified Engineering platform that provides end-to-end integration of conceptual, FEED and detailed design into a single environment that handles all process simulation and engineering (1D, 2D and 3D), targeted at uniting the efforts of owner/operator with one or more EPCs as well as suppliers and fabricators, to speed FEED and deliver projects on-time at lower costs with fewer errors and less rework.
AVEVA also introduced InTouch Edge HMI targeted at low-end embedded machines to complex SCADA solutions, capable of being deployed on small-footprint embedded devices with support for Linux, VxWorks, Windows Embedded, Windows CE or in full-featured SCADA/HMI systems running current Microsoft operating systems. InTouch Edge HMI can be accessed with its native HTML5 graphical interface from any device, including smartphones, tablets, and wearable gadgets. The InTouch Edge "IIoT right out of the box" solution can collect and deliver data to the Cloud, and is part of Schneider Electric's TVDA (Tested Validated Documented Architecture) for its EcoStruxure IIoT platform for hardware on the Edge."
Challenges Ahead
AVEVA's faces the same challenge that many companies encounter with broad product lines: how to deliver a clear and concise value proposition to multiple industry verticals as their matrix of messaging by business units and industry verticals is quite large. Now that the separation from Schneider is largely behind them, AVEVA needs to speed up its efforts to distinctly stand out from the crowd. Note that we said the separation from Schneider is largely behind them, but not entirely as LNS sees a few areas of overlap that need resolution, for example, Profit Advisor.
AVEVA's APM digital twin offering is focused primarily around physical assets, but as yet has not been fully incorporated in process and other twins. AVEVA emphasizes "Digital Twin for Your Entire Process Plant Lifecycle" but it is not clear how they leverage Pro/II and eventually SimCentral in the same way assets are in APM. By LNS's definition, a 3D engineering model and a process simulation model are models, not twins. Only when they come alive with data and advanced analytics capabilities do they become full twins.
Third, AVEVA could make its data architecture clearer by elaborating the relationships of AVEVA NET and AVEVA Connect from on-premise to Edge to Cloud and how it enables the customer to basically create their own data model for storing and accessing data. For example, how will diverse data types be integrated and contextualized e.g., vibration data?
Finally, in production planning and scheduling, AVEVA's product line supports refining, petrochemicals and mining, with gaps still to be closed for chemicals and hybrid/batch industries like CPG, F&B, and pharma.
Takeaways
AVEVA is doing many things right … from enhancing product functionality and integrating AI to their products to sharing their vision and roadmaps with customers to providing open, hardware agnostic solutions that any customer can adopt. Perhaps their greatest challenge is weaving together industry value propositions that integrate all their relevant products and services in such a manner to differentiate themselves from the competition.
APM is a good example of tying risk management to APM strategy to the right balance of reliability and inspection strategies for assets and processes, an approach that can carry over to each industry story. LNS research shows that IX leaders vision from the top down and build from the bottom up, working from the desired end state backward to the current state. Capital project management does this in an analogous way through the Advanced Work Package (AWP) concept where work packaging for projects aligns construction with engineering and procurement flowing back all the way to the FEED and concept stages. Vendors best succeed when they position their value proposition in the context of the client's business.
For end users, you will be hard-pressed to find a more capable supplier with a range of products and services that warrant consideration across every one of their product lines. Make sure that you understand what is being offered and how it fits together to meet your requirements. You should expect more from AVEVA... and get it.
Categories: Solution Vendor / Software Vendor, Industrial Internet of Things (IIoT), Asset Performance Management (APM), Digital Twin