In the world of enterprise business software, a billion-dollar-plus investment is not unusual and perhaps even ordinary. But in the Environment, Health and Safety (EHS) and Sustainability software space, a deal of that size is a watershed event. The recently announced acquisition of Sphera by Blackstone constitutes such an event. It also speeds the transition of the EHS and Sustainability (EHSS) software category to being subsumed under the nascent Environment, Social and Governance (ESG) banner.
The players in the deal are Blackstone, one of the world's largest investment firms with nearly $700 billion of assets under management, and Sphera, a leading EHS and Sustainability software vendor formed in 2016 when Genstar Capital purchased a portfolio of EHS software assets from IHS Markit. In the recently announced transaction, Blackstone will acquire Sphera from Genstar for a reported $1.4 billion.
This transaction marks several milestones in the evolution of the EHSS software space. At $1.4 billion, it's by far the largest transaction in a long series of private equity investments and acquisitions over the past five years. It also speeds and validates the transition of the EHSS category to "ESG". With this move, Sphera emerges as being one of the winners of what we in 2016 dubbed the "EHS Software Arms Race".
After a period of rapid growth fueled by a spate of significant acquisitions, and now with the backing of Blackstone, Sphera can be considered one of the top players in the ESG (nee EHSS) software space. This is analogous to how SAP and Oracle dominated the ERP software market and later the entire enterprise business software space, albeit on a much smaller scale.
Right Place, Right Time, Right Deal
Several macro business drivers have converged to create the right environment for this deal to occur now. The first is the Sustainability business context. More than ever, Sustainability is being incorporated into the corporate purpose, mission, and vision statements, and reflected in enterprise business objectives and strategic initiatives. This coincides with the rise of Environment, Social and Governance (ESG) as a framework for Sustainability initiatives and reporting, and Board-level recognition that ESG risks are key criteria for internal and external investment decisions, including climate change risk.
Second, the business software sector has emerged in the COVID-19 pandemic as an even hotter investment market than it was before. Merger and Acquisition (M&A) activity and valuations for well-positioned and well-run software companies have reached new levels. As an investment vehicle, business software companies have a lot going for them such as recurring revenue, high margins, the potential for cash flow, and opportunities to consolidate fragmented market segments (in this case ESG software). A software business can offer ample opportunity for high growth rates and value creation for an investor like Blackstone.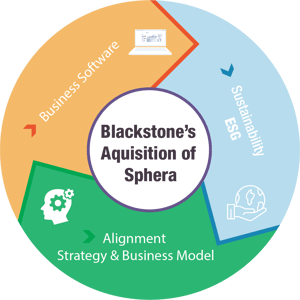 And third, there is excellent alignment between the strategies and business models of Sphera and Blackstone, creating multiple potential synergies. Sphera is a global market leader in ESG software solutions; Blackstone's core strategy revolves around embedding ESG considerations into its organization, investment strategies, and client services. As well as getting access to capital, Sphera stands to gain from access to Blackstone's considerable go-to-market and execution resources to help accelerate growth such as its client base, global presence, industry expertise, operational know-how, and unique ESG-related data sets, among others. Likewise, Blackstone can leverage Sphera's ESG solutions, domain expertise, and resources in realizing its, and its clients', ESG strategies and goals.
In summary, the market opportunity created by re-invigorated corporate Sustainability initiatives, the rise of ESG as a Sustainability framework and investment lens, the potential for value creation and return on investment, and the strategic alignment of Blackstone and Sphera on ESG bodes well for the success of this transaction.
Synergies for Expansion
In the past five years, Sphera established itself as a market leader in EHS and Sustainability related software solutions (largely through a series of acquisitions) and is re-positioned as an ESG solutions provider. The scale of this transaction and its potential impact on the market is unprecedented in the EHSS software space. The main effect of this transaction is to help solidify and advance the company's position as the nominal market leader in ESG software solutions by leveraging the resources of Blackstone for expansion.
This move should serve to accelerate Sphera's growth. Sphera has already shown it has the strategy and ability to execute needed to run and grow a software business under the leadership of CEO Paul Marushka. The company doesn't need Blackstone to provide the operating model or system; it already has one that works. Sphera can concentrate on how to best leverage the resources of Blackstone to facilitate growth. However, Sphera still has the ongoing task of operating and integrating a disparate collection of acquired businesses and technologies.
The Shift from EHS and Sustainability to ESG
This transaction is bound to accelerate an emerging trend in the enterprise software space: the re-categorization/renaming of the EHS and Sustainability (EHSS) space to the "ESG" space. It's true that the transaction is correctly labeled as "ESG". It's also true that Sphera's product and service portfolio primarily enables EHSS capabilities.

Most capabilities needed for ESG management are currently (and properly) categorized as EHSS capabilities, i.e., environment and emissions management, health and safety, operational risk management, product compliance and stewardship, and sustainability reporting. While the overlap between the EHSS and ESG categories is large, there are also significant ESG capabilities that EHSS solutions don't cover, most notably in the Governance aspect of ESG, and to a lesser extent the Social aspect.
As EHSS software vendors such as Sphera and Benchmark ESG|Gensuite transition to ESG solution providers, there is more involved than re-branding and repositioning. As currently configured, even the leading EHSS portfolios don't cover the entire range of processes and data management requirements commonly in the corporate ESG bailiwick. Enablon is somewhat unusual in this regard in that it offers strong EHSS capabilities and a solid Governance, Risk, and Compliance (GRC) solution. While the use of the ESG moniker for the evolving space is appropriate and useful, players need to decide to what extent they will deliver a total ESG solution, or perhaps just focus on the traditional EHSS aspects.
The ESG Software Market Heats Up
The ESG software market is ill-defined and highly fragmented. As well as the EHSS category discussed above, there are innumerable players in a large variety of ESG niches such as sustainability reporting, tools for investors, carbon tracking, board reporting, product compliance, supplier risk management, etc. Most of the niche players are relatively lightweight, specialized data collection, project management, and reporting tools.
We see the major EHSS players as anchoring the ESG software solutions space going forward. While ESG reporting is essential and currently a major pain point, niche solutions barely scratch the surface in enabling the range of processes, data management, workflows, and analytics capabilities needed to maximize value from ESG initiatives. The greatest value comes from operationalizing ESG initiatives to achieve sustainability business objectives, not merely producing reports of uncertain quality. This is where Sphera and other traditional EHSS players can shine, as they already have robust capabilities to integrate end-to-end ESG processes into core operations and enable closed-loop performance improvement.
Keeping up with Sphera as an ESG solutions provider will be challenging for the competition. The critical mass of product, service, and go-to-market resources built by Sphera, now backed by Blackstone resources, makes Sphera the presumptive market leader and well-positioned for future expansion. Competitors coming from the EHSS space are well-positioned to keep and cross-sell into their installed bases, as there is a significant vendor lock-in phenomenon with such enterprise applications. However, Sphera will be a formidable opponent in the whitespace of new market segments, and net new deals, especially greenfield opportunities. Winning will be based on highly targeted yet agile go-to-market and product strategies.
As the EHSS software arms race morphs into the ESG software arms race, the magnitude and pace of M&A is likely to increase. To vie to be in the top tier, the EHSS market leaders will look for opportunities to tie up with other significant players to accelerate top-line revenue growth, as well as substantially increase their product portfolio footprints into big ESG aspects, e.g., adding product compliance and stewardship or GRC as a new line of business. Service and content providers are likely to be part of the mix as the ability to deliver total ESG solutions will become even more important. We expect an increase in ecosystem partnerships among software, services, and content providers to deliver complex enterprise-level ESG solutions.
Delivering Customer Value
There's no doubt that Sphera has built an impressive portfolio of products and resources to deliver ESG solutions. This portfolio is more a confederation of independent organizations, products, and customer bases brought together under the Sphera umbrella than it is a tightly woven whole. This isn't necessarily a strength or weakness, but rather a set of risks and opportunities for Sphera's customer base and prospective customer pipeline. With the acquisition by Blackstone, the pendulum swings more towards the opportunity side.
Sphera already has a proven operating model and leadership team. They don't need Blackstone to tell them how to run the business. With Blackstone resources and synergies, customers stand to gain some advantages. Sphera should be able to accelerate product development efforts, not only to improve and extend existing product lines, but to rationalize overlapping capabilities, integrate key capabilities where it makes sense, and move towards further leveraging cloud-native capabilities across the SaaS portfolio. Sphera's recent announcement of a unified user experience and single sign-on for the entire suite of applications on SpheraCloud is a good example of the type of technology architecture improvement that can improve user experience and create customer value.
A risk for Sphera (and all players in the ESG software space) is that for the most part, the products and solutions are not proprietary. There are other major players that offer broad footprint portfolios, such as Benchmark ESG| Gensuite, Enablon, Intelex, SAP, and VelocityEHS. And there are hundreds of software vendors focused on one or more narrowly focused ESG processes. There are new market entrants, and they have the advantage of having one unified solution based on the latest cloud and analytics technologies.
Of course, customers shopping for ESG software solutions have the option to take a best-of-breed approach rather than go with one-stop shopping, especially with the agility provided by the latest flexible cloud technologies to connect systems and data without the need for as much system-to-system hard integration.
Closing Thoughts
The announced acquisition of Sphera by Blackstone opens a new chapter in the maturity of the EHSS software category as it transitions to the ESG label. The scale of the transaction alone is remarkable. But the main result is that a leading ESG software solutions provider will be better positioned for expansion through access to not just the financial resources of Blackstone, but to its ESG expertise, relationships, and content.
It would be easy to assume that the main opportunity from a product standpoint is for Sphera to develop a beautifully integrated application suite with a common user experience for all. Rather, the bigger opportunity is to develop a beautifully architected information model that can facilitate the quick, easy, and robust analytics that draws upon data from across the portfolio. If done right this could give Blackstone lots of interesting additional avenues around risk and investing.
This deal strengthens Sphera's ability to realistically claim market leadership in the ESG space, as the EHSS Software Arms Race winds down, and ESG emerges as the new overarching business software category. At this point, Sphera is out in front, but the competition is considerable, and the race is heating up. Let the games continue.
---
The views and statements expressed in this blog represent the opinions of the author(s) based on his/her/their industry experience and interpretation of any information collected using the methods described in our Research Integrity. All product and company names are trademarks™ or registered® trademarks of their respective holders; use of them does not imply any affiliation with or endorsement by them.
---
All entries in this Industrial Transformation blog represent the opinions of the authors based on their industry experience and their view of the information collected using the methods described in our Research Integrity. All product and company names are trademarks™ or registered® trademarks of their respective holders. Use of them does not imply any affiliation with or endorsement by them.