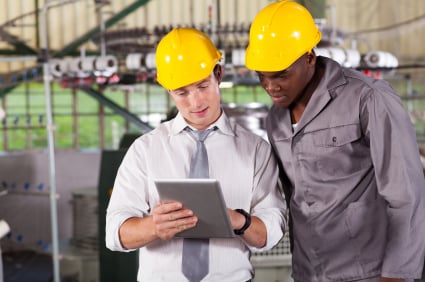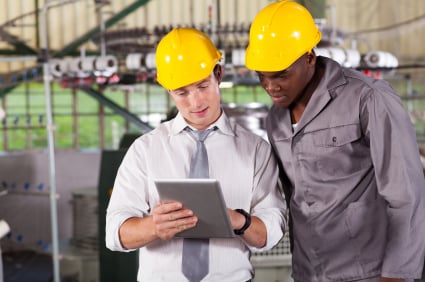 Looking at some of the most widely used metrics and key performance indicators by manufacturers—overall equipment effectiveness, scrap, yield, etc.—one variable that consistently impacts each is quality. If products or processes are out of quality specification, those measurements will be negatively impacted. For years, manufacturers have overcome such non-conformances by initiating corrective and preventive action (CAPA) procedures, often managing them with log books, spreadsheets, or other homegrown solutions.
If you've been paying attention to LNS Research for the past several years, you know that many of today's market-leading companies are automating the CAPA process with Enterprise Quality Management Software (EQMS). The modern approach to quality management delivered by EQMS has been a game changer for manufacturing organizations. Once disconnected, unstandardized processes such as CAPA are now being deployed enterprise-wide, and it's making a notable impact.
In the past decade, there's been a lot of movement in the EQMS space, including: mergers, aquisitions, and the launch of new soluction providers. In today's complex market place, the options for automating CAPA have expanded, with options now coming from pure-play providers as well as ERP, PLM, and MOM software vendors. In fact just over the course of 2013 we have seen several new releases of CAPA software from MOM vendors, including: Apriso and Invensys.
Consequently, some companies are automating CAPA through the extension of existing Manufacturing Operations Management (MOM) software investments. This post will provide more detail on how to determine if this approach is right for your company, how to choose the right MOM vendor for CAPA, and best practices for ensuring a successful implementation.
Understanding the Benefits of Automated Corrective and Preventive Actions
Prior to the advent of CAPA software, handling a manufacturing non-conformance required manual processes, spreadsheets, databases, email, fax, and reliance on people to make sure that each open issue was resolved or escalated. Between facilities and business units in the same company, it was (and still is in many cases) common for there to be numerous methods for handing CAPAs, and once resolved the root cause of as well as the resolution for the non-conformance was not generally shared outside of the four walls of a given production plant.
The inefficiencies and potential for human error with this approach are obvious. But centralizing, streamlining, and standardizing the CAPA process (notifications, definitions, investigations, escalations, approvals, etc.) with software across the enterprise eliminates most of the shortcomings. Managed under a central system, open as well as resolved CAPAs can be analyzed by corporate quality teams to identify trends in non-conformances and also to update global training initiatives or SOPs based on lessons learned.
Market leaders are even taking this approach a step further, integrating CAPA with other key manufacturing processes like audit management, customer complaints, FMEA, and risk management, to develop feedback loops across the value chain. This closed-loop quality management strategy is one that today's manufacturing innovators are investing in, relying on EQMS to facilitate such process and data source connections.
The main benefits of automating the CAPA process
Quicker time to closure for open corrective and preventive actions
Less time and effort required to determine root cause and resolve issue
Less repeat and rework actions required with communication enabled
Less exposure to risk with automation (email alerts, dashboards, etc.)
Better connection between CAPA and other enterprise data sources
Easier to develop closed-loop quality management processes
CAPA as an Extension of Existing Manufacturing Operations Management Software

It's no surprise that many manufacturing companies have been increasing focus on closing the quality management loop. With less room for error in today's global marketplace, the need for a seamlessly integrated quality IT architecture is delivering the competitive advantage that market leaders require. EQMS suites have helped many organizations achieve this vision, but this does not mean EQMS is best suited to automate every quality process for every company.
It's often your company's core competency and existing IT investments that dictates where a bulk of investments will be made and which applications will interoperate. For instance, many large consumer packaged goods and electronics companies live and die by manufacturing efficiency and the ability to bring new products to market faster than competitors.
Companies that share the following capabilities will generally be good candidates for automating CAPA as an extension of MOM software:
Manufacturing intensive organization where manufacturing excellence is considered a core-competency
The majority of non-conformances originate in manufacturing
Tight collaboration exists between quality and manufacturing with a supporting culture
A corporate committment has been made to deploying MOM across the enterprise
An initiative has been undertaken to harmonize business processes across manufacturing
MOM Software Vendors Delivering CAPA Extensions/Capabilities
As mentioned, it's common for organizations with manufacturing as a core competency to have a significant MOM software footprint. Duly, nearly all leading manufacturing software providers have released extensions for one of the most widely adopted and required quality management functionalities - CAPA management.
Shown in the pie chart below, from our briefings and discussions with manufacturing operations software vendors, we've found that 70% of MOM software vendors are currently supporting CAPA solutions.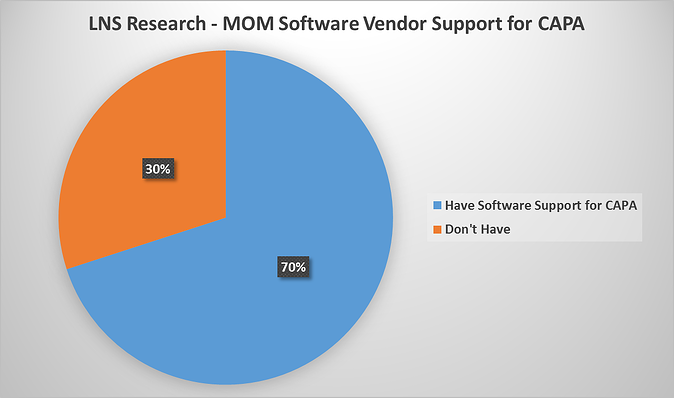 If you're an executive or decision-maker interested in MOM-based, quality process managment/CAPA, the list of vendors below is a good place to start your research. More information can be found in LNS Research's MOM Solution Selection Guide.
MOM Vendors Delivering CAPA Extensions/Capabilities:
Aegis Software
Camstar
Critical Manufacturing
Dassault Systemes/Apriso
Emerson Process Management
GE Intelligent Platforms
iBASEt
Invensys/Wonderware
iTAC Software
Lighthouse Systems
Parsec
Plex Systems
SAP
Siemens
It should also be noted that not all of these providers have equivalent capabilities. When evaluating a MOM software provider's CAPA capabilities it is important to evaluate the overall Business Process Management (BPM) capabilities and the agility of the software. As a general rule, MOM providers with better BPM capabilities have been able to develop stronger CAPA offerings.
Finally it should be noted that automating CAPA with MOM software does not eliminate the need or benefits of EQMS. Many companies will still choose to integrate EQMS with MOM and use EQMS for audit management, customer complaints, document management, risk mangament, and more.
For more information about the above vendors, read LNS Research's MOM Solution Selection Guide, a comprehensive guide for any business leader considering a manufacturing software investment.