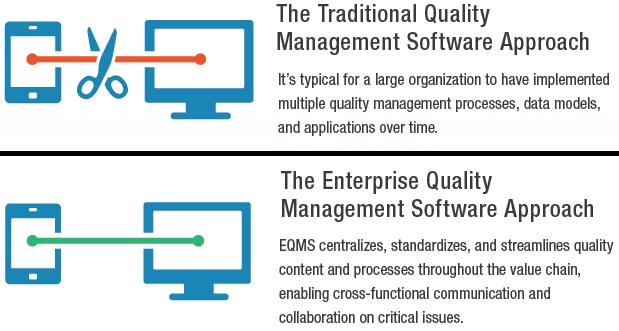 Since LNS Research first started covering the Quality Software market in 2011, we have been working to help define what is encompassed in Enterprise Quality Management Software (EQMS) and validate the benefits of creating a closed-loop quality environment. Although we aren't prepared to declare victory yet (much research and education is still needed), there is now a common understanding of EQMS as well as the need to manage quality at the enterprise level.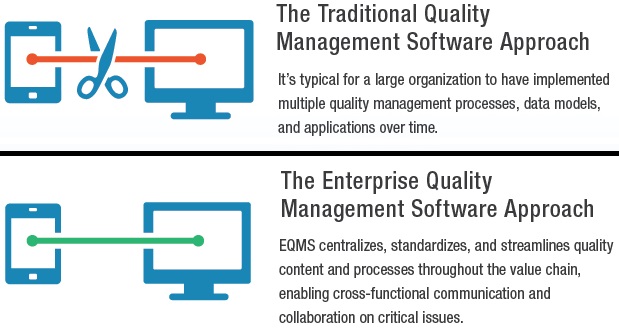 Having a common definition and understanding of the need for EQMS, however, is just the beginning. A large number of companies are still struggling with communicating the benefits of quality management at the enterprise level to others in the organization and quantifying these benefits into hard-dollar savings. There's still considerable work to be done and, for many, the EQMS journey is only beginning.
In addition to providing several key predictions for the coming year and benchmark data from LNS Research's Quality Management Survey, this post aims to update you on the EQMS market for 2014.
Analyzing the EQMS Market: Adoption Rates in 2012, 2013, and Beyond

Over the past two years, 815 executives have completed the LNS Research Quality Management Survey. It should be noted that the results from this survey are from a single multi-year study, meaning that there is no survey participant overlap year over year.
Interestingly, the results from 2012 and 2013 are very similar. Both years had roughly 20% adoption rates, with 2013 edging out 2012 rates, and 7% budget qualified rates. Both years also had between 25-30% of companies in the planning stages of an implementation.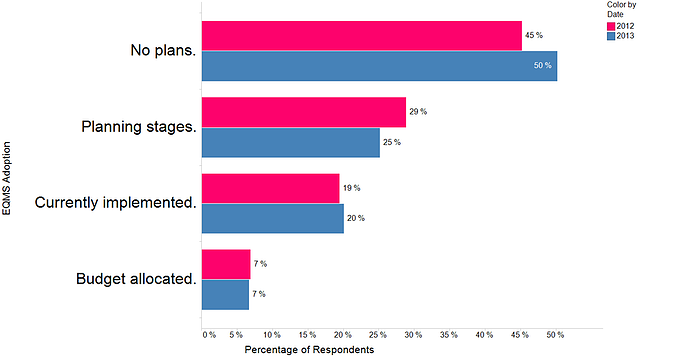 Although this new research indicates that many companies remain keenly interested in better managing quality at the enterprise level, it also highlights the struggle quality executives have with building a business case and proving the value of software to others in the organization.
In many of our conversations with quality executives, they inherently sense the inefficiency and ineffectiveness in how quality is currently being managed but are challenged in quantifying the benefits of streamlined and standardized processes, improved collaboration, increased compliance, and the reduction of paper-based manual processes.
The EQMS Market in 2014
Given the current state of the market, it looks like there are several ways it could move. First and less likely, it could continue to move along with moderate growth (most vendors report a 10% to 20%+ compound annual growth rate (CAGR)).
Second, and my personal opinion, is that a large chunk of the market with budget or those that are in the planning processes (25%+) will take the plunge, build viable business cases, and make the investment in EQMS. Of course, for that to occur there are a few things that have to happen first, which constitute our top 3 EQMS predictions for 2014.
Top 3 Predictions for Enterprise Quality Management Software in 2014
1. Cost of Quality is used to Drive EQMS Business Case
Conventionally, as quality executives attempt to build an EQMS business case the savings have been soft. They focus on trying to quantify the cost of paper or process handling through manual systems and then estimate the reduction in costs.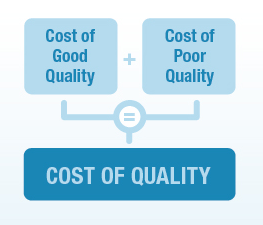 For an over-simplified example, consider this:
Current cost to handle a particular document or process: $10.00
Anticipated cost to handle the same document or process with EQMS implemented: $5.00
Total number of documents or processes handled per year: 2,000,000
Current cost: $20,000,000
Anticipated cost: $10,000,000
Anticipated savings: $10,000,000
Unfortunately, I have yet to meet a CFO that believes savings calculated in this way will actually hit the bottom line. The reality is that achieving such cost reductions is more complex and multi-dimensional.
What companies will begin to do in 2014 to build a successful business case is get a good handle of actual Cost of Quality numbers. This approach means not assuming that reductions in quality assurance costs directly hit the bottom line. Rather, it requires identifying the internal and external failure costs that currently hit the bottom line, then understanding how reductions in assurance costs can actually allow for enhanced prevention activities and, ultimately, reductions in failure costs.
More people will start building successful business cases in this manner in 2014, showing a more realistic picture of the hard savings that can found with EQMS and how those hard savings will impact the bottom line. The example below makes a stronger case:
Current Cost of Poor Quality: $20,000,000 per year with failure rate of 3%
Current Cost of Good Quality: $20,000,000 per year with 75% of costs allocated for assurance and 25% for prevention
Anticipated Cost of Good Quality with EQMS: $20,000,000 per year with 25% of costs allocated for assurance and 75% for prevention
Anticpated Cost of Poor Quality with EQMS: $10,000,000 per year with a failure rate of 1.5%
Total anticipated savings: $10,000,000
2. Maturity Models used to Drive Improvements and Decisions

Traditionally, companies have used ISO and other performance management initiatives like Operational Excellence to institutionalize management systems and drive continuous improvement. Unfortunately, many of these models are limited in prescribing the role of technology in a company's management system as well as how to incorporate emerging best practices into existing business processes.
In 2014 quality executives will look to external benchmarking and comprehensive maturity models to clearly understand current performance and establish a roadmap for improvement across: strategy and execution, leadership and culture, business processes, organizational capabilities, technology capabilities, performance management and key performance indicators.
3. Embedded Technology
EQMS is not sexy, at least not yet. Many vendors will be driven by new market entrants as well as existing customers to incorporate market-leading technologies into existing products. Some of these new technologies will include:
Big data analytics: Providing on-the-fly analytics on the performance of quality processes and being able to do analysis with data from other systems like ERP
Social media: Moving to help organizations become a more customer-centric and transforming from handling only customer complaints through traditional channels to engaging with the customer in a whole range of social channels
Mobility: Moving away from browser-enabled software to applications native to devices on the iPhone and android
Cloud: Moving away from simply web-enabled or hosted solutions to a true multi-tenant offering
In many cases these capabilities will be related to the other trends by helping to improve business cases and move ahead in maturity. For a little more information, I actually discussed how some of these existing and emerging capabilities will impact manufacturing in 2014 in a recent interview, which can be seen below:
The Future of EQMS
We're truly excited to be covering this quickly evolving and maturing software space. In 2014, we'll be bringing you more updates on key software vendors, as well as best practices for getting the most out of your quality management efforts. Please feel free to share your own thoughts on this topic in the comments section below or to reach out to me directly at matthew.littlefield@lnsresearch.com or tweet to me @m_littlefield.