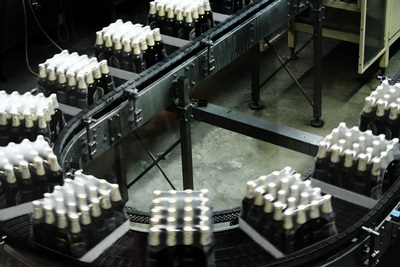 Chances are, an increased rate of production response to changes in supply and demand is high on your operational wish-list. And you're not alone. When it comes to increased agility, it's hard to argue there's such a thing as too fast, and even small improvements in the ability to quickly ramp production up or down can translate to significant long-term bottom-line gains.
Indeed, improving responsiveness to customer order demands was the second most popular strategic objective--at 56% of responses--on our 2013-2014 Manufacturing Operations Management (MOM) survey, second only to ensuring consistent quality.
While there is no magic bullet for achieving improved agility, and your level of effort and success will directly correlate to your company size, production processes, products manufactured, etc., there are a number of MOM applications supporting various combinations of process adjustments that are proven and available today, that can help you take your agility to the next level. In this post, we'll detail some of the technology applications we're seeing deliver the most value for manufacturers today as well as how they contribute.
The Current State of Manufacturing Operational Agility
Being the second most important goal of manufacturing executives today, you'd think that many manufacturers have something approaching cat-like reflexes on the shop-floor. And while many are making great strides in improving, this is far from the current state of affairs. When asked about their process and technology capabilities for achieving this goal, only 26% of respondents said they had the appropriate capabilities to adequately respond to supply and demand changes. Another 10% plan on having these capabilities in place in the next year.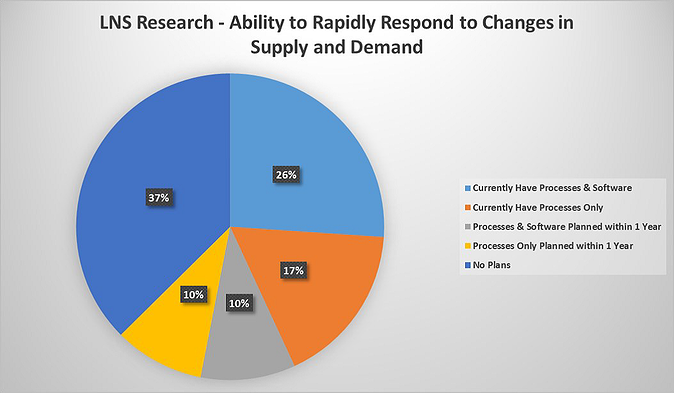 Which MOM Applications Are Driving Improved Agility?
Typically, companies with agile operational abilities have some combination of the following MOM applications implemented that work in concert to improve production response time:
What Levels of Production Management Improvement Are Achievable?
We've seen the current state of agile capabilities across manufacturers as well as some of the key applications that enable them, but how does this actually translate to operations from the plant, line of business, and enterprise level? The graph below shows how respondents in the 26% slice of the pie chart stack up against all others when it comes to production management capabilities associated with supply and demand agility.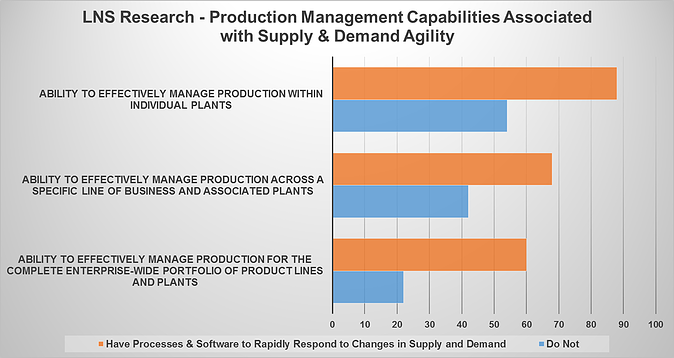 A quick look at the graph shows some pretty big disparities in ability to effectively manage production, particularly with respect to enterprise-wide decisions. All told, companies that have the types of software applications above in place are between 50%-200% more capable in terms of operational agility to supply and demand dynamics, depending on production management scope (plant, business unit, enterprise), and you can bet that this goes a long way in pursuing the second most strategic objective.
Optimizing Your Operational Agility: Beyond Software
While technology solutions are an important resource to achieve goals, like any Operational Excellence journey, they are just one piece of the puzzle when it comes to realizing optimized agility. To put yourself in the best position for success, you need to align your people and processes along with this supporting technology. To learn how to get yourself on this path, click below for a free report on achieving agile, end-to-end production and process excellence.
---
All entries in this Industrial Transformation blog represent the opinions of the authors based on their industry experience and their view of the information collected using the methods described in our Research Integrity. All product and company names are trademarks™ or registered® trademarks of their respective holders. Use of them does not imply any affiliation with or endorsement by them.