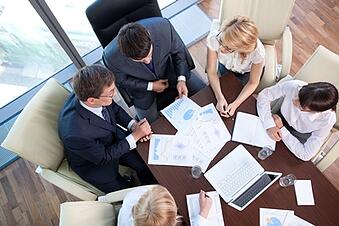 As any manufacturing organization evaluating potential operational improvement initiatives can tell you, there are many factors that come into play, and depending on the size and breadth of your organization's production, finding the best route to pursue can be daunting to say the least.
Leading organizations have built the foundation for success with continuous improvement programs, processes and cultures, but are looking for the appropriate technology to support these efforts. Today's Manufacturing Operations Management (MOM) applications feature advanced technologies (like Cloud, Mobile, Big Data, and the Internet of Things), that are opening new possibilities to manufacturers.
There is notable momentum behind multi-site implementations of Manufacturing Execution Systems (MES) for managing production execution, as recent data from our MOM survey showed that 34% of 550+ respondents considered production execution management the most critical MOM software application for business success. This was tied for the top response with quality management, suggesting that manufacturers far and wide have grasped the importance of what MES can achieve in operational improvements.
But with the diversity of today's software solutions, it can be helpful to have a few high-level pointers for direction. Below, we'll discuss five important points to consider in your MES evaluation process.
1. Understand and Map Current Processes
The ways companies define the scope of MES can vary from one to the next. Indeed, in our research we have seen the definition of MES expand over the past several years. Most implementations fail because the processes that require automated enforcement are not well-defined, and automating an ill-defined process will always create a poor result. Taking the time to map processes and identify which (and when) will be designated for workflow enforcement and automation is crucial before the creation of any short list of candidate solutions.
For a highly regulated company, something like traceability may be the most immediate pain point and the company may prefer to automate these related processes first, whereas an industrial equipment manufacturer may be more concerned about throughput and maximizing Overall Equipment Effectiveness (OEE). Tweet this tip!
2. Understand the Parties Involved
For any IT implementation to result in success, executive ownership is a critical factor. This same sentiment is true with collaboration between functional teams—especially line of business and IT. It's important to identify and solicit input from all parties to form the right team. Applied expansively, if the implementation happens to be global, you will likely need to involve many parties globally, not just to broaden perspective, but to make sure accountability is extended outwards as well as ensuring that everyone has 'skin in the game.' Tweet this tip!
3. Set Expectations for Those Most Immediately Affected
An MES implementation is very likely to have an immediate and disruptive effect on certain day-to-day business and manufacturing activities. I have personally seen implementations canceled due to the sheer disruptiveness of its impact on business continuity. This is a disaster. Setting expectations among the most affected is key to managing the perception of the implementation's success and keeping it on track for the duration. Tweet this tip!
4. Define Metrics for Success
In building and keeping the momentum for success, it's crucial to achieve some quick, demonstrable wins. To do this you need to understand the most immediate pain points to be solved in the organization and the types of benefits the company can expect by automating and enforcing a given process. These metrics can be related to the implementation process (time, effectiveness, etc.) and also how quickly it helps solve business pain points.
It's helpful to boil this down to geography/business unit/product line/site level information so that team members can understand the impact the implementation will have on their particular part of the business. This information will prove critical in building a business case for the implementation. Tweet this tip!
5. Understand Your Current IT Infrastructure
Be sure to inquire about and understand your current IT landscape so you can better gauge the appropriate scope of your MES project as well as the IT resources you will be able to allocate to the project. Today's cloud-based, Software as a Service (SaaS) solutions can require dramatically lower internal resources for ongoing maintenance and support. In addition, some solution providers provide a certain amount of 'out of the box' vertical industry functionality, and any modern MES software should be highly configurable versus requiring a lot of programming. However, all initial implementations will have performance, security, and integration considerations that require professional IT expertise. Tweet this tip!
Putting it all Together
These tips are a foundational piece of the framework on which to build your MES implementation process and help when making a business case and determining the scope of your project. To learn more about additional best practices in selecting and implementing MES and other MOM applications, as well as the type of value adopters of MOM software are seeing today, be sure to reserve your spot for our webcast on October 28 at 10:00 am EST: "The Global State of Manufacturing Operations Management Software—Weaving the Digital Thread."
---
All entries in this Industrial Transformation blog represent the opinions of the authors based on their industry experience and their view of the information collected using the methods described in our Research Integrity. All product and company names are trademarks™ or registered® trademarks of their respective holders. Use of them does not imply any affiliation with or endorsement by them.